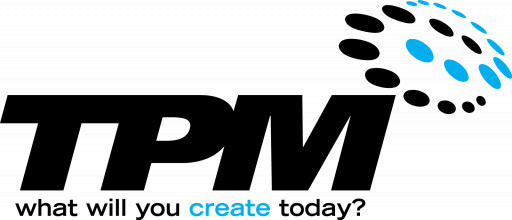 TPM, Inc.
TPM logo
GREENVILLE, S.C. - July 12, 2021 - (
Newswire.com
)
TPM, Inc., a leading technology solutions provider focused on Architecture, Engineering, Construction, and Manufacturing, is expanding its 3D Printing Business by acquiring a division of Duncan Parnell, Inc. dedicated to 3D Printing and Additive Manufacturing. This strategic acquisition is one of many steps TPM takes to advance 3D Printing and Additive Manufacturing across the Southeastern Region.
Through this acquisition, TPM gains additional customers, personnel, and 3D Printing solutions that will provide an unmatched product offering for companies across the region, now representing three of the top five 3D Printer brands globally. This acquisition expands TPM's existing relationship with Markforged, a strength-based metal and composite 3D printer and software solutions leader. Additionally, TPM gains a new partnership with 3D Systems (NYSE: DDD), the leader in enabling additive manufacturing solutions for applications in growing markets that demand high-reliability products. The addition of 3D Systems to TPM's portfolio of HP Multi Jet Fusion and Markforged solutions provides a complementary product offering to address a broader range of rapid prototyping and manufacturing application challenges.
"This strategic acquisition marks a significant investment in TPM's commitment to bringing the most innovative 3D Printing products and services to the region. We were thrilled to work with Duncan Parnell on this acquisition as they have built an incredible organization that will continue to succeed far into the future," says Chris Fay, President of TPM.
"Duncan-Parnell is both proud and grateful for the relationships we have formed in the Additive and 3D Printing industry. I am confident that TPM will continue to foster those relationships with our customers and provide them with a high level of service and support. TPM is dedicated to being a leader focused on the Additive space, and as this industry evolves, that will be crucial to our customers going forward," says Mark Duncan, President of Duncan Parnell, Inc.
About TPM, Inc.
TPM, Inc. is headquartered in Greenville, SC with offices across the Southeast. TPM focuses on Improving Designs, Delivering More Work, and Winning More Business to Architecture, Engineering, Construction, and Manufacturing customers across the region. TPM serves more than 3,500 customers each year with technology solutions, assessments, consulting, implementation, training, and support. For more information about how TPM's talented team is leading the way in an ever-changing market, visit their website at www.tpm.com.
About Duncan-Parnell
Duncan-Parnell is one of the Southeast's leading distributors of technology, products, and services to Architects, Engineers, Construction Contractors, Surveyors, and Designers. For more than 75 years, Duncan-Parnell has applied keen attention to its customers' needs, applications, and challenges to offer product and service solutions that add automation, efficiency, and productivity to our clients' operations to make their projects more successful.
For more information, please visit www.duncan-parnell.com.
Media Contact
Company Name: TPM, Inc.
Contact Person: Chris Fay
Email: marketing@tpm.com
Phone: 800-922-1145
Address: 1003 Laurens Road
City: Greenville
State: SC
Zip: 29607
Country: United States
Website: www.TPM.com
Press Release Service by
Newswire.com
Original Source:
TPM Acquires Duncan Parnell's 3D Printing Division as Part of Strategic Expansion