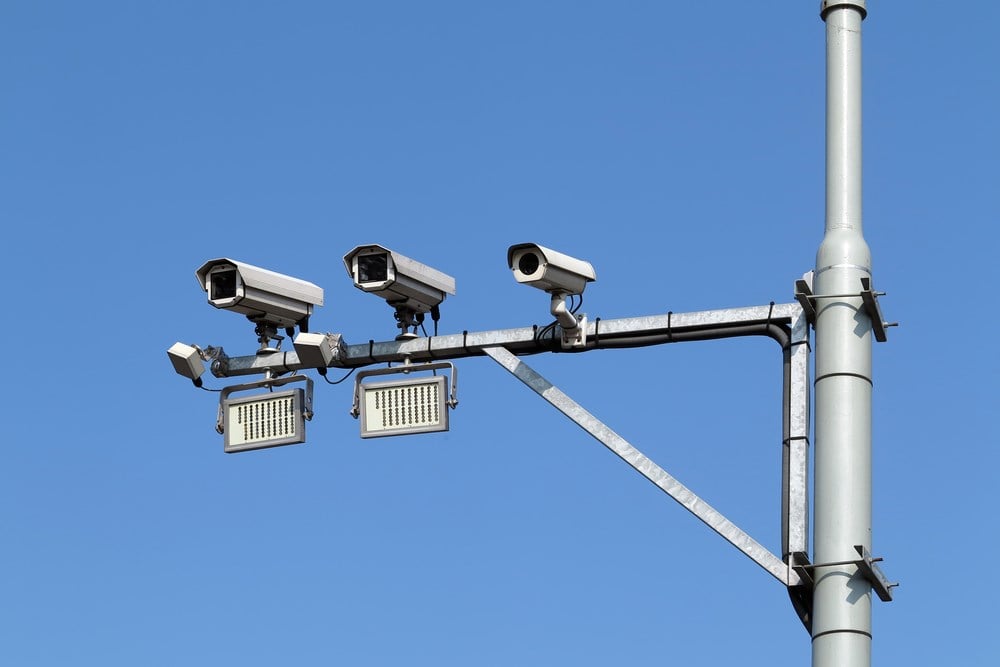 What does getting a speed camera ticket, having your car towed and being harassed by debt collectors all have in common? Yes, they are miserable experiences that you hate to encounter. Unfortunately, they are also necessary consequences in modern civilized society. Furthermore, they are also very profitable industries where the leading companies have very strong stock performances.
These stocks outperform their peer group and/or the S&P 500 Index, trading up 14.6% year-to-date (YTD). With that in mind, here's 3 stocks that you'll love to own but hate to encounter.
Verra Mobility calls itself a smart mobility technology company that makes transportation safer. While this is true, they do so by manufacturing and operating speed cameras, red light cameras, school bus cameras, tolling and violations management and parking enforcement systems. All the things you hate about driving.
The company has a near-monopoly hold of the industry and contracts with municipalities, tolling authorities, law enforcement and parking operators in over 20 countries.
Keeping Roads and Students Safer
If you've ever gotten a speed camera ticket in the mail, chances are Verra Mobility is taking its cut. After all, it recorded a $30.4 million profit and 34% margins in its Government Solutions segment in Q3 2023.
While some jurisdictions face backlash about the unconstitutionality of speed cameras, school districts are lauding school bus cameras as the company continues to win contracts.
What parent wouldn't want to keep their kids safe from reckless drivers speeding through crosswalks or passing unloading school buses? With school resumption in the fall, you can expect school bus cameras to start ticketing more violators. Verra Mobility wants to expand its services internationally, as 90% of current revenues come from the United States. 
Earnings Beat
On Aug. 9, 2023, Verra reported Q2 2023 EPS of 29 cents, beating consensus analyst estimates of 27 cents by 2 cents. Net income was $19.1 million or $0.13 per share. Revenues climbed 9.1% YoY to $204.46 million, beating analyst estimates of $197.98 million. Services revenue grew 12% from increased traffic volume.
Commercial Services grew by 11%. Government Solutions: speed, red light, school bus and bus lane camera revenues grew 14%. Parking Solutions grew 11%. The company ended the quarter with $210.1 million in cash and cash equivalents.
CEO Comments
Verra Mobility CEO David Roberts commented, "I am incredibly pleased with our operating performance and am optimistic about our future. The underlying key trends driving our Commercial Services business are strong and durable.
We have a favorable environment driving the future of our Government Solutions business, and we have prime opportunities for future growth and profitability for our Parking Solutions business to address university and municipality parking trends." VRRM shares are trading up 33% YTD. Verra Mobility analyst ratings and price targets are at MarketBeat.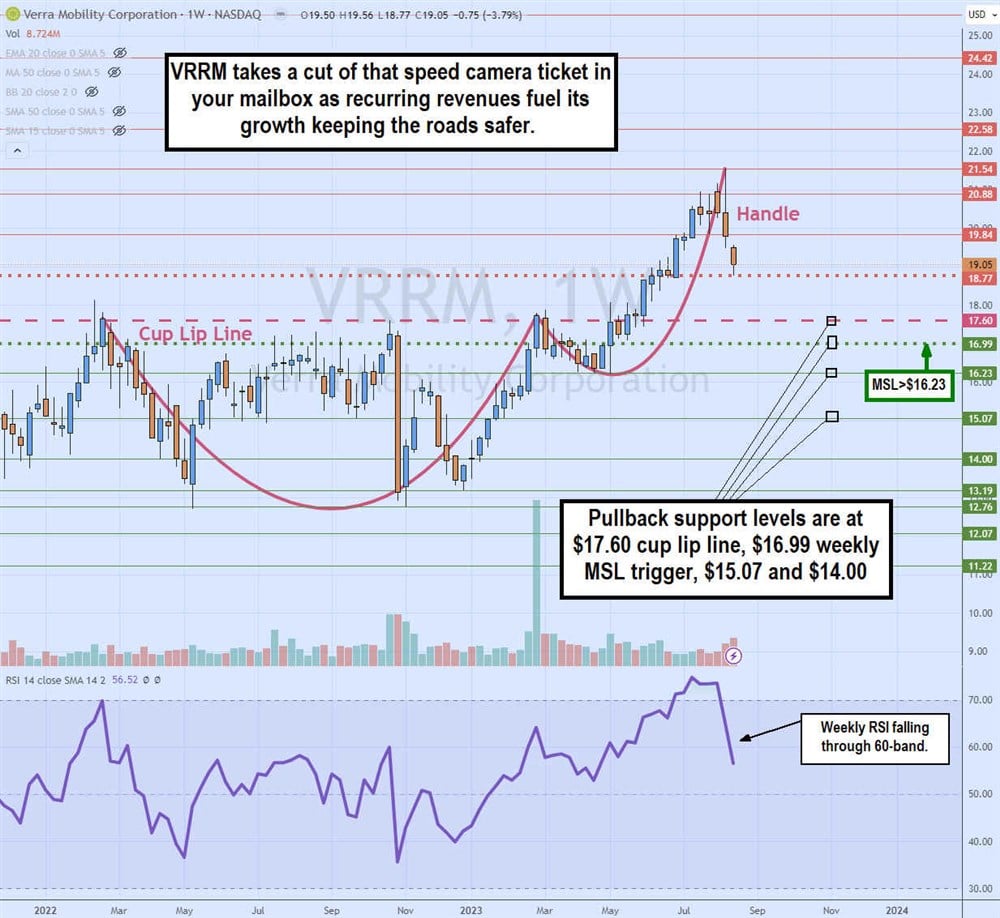 Weekly Cup and Handle Breakout
The weekly candlestick chart on VRRM illustrates a cup-and-handle breakout pattern. The cup lip line at $17.60 commenced in February 2022 and was completed a year later in February 2023. After forming the handle bottom at $16.23, VRRM formed the weekly market structure low (MSL) breakout through the $16.99 trigger breaking through the cup lip line at $17.60, driving shares up to $21.54 highs.
I am running a few minutes late; my previous meeting is running VRRM formed a weekly market structure high (MSH) trigger at $18.77. The weekly relative strength index (RSI) oscillator fell under the overbought 70 band and continues to fall through the 60 band. Pullback support levels are $17.60 cup lip line, $16.99 weekly MSL trigger, $15.07 and $14.00.  
 If you've ever had your car towed, there is a very high chance it was by a tow truck outfitted with Miller Industries equipment. Miller manufactures vehicle towing and recovery equipment, including trailer bodies, car carriers and wreckers. They sell under multiple brands, including Century, Vulcan, Challenger, Holmes, Champion, Eagle, Titan, Jige, Chevron and Boniface. They sell their equipment to tow truck operations, municipalities, construction firms and the military.
Vertical Integration
Miller's made-to-order equipment is used for towing your illegally parked car, accident recovery, roadside assistance and military operations. The company acquired a custom hydraulic cylinder make, Southern Hydraulic Cylinder, for $17.5 million in cash in May 2023. The acquisition helps stabilize its supply chain through vertical integration resulting in delivering finished goods to customers.
Record Robust Business
Business is booming, evidenced by its record 49% YoY revenue growth to $300.3 million in Q2 2023. Net income was $14.9 million or $1.29 per diluted share, up 297% YoY. Cost of operations also rose by 42.2% YoY to $260.3 million. Revenues in the past decade have risen at a consistent 8.5% compound annual growth rate (CAGR), and operating income at 8.4% CAGR.
Its international business continues to be a growth driver despite accounting for 10% of total revenues. Shares are trading up 47.5% YTD and pay a 1.84% annual dividend yield. Miller Industries analyst ratings and price targets are at MarketBeat. 
If debt collectors have harassed you, chances are good that Encore Capital Group was involved. They are the nation's largest debt collection firm specializing in recovering consumer and commercial debt. The company buys bulk defaulted consumer loans from banks and financial institutions, including credit card, auto and student loans for pennies on the dollar.
It purchases defaulted commercial loans, including business and equipment loans. Encore then attempts to recover the full amount of debt from the borrowers. Encore also invests in various assets ranging from real estate to venture capital.
Outperforming Peers
Encore CEO Ashish Masih commented, "With lending and charge-off rates steadily rising in the U.S., the growth of portfolio supply and improvements in portfolio pricing continue." Its Q2 2023 EPS was $1.08, missing $1.25 consensus analyst estimates. Revenues dropped 9.5% YoY to $323.04 million, missing analyst estimates of $327.95 million.
While ECPG has underperformed the S&P 500 with shares trading down 3.7% YTD, it has outperformed its peers like PRA Group Inc. (NASDAQ: PRAA), trading down 43%. Encore Capital Group analyst ratings and price targets are at MarketBeat.