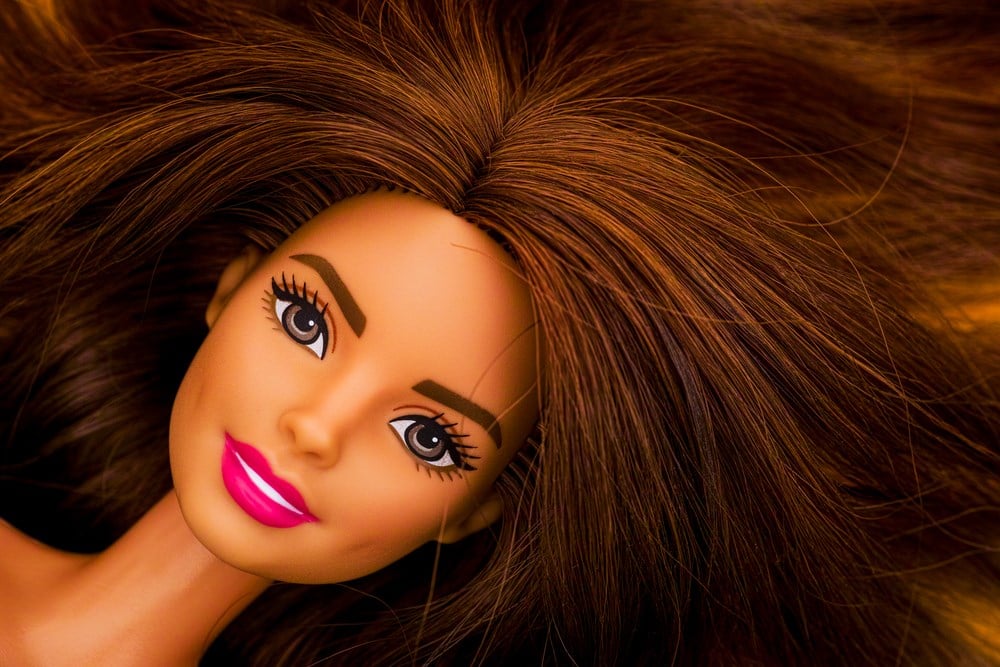 Family entertainment company Mattel, Inc. (NYSE: MAT) stock has languished in 2023, up 2% on the year, underperforming the S&P 500 index, up 15%. The upcoming Barbie movie scheduled to release in theaters on July 21, 2023, could give shares and investor sentiment a much-needed boost.
While the Barbie movie had been previously delayed and passed around like a hot potato between studios, its release has been building up steam on social media. Warner Bros. Discovery Inc. (NYSE: WBD) took over production from Sony Pictures and set things back on course.
The groundswell of interest in Barbie has caused analysts to take notice and upped projections up to $55 million during opening weekend beating out the atomic bomb thriller Oppenheimer. According to Screen Rant, Barbie's PG-13 rating appeals to both adults and children, which could bring a total box office take of at least $300 million.
The Barbie Movie
The premise of the Barbie movie is similar to the satire format of the Brady Bunch movie. Barbie and Ken, played by Margot Robbie and Ryan Gosling, get transported from the perfect world of Barbie Land to the real world to discover the "joys and perils of living among humans ."Barbie's 69-year-old franchise coming to life in a live-action motion picture appeals to nostalgic adults who can bring their kids along for fun.
Barbie is arguably the most famous toy in the world. Social media is a buzz with non-stop Barbie memes as its roster of top stars continues to be revealed.
Emergence of a New MCU
Mattel has some of the industry's most robust iconic IPs and franchises, rivaling that of Hasbro Inc. (NYSE: HAS) and its Transformers and G.I. Joe franchise. Mattel's slate of projects could be the emergence of a new MCU, not The Walt Disney Co. (NYSE: DIS) Marvel Cinematic Universe, but the Mattel Cinematic Universe. With family entertainment, the game plan was to make a film and then sell licensed toys to grow the IP. The new paradigm is to make a movie about the toys, which drives more toy sales making the IP even more tangibly valuable.
Mattel Films Projects
Hot Wheels, another Mattel IP, is the world's top-selling toy, with over eight billion sold. A live-action Hot Wheels movie is said to be slated to roll out in 2025, produced by Warner Bros. Discovery and J.J. Abrams' Bad Robot Studio. Mattel has plans to parlay its venture into live-action movies through its reformed Mattel Films division.
Future projects include Master of the Universe, slated to be released on Netflix Inc. (NASDAQ: NFLX) in 2024, Barney Movie, American Girl, Polly Pocket, Major Matt Mason starring Tom Hanks, Rock'em Sock'em Robots starring Vin Diesel, Thomas & Friends, View-Master, UNO, Magic 8 Ball and Wishbone. The current Writer's Guild of America (WGA) strike and potential SAG-AFTRA strike could have a material effect on future projects for all studios.
Darkness Before the Dawn
Mattel's metrics have been in a slump, but its MCU could turn things around as margins fall while losses have been mounting. On April 26, 2023, Mattel released its fiscal first-quarter 2023 results for the quarter ending March 2023. The Company reported an earnings-per-share (EPS) loss of ($0.24) in line with analyst estimates. Operating losses were ($115 million).
Net loss was ($106 million) compared to $21 million in income in the year-ago period. Revenues fell (21.8%) year-over-year (YoY) to $814.6 million, beating analyst estimates of $740.74illion. Adjusted gross margin was 40%, down (-640 bps).
Mattel CEO Ynon Kreiz commented, "While retail inventory management impacted the first quarter's results, the underlying business performed well. Mattel achieved growth and gained market share, per Circana. The fundamentals of our business are strong. We expect to outpace the industry, gain market share, and achieve our full-year guidance."
Setting the Bar Low
Mattel reaffirmed its full-year 2023 guidance of EPS between $1.10 to $1.20 versus $1.26 consensus analyst estimates. Net sales are expected to be comparable to fiscal full-year 2022 in constant currency versus $5.51 billion analyst estimates.
Mattel analyst ratings and stock price targets are at MarketBeat.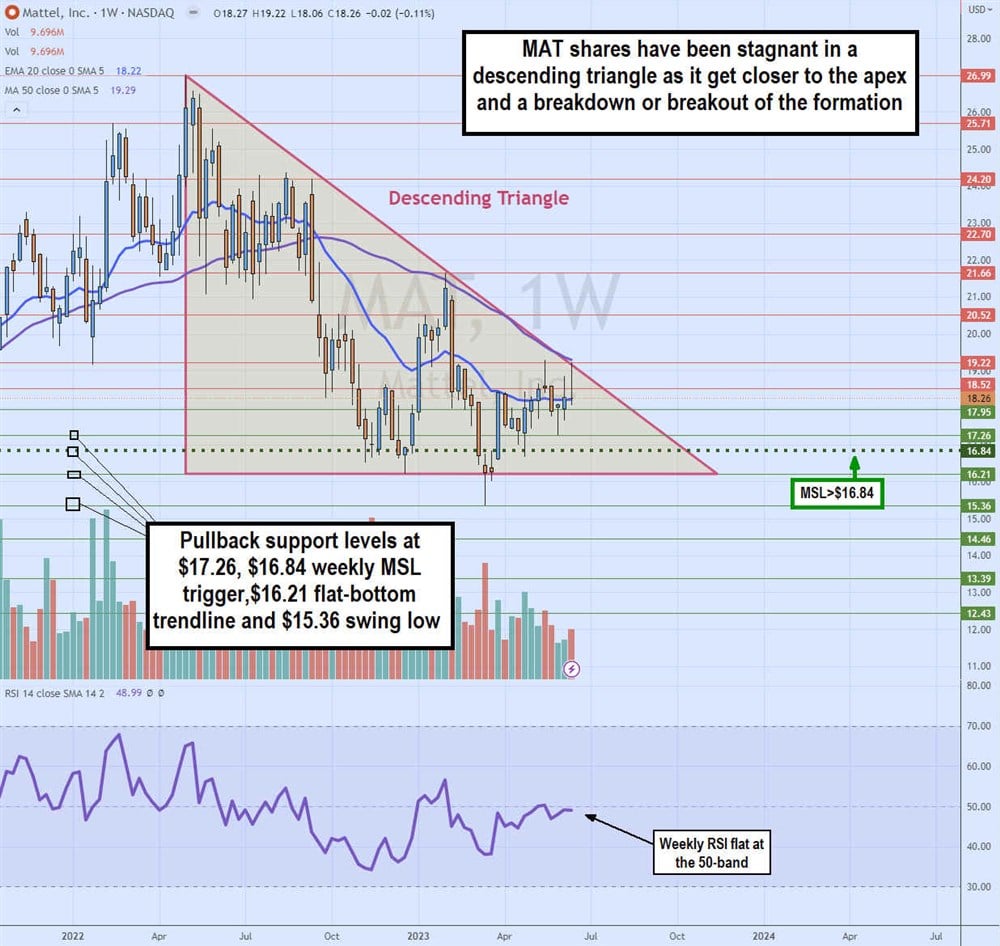 The definitive beginner's guide to reading stock charts can be found free on Marketbeat.
Weekly Descending Triangle
The weekly candlestick chart formed a descending triangle starting after peaking at $26.99 in May 2022. Shares made lower highs forming a descending trendline as they sold off to the flat-bottom trendline around $16.21 in December 2022. MAT staged a rally to $21.66 and rejected off the descending trendline in January 2023.
MAT attempted to break down when shares breached the flat-bottom trendline to a new swing low of $15.36 but rallied on the weekly market structure low (MSL) breakout. Shares peaked again at the descending trendline at $19.22 as shares attempted to hold the weekly 20-period exponential moving average (EMA) at $18.22.
The 50-period MA overlaps the descending trendline near $18.22. The weekly RSI is flat near the 50-band. Pullback supports are at $17.26, $16.84 weekly MSL trigger, $16.21 flat-bottom trendline and $15.36 swing low.