Regenerative Organic Certified sugar helps build soil health, sequester carbon, and ensure fair treatment of farm workers

Products now available at all Whole Foods Market locations nationally
CHICAGO, Jan. 31, 2023 (GLOBE NEWSWIRE) -- Whole Earth Brands, Inc. (the "Company") (Nasdaq: FREE) a global food company enabling healthier lifestyles through premium plant-based sweeteners, flavor enhancers and other foods, will bring some of the first Regenerative Organic Certified sweeteners to market under its Wholesome® brand. Wholesome, founded in 2001, was a pioneer in establishing Fair Trade standards within the sweetener aisle, bringing consumers high quality products that can have a positive impact on people and planet. Wholesome has worked with Whole Foods Market to launch its Regenerative Organic Certified cane and turbinado sugars nationwide in the United States in January 2023.
Regenerative Organic Certified is a revolutionary new agricultural certification for food, textiles, and personal care ingredients. According to the Regenerative Organic Alliance, it is based on three pillars requiring farmers to go above and beyond in practices that ensure healthy soil, the ethical and humane treatment of animals, and fairness for farmers and workers. Regenerative Organic Certified was created through a partnership between Rodale Institute™, Dr. Bronner's® and Patagonia® as well as others, to address the climate crisis, soil degradation, biodiversity loss, factory farming, and fractured rural economies globally.
Wholesome launched the first Regenerative Organic Certified Cane Sugar in Whole Foods Market following a rollout beginning on January 16th to 516 Whole Foods Market stores across the United States. In addition to being labeled Regenerative Organic Certified, both the Cane and Turbinado Sugars are packaged in a 72% bio-resin pouch that utilizes a bio-resin made from sugarcane, reducing the use of virgin plastic in the supply chain.
"We're very proud of this Wholesome launch, as the regenerative organic farming practices used to produce our Regenerative Organic Certified sugarcane at our partner farms in South America help restore the soil, capture carbon from the atmosphere and stay true to our Fair Wholesome Values," said Michael Franklin, Interim CEO, Whole Earth Brands. "As consumer education around regenerative organic farming increases, Wholesome Regenerative Organic Certified cane and turbinado sugars will provide an opportunity for consumers to vote for regenerative organic agriculture with their dollars. We are excited that Whole Foods Market is distributing our certified sugars to their national store footprint, which will expand awareness of the regenerative movement at large."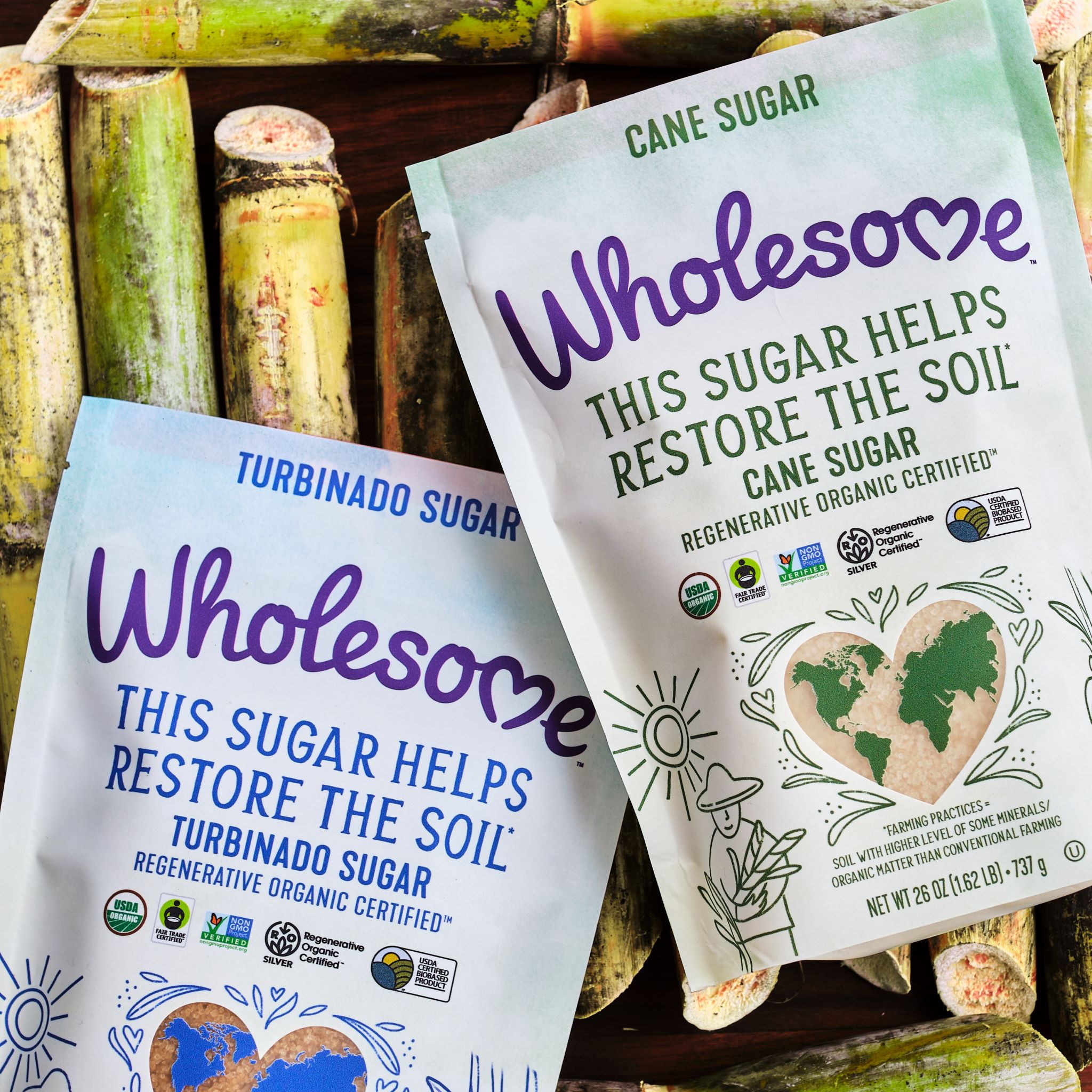 According to Mintel, 48% of US consumers believe their behavior can make a positive impact on the environment1. By distributing Regenerative Organic Certified cane and turbinado sugars nationwide at Whole Foods Market, which are also USDA Organic Certified™, Fair Trade Certified™, Non-GMO Project Verified and certified Kosher, Wholesome seeks to empower consumers to make everyday changes, such as sweetening and baking with Regenerative Organic Certified sugars versus conventionally grown sugars, that will have positive ripple effects on the environment and social welfare.
Ana Maria Huertas Buitrago, category merchant at Whole Foods Market, added, "Wholesome is a pioneer in the sweetener category, leading by example and helping to push the boundaries of what is possible in regenerative organic sourcing and certifications. We look forward to bringing these products to grocery shelves to help build awareness of Regenerative Organic Certified and the regenerative organic movement with Whole Foods Market shoppers."
Whole Earth Brands is dedicated to creating positive change within the sweeteners category through sourcing leadership and supporting the Regenerative Organic Alliance, parent organization of Regenerative Organic Certified. The Company believes that through continued investment and development of additional Regenerative Organic Certified products, it will drive momentum of the regenerative organic agriculture movement and help improve agricultural practices within the sweetener category and beyond.
About Wholesome
Wholesome is North America's leader in Fair Trade, organic and Non-GMO sweeteners, including sugar, honey, agave, and more. At Wholesome, we strive to source and produce the highest quality, best tasting ingredients in the world while positively impacting people and caring for the planet. To us, high quality begins with how our crops are grown, and we are committed to organic agricultural practices on every piece of land we touch. As a company, we are dedicated to elevating the standard of living for people across the world through Fair Trade, and we believe that responsible business means caring for the planet. We stand up for what we believe in and work to continually do better, every day, so that you can feel good about the products you buy, knowing they make life sweeter for all. To learn more about our brand and our founding story, visit WholesomeSweet.com 
About Whole Earth Brands
Whole Earth Brands is a global food company enabling healthier lifestyles and providing access to premium plant-based sweeteners, flavor enhancers and other foods through our diverse portfolio of trusted brands and delicious products, including Whole Earth®, Wholesome®, Swerve®, Pure Via®, Equal® and Canderel®. With food playing a central role in people's health and wellness, Whole Earth Brands' innovative product pipeline addresses the growing consumer demand for more dietary options, baking ingredients and taste profiles. Our world-class global distribution network is the largest provider of plant-based sweeteners in more than one hundred countries with a vision to expand our portfolio to responsibly meet local preferences. We are committed to helping people enjoy life's everyday moments and the celebrations that bring us together. For more information on how we "Open a World of Goodness®," please visit www.WholeEarthBrands.com.
Forward-Looking Statements
This press release contains forward-looking statements (including within the meaning of the Private Securities Litigation Reform Act of 1995) concerning Whole Earth Brands, Inc. and its products and their impact on the environment and reflects Whole Earth Brands' current beliefs and expectations. There can be no assurance any such forward-looking statements or any business results of Whole Earth Brands will ultimately be accurate or successful. These statements are subject to the risks and uncertainties indicated from time to time in the documents the Company files (or furnishes) with the U.S. Securities and Exchange Commission.   
Contacts:

Whole Earth Brands
Adriane Pilcher
248.640.5484
Adriane.pilcher@wholeearthbrands.com
Regenerative Organic Alliance
Melissa Welles
415.519.1182
Tara Blazona
415.519.1182
comms@regenorganic.org
__________________________________
1 Source: Mintel "Why Being Sustainable is No Longer Enough" April 2022. Base:500 internet users aged 18+Source: Kantar Profiles/Mintel Sustainability Barometer, March 2021.
Photos accompanying this announcement are available at
https://www.globenewswire.com/NewsRoom/AttachmentNg/cdb2ff76-b91f-4af5-b21d-27d9a128f035
https://www.globenewswire.com/NewsRoom/AttachmentNg/1bbf1628-991d-4cac-a90f-12fa0ae4fe1d