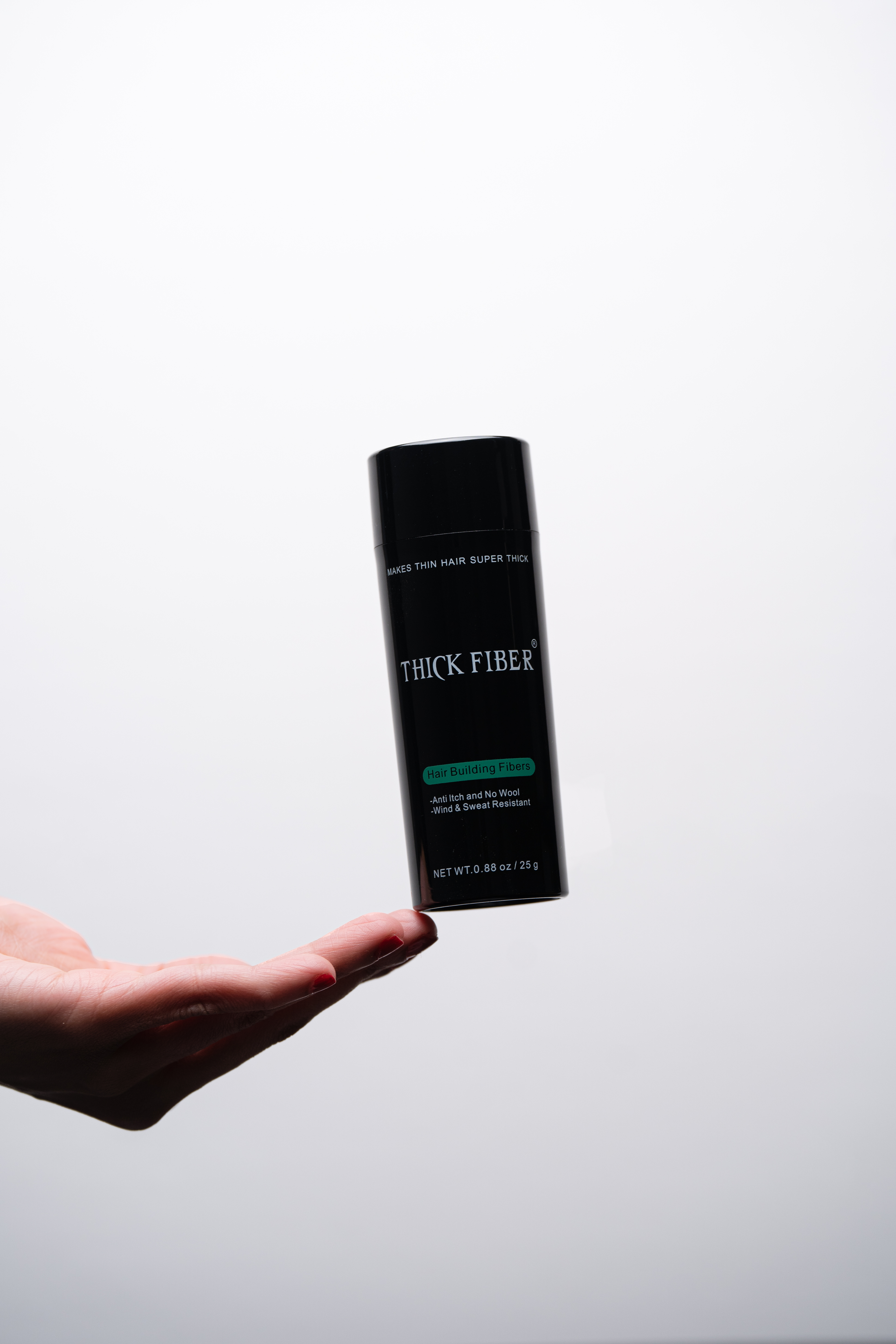 Hair loss and thinning sufferers no longer need to look to solve their hair-related agonies! Conceal thinning hair and make it look super thick with THICK FIBER!
THICK FIBER is a hair loss and thinning concealer that helps make hair look thick and strong. THICK FIBER is one of the best-selling hair loss concealment product ranges. It is one of the top sellers on Amazon UK, Amazon India, and Amazon US.  
THICK FIBER is based out of the UAE, and its products are available all around the globe. THICK FIBER provides worldwide delivery of its products. THICK FIBER has proven to be a favoured hair loss concealment product by its users since it began its distribution in 2017.
THICK FIBER is made from natural keratin derived from the same protein compound found in real human hair, which helps thicken the thinnest strands, giving hair a natural, healthier, and fuller look. No harmful chemicals are used in manufacturing, and it is an entirely natural hair thickener. THICK FIBER concealers bond with individual hair strands using the natural static charge created by the hair to thicken fine or thinning hair. Using THICK FIBER almost immediately improves the look of thinning hair. The pure formulation of THICK FIBER is also why THICK FIBER's Hair Building Fibers are 'Anti-Itch' and highly resistant to sweat and weather conditions.
Benefits of THICK FIBER:
Fine microfibers with electrostatic properties enhanced

Different natural colour shades

Easy and practical to apply

Detailed, easy-to-understand instructions for even better application

Best price-to-quality ratio

With approximately 35 million men and 21 million women suffering from hair loss around the globe, and many hair fall sufferers opting for hair transplant surgeries, which are deemed costly, as well as not providing full coverage – THICK FIBER comes to their rescue, with their excellent product line, recommended by doctors as well, for final touch-ups.
THICK FIBER helps conceal thin hair and makes it look thick, full, and stylish. THICK FIBER products are available for both – men and women. Anyone with hair loss and thinning-related agonies can choose to use products from THICK FIBER, such as – Hair Building Fibers and the Hair Fiber Spray Applicator – to make their hair look thick and lush. THICK FIBER's YouTube channel houses many videos with information on how to use the products and many hair transformation videos through the use of the products. The YouTube channel has crossed the 100K mark, with more than 40 million views, and has also achieved the YouTube Silver Play Button. 
Within a handful of years, THICK FIBER has become well-known and one of the top-sellers in the hair products category on shopping websites like Amazon all over the world. It has quickly climbed the ladder and is now competing with TOPPIK, one of the leading hair product brands, for years.
Media Contact
Company Name: HYPE PR
Email: Send Email
Country: United States
Website: www.hypekoolar.com