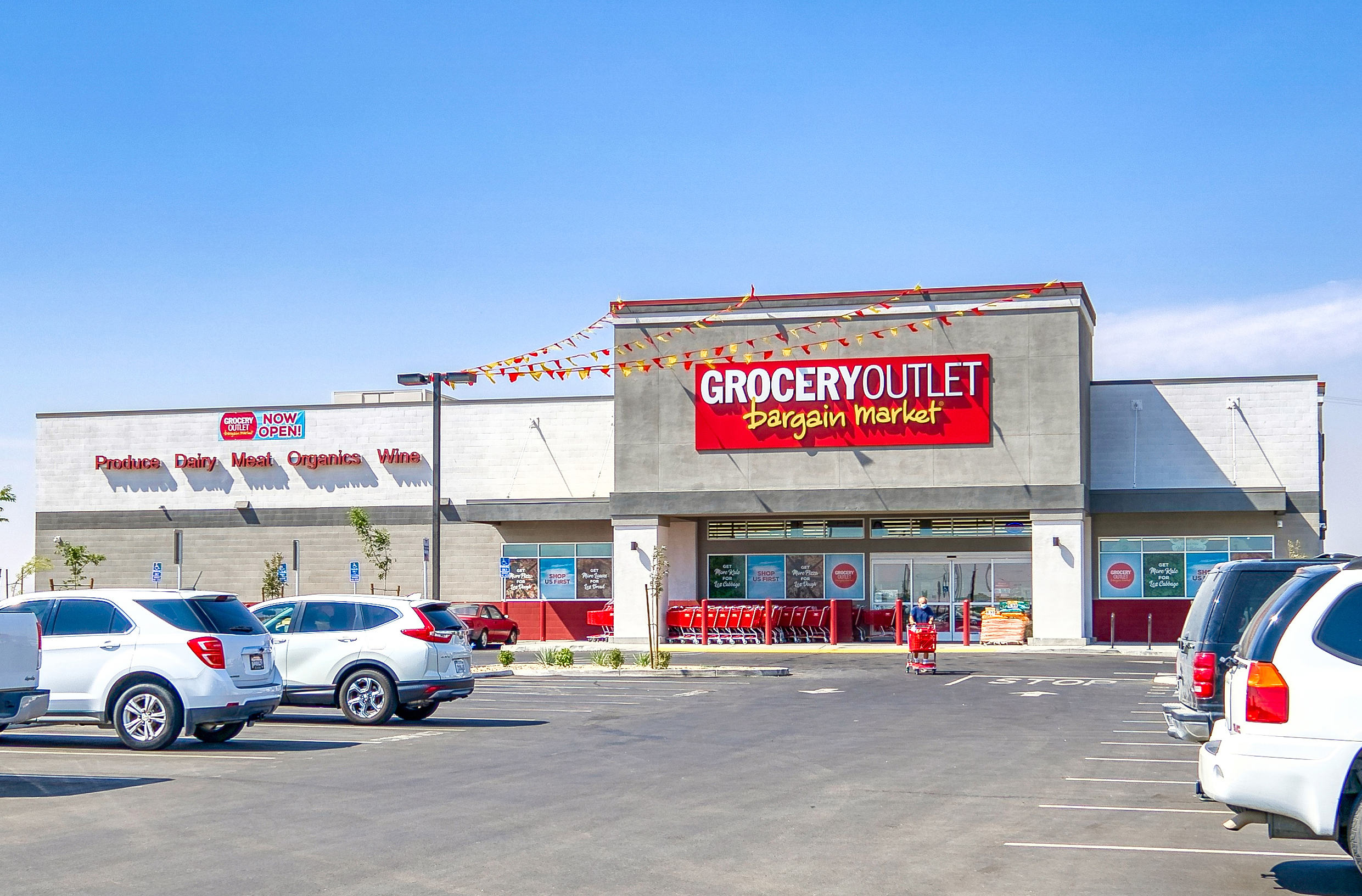 Break-up Sale Strategy Nets Four Sales to Separate Buyers for Grocery Outlet, Starbucks Drive-Thru, 7-Eleven and O'Reilly Auto Parts
ROSAMOND, Calif. - Hanley Investment Group Real Estate Advisors, a nationally recognized real estate brokerage and advisory firm specializing in retail property sales, announced today that the firm has arranged the sales of four single-tenant net-leased investments at a newly developed Grocery Outlet-anchored shopping center in the Greater Los Angeles area in the unincorporated community of Rosamond, California. The new construction properties, which were sold to four separate buyers, were occupied by Grocery Outlet, Starbucks Drive-Thru, 7-Eleven and O'Reilly Auto Parts. The four buildings totaled a combined 28,462 square feet and approximately $19,337,000 in total sales. The individual sales achieved record pricing.

Hanley Investment Group's Executive Vice Presidents, Bill Asher and Jeff Lefko, represented the developer and seller, a partnership between Halferty Development Company, LLC in Pasadena, California and Net Lease Alliance.

Grocery Outlet

In the first transaction, Asher and Lefko arranged the sale of a 2021-construction, single-tenant, 16,000-square-foot Grocery Outlet on 1.64 acres at 2550 Rosamond Boulevard. The buyer, a private partnership based in San Diego, California, was represented by Mike Conger of CAA in San Diego. The sale price was $7,075,000, representing a cap rate of 4.75%, a record-low cap rate for a Grocery Outlet in Southern California.

"We generated multiple competitive and qualified offers and secured an all-cash 1031 exchange buyer that closed in 30 days at 100% of the asking price," noted Asher.

Based in Emeryville, California, Grocery Outlet is a high-growth, extreme value retailer of quality, name-brand consumables and fresh products sold through a network of independently operated stores. Grocery Outlet has more than 410 stores in California, Washington, Oregon, Pennsylvania, Idaho and Nevada.

Starbucks Drive-Thru

In the second transaction, Asher and Lefko arranged the sale of a 2021-construction, single-tenant, 2,200-square-foot Starbucks Cafe and Drive-Thru on 0.83 acres at 2544 Rosamond Boulevard. The buyer, a private investor based in Los Angeles County, was represented by Joey Kim of eXp Realty in Irvine, California. The sale price was $3,500,000, representing a cap rate of 4.29%, a record-low cap rate for a Starbucks in Kern County in the past 48 months.

"We secured a buyer on a pre-sale basis and structured the closing shortly after Starbucks opened for business," Asher said. "We achieved record pricing for a Starbucks Drive-Thru in Kern County and closed escrow at over 99% of the list price."

7-Eleven

In the third transaction, Asher and Lefko arranged the sale of a 2021-construction, single-tenant, 3,062-square-foot 7-Eleven convenience store with a gas station on 0.98 acres at 2536 Rosamond Boulevard. The buyer, a private investor based in San Diego County, was represented by Lindsey Kalal of Kalal Investment Realty in Coronado, California. The sale price was $5,562,000, representing a cap rate of 4.45%, a record-low cap rate for a build-to-suit 7-Eleven convenience store and gas station in Antelope Valley.

"We procured an experienced 7-Eleven buyer on a pre-sale basis and structured the closing prior to 7-Eleven opening for business," Asher said.

O'Reilly Auto Parts

In the fourth transaction, Asher and Lefko arranged the sale of a 2021-construction, single-tenant, 7,200-square-foot O'Reilly Auto Parts store on 1.01 acres at 2540 Rosamond Boulevard. The buyer, a private investor based in Glendale, California, was represented by Mark Hong of Korus Real Estate of Los Angeles. The sale price was $3,200,000, representing a cap rate of 5.06%, a record-low cap rate for a single-tenant O'Reilly Auto Parts in the region.

"We procured an all-cash 1031 exchange buyer and closed above the asking price 13 days after opening escrow," said Asher.

Located in Kern County, the Grocery Outlet-anchored shopping center is ideally situated adjacent to the 14 Freeway on/off-ramps, benefiting from 30,000 cars per day and serves the nearby Edwards Air Force Base, the second largest base in the Air Force, which spans 481 square miles with more than 10,000 military, federal civilian and contract personnel. The retail center also has prominent freeway-visible pylon signage that provides excellent exposure traveling north and south along the 14 Freeway.

"Retail investors continue to want the security of a well-located, new construction single-tenant net-leased retail asset with a long-term lease with a national credit tenant that is internet-resistant," said Asher. "Significantly increased buyer demand has fueled record prices and compressed cap rates for the best-in-class, net-leased retail assets. We expect the current high level of investor appetite to continue in 2022.

"We anticipate seeing more shopping center owners implementing a break-up sale strategy to capitalize on the high demand for single-tenant retail pad product," Asher explains. "Owners continue to see the accretive value of selling individual parcels of a shopping center rather than selling the property as a whole. The value in implementing this strategy can result in up to a 150-basis point spread in cap rates (or increased value) when selling the net-leased-occupied out-parcels or pads off separately." 

About Halferty Development Company, LLC

Halferty Development Company (HDC) was founded in 1980 by James L. Halferty for the purpose of developing mid-rise office buildings and neighborhood shopping centers. To date, HDC has developed 650,000 square feet of class "A" office space and over 5,000,000 square feet of retail commercial space. HDC assumes the responsibility for the acquisition, planning, entitlement, construction, financing and leasing of all company projects.
For more information, please visit www.halferty.com.

About Net Lease Alliance

Net Lease Alliance, LLC is a capital provider and development partner that tailors the capital structure to reflect the unique economics and risks of each project to meet the needs of our developer partners while making available our team's unparalleled combination of development experience and financial resources and skills. NLA has grown over the past decade through deep and lasting relationships with its developer partners, lenders, and investors and has participated in over 180 projects in 33 states representing over $750 million in development costs.
Contact Ron Johnston at (859) 272-3819 or Sam Colson at (334) 247-6145.

About Hanley Investment Group

Hanley Investment Group Real Estate Advisors is a real estate brokerage and advisory services company with an $8.9 billion transaction track record that specializes in the sale of retail properties nationwide. Our expertise, proven track record, and unwavering dedication to putting clients' needs first set us apart in the industry. Hanley Investment Group creates value by delivering exceptional results through the use of property-specific marketing strategies, cutting-edge technology, and local market knowledge. Our nationwide relationships with investors, developers, institutions, franchisees, brokers, and 1031 exchange buyers are unparalleled in the industry, translating into maximum exposure and pricing for each property. With unmatched service, Hanley Investment Group has redefined the experience of selling retail investment properties.
For more information, visit www.hanleyinvestment.com.
Media Contact
Company Name: Hanley Investment Group Real Estate Advisors
Contact Person: Bill Asher, Executive Vice President
Email: Send Email
Phone: 949.585.7684
Address:3500 E. Coast Highway, Suite 100
City: Corona del Mar
State: California
Country: United States
Website: https://hanleyinvestmentgroup.com/