Billions Club is the leading UAE-based prop trading company on a mission to equip aspiring traders with all the tools they need to thrive in the trading world, including education, supportive community and funding.
United Arab Emirates - July 12, 2023 —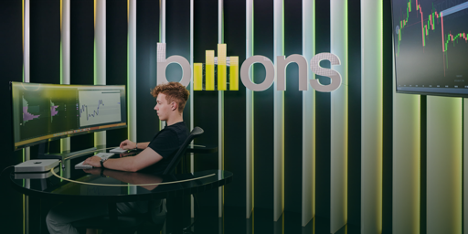 Billions Club is a prop trading platform, education center, and a community of like-minded individuals connected by their desire to succeed in the trading world. Coming out of the beta stage, this club made waves among both aspiring and seasoned traders by delivering easy access to trading capital through Billions Trading Challenges and free trading education by industry experts via Billions Academy.
The main draw of the Billions Club lies in its favorable 90% profit split. While the majority of prop trading companies usually charge higher commission to clients who use their capital, Billions Club allows traders to keep 90% of their profits, while covering the losses. This is the firm's policy that begins affecting newcomers from day one; the commission rates are fixed to ensure all traders have a stress-free experience and reap the highest profits possible.
The company's CEO, Jakub Roz, expressed that the Billions Club provides access to more than 100 financial instruments, including currency pairs, crypto and selected stocks. Each newcomer who wants to get funded is required to partake in the Billions Club Trading Challenge; traders who prove they are prepared to take on bigger game will unlock a larger pool of digital funds to manage and trade:
"Billions Club gives you a unique opportunity to trade with our capital. Essentially, you're given a pool of virtual money to trade and maximize profits. First, we assess your trading skills in the Billions Club Trading Challenge. If you're successful, you'll get the opportunity to manage a larger amount of virtual capital without committing your own money. You take home 90% of the profits you make, in real cash, while we cover your losses" said Billions Club's CEO.
The company has created a unique Assessment Program to gauge the performance of new traders. After purchasing a Trading Challenge, new members of the Billions Club also enter the Assessment Program, earning a chance to prove they are skilled enough to manage larger pools of trading capital.
As Jakub Roz expressed, members who complete this program will have an opportunity to trade with a prop trading firm Billions Club. Meanwhile, traders who purchase and complete the Billions Challenge are looking at $5,000 to $100,000 in funding based on which Challenge was purchased.
Billions Club is among the most beginner-friendly prop trading firms. Knowing that thousands of young traders don't want to spend years buried in books and playing trading simulators online, Billions Club has launched a comprehensive education hub called the Billions Academy.
Billions Academy is a free educational hub featuring an abundance of educational resources, complete with live trading sessions, shows created by top-class coaches, and more.
The company is committed to transforming aspiring traders into shining success stories, and to achieve this, it actively works on training and preparing its members via its budding Discord community. The Billions Club Discord channel is embracing new members daily and is helmed by highly experienced traders as admins.
The purpose of The Billions Club Discord goes beyond being a "trading boot camp". Apart from featuring channels specifically designed to educate its members and familiarize them with the Billions Club ecosystem, it is also a social network where members befriend each other, share experiences, and grow as a community.
Billions Club has proudly announced that its soft launch was a huge success and that the official launch is scheduled for July, 2023. Beginners, semi-experienced rookies, and seasoned pros are all invited to test the exciting services Billions Club has to offer by purchasing a trading challenge once the services are officially launched.
More information about Billions Club is available on the company's website.

Contact Info:
Name: Matous Mrazek
Email: Send Email
Organization: Billions Club
Address: United Arab Emirates
Phone: +420777719161
Website: https://www.instagram.com/billionsclubcom/

Release ID: 89102104
Should you come across any errors, concerns, or inconsistencies within this press release's content, we urge you to reach out without delay by contacting error@releasecontact.com. Our committed team will promptly address your feedback within 8 hours and take appropriate measures to resolve any identified issues or guide you through the removal process. Providing accurate and dependable information remains our utmost priority.