NEWPORT NEWS, Va., March 31, 2023 (GLOBE NEWSWIRE) -- HII (NYSE: HII) will launch a promotional campaign at the Navy League's Sea-Air-Space Global Maritime Expo 2023 highlighting the defense contractor's evolution with its customers, expansion of its portfolio and innovation of its shipbuilding execution, by encouraging attendees to "See Beyond" what they believe they know about HII. Through presentations, interactive demonstrations, advertising and displays, the nation's largest shipbuilder encourages attendees to:

See Beyond traditional shipbuilding to HII's digital design and construction by a multi-generational workforce.
See Beyond one domain, to all domains in which HII is delivering the advantage to the warfighter.
See Beyond today to the next generation of HII solutions supporting a connected force.

HII will host events, presentations and briefings during the three day Sea-Air-Space Expo to increase awareness of HII products and capabilities, and reinforce HII's growth as an all-domain solutions provider. HII will provide a briefing on HII's expertise that may be applicable to the advanced military capabilities to promote security and stability in the Indo-Pacific region as outlined in Pillar 2 of the Australia–United Kingdom–United States (AUKUS) partnership as well as demonstrations of the ways in which HII is improving shipbuilding by increasing speed, innovating and reducing costs.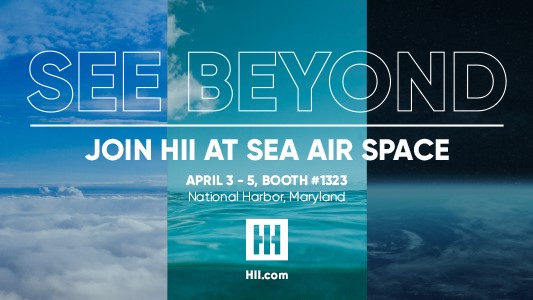 A photo accompanying this release is available at: https://hii.com/news/hii-invites-sea-air-space-expo-attendees-to-see-beyond/
Media are also invited to attend HII briefings on:
How HII's Live, Virtual Constructive (LVC) Training supports mission readiness against near peer adversaries at reduced costs and wear-and-tear on ships, aircraft and equipment, and how the U.S. military is utilizing and evolving LVC to improve decision making and training outcomes and prepare warfighters for Joint All-Domain Operations.
HII leadership role in unmanned underwater vehicles (UUV) and vision for the future.
The Sea-Air-Space Expo is scheduled for April 3-5 at the Gaylord National Resort & Convention Center at National Harbor, Maryland. A full list of HII briefings is available at: https://hii.com/events/hii-at-2023-sea-air-space-exposition
HII will also unveil a new interactive display in the HII booth which will use video, graphics and text to illustrate how HII is providing a portfolio of ships, products and capabilities to make Joint All-Domain Command and Control Operations and Distributed Maritime Operations a reality.
View the HII See Beyond Commercial here: https://newsroom.hii.com/file/hii-see-beyond-2023.
HII See Beyond Commercial Script
For 135 years we've been ship building experts and trusted partners in advancing national security.
Delivering the world's most powerful ships and, now, all-domain solutions in service of the nation.
As our capabilities evolve so does our perspective.
We see beyond the now, beyond the known.
We see an ever-changing, global defense landscape, and we create advantages for our customers as they protect peace and freedom around the world.
We are HII.
And we See Beyond.
About HII
HII is a global, all-domain defense provider. HII's mission is to deliver the world's most powerful ships and all-domain solutions in service of the nation, creating the advantage for our customers to protect peace and freedom around the world.
As the nation's largest military shipbuilder, and with a more than 135-year history of advancing U.S. national security, HII delivers critical capabilities extending from ships to unmanned systems, cyber, ISR, AI/ML and synthetic training. Headquartered in Virginia, HII's workforce is 43,000 strong. For more information, visit:
Contact:
Danny Hernandez
Danny.J.Hernandez@hii-co.com
(202) 264-7143
A photo accompanying this announcement is available at https://www.globenewswire.com/NewsRoom/AttachmentNg/ce779cdd-0349-46f8-94c2-61aa20dd0cf0