Enterprise hybrid multi-cloud management solutions provider Nutanix Inc. (NASDAQ: NTNX) stock soared, breaking out of a weekly descending triangle pattern on solid Q3 2023 earnings. Hybrid multi-clouds help enterprises accelerate their digital transformation, driving demand for cloud services. Multi-cloud adoption and data center modernization are tailwinds driving up top-line growth.
The largest deal in its recent quarter was with a Fortune 500 semiconductor provider seeking to accelerate its digital transformation. Nutanix competes with Dell Technologies Inc. (NYSE: DELL), Hewlett Packard Enterprise Co. (NYSE: HPE) and VMware Inc. (NYSE: VMW) in the digital transformation, storage and multi-cloud. The company grew its customers by 9% to 24,050 in Q3 2023. It grew its $1 million customers by 18% to 1,442 and $10 million customers by 30% to 133 in Q3 2023. 
Hybrid Multi-Cloud Environment
A hybrid multi-cloud combines public and private cloud services and on-premises infrastructure allowing companies to get the best of all worlds. It enables the flexibility of the public cloud, the control and security of the private cloud, and the cost savings of on-premises infrastructure.
This means organizations can use a public cloud for resource-intensive workloads while using a private cloud for confidential workloads allowing scalability up or down. Organizations can use the private cloud to store data and the public cloud to process and analyze big data. Developers can use the private cloud for development and testing and the public cloud for production. 
Beat and Raise
On May 24, 2023, Nutanix released its fiscal third-quarter 2023 results for the quarter ending April 2023. The Company reported an earnings-per-share (EPS) profit of $0.04, excluding non-recurring items, versus consensus analyst estimates of $0.03, beating estimates by $0.01. Revenues rose 11.1% year-over-year (YoY) to $448.6 million, beating analyst estimates of $433.44 million. Annual contract value (ACV) billings rose 17% to 239.8 million.
Annual recurring revenue (ARR) increased by 32% to $1.47 billion. The company also completed the investigation regarding third-party software usage, which will have an estimated $11 million impact recorded in Q2 2023 and corrected prior period financials. The company expects the incremental ongoing annual impact on operating expenses in the low single-digit millions. The company generated $42 million in free cash flow in the quarter.
CEO Insights
Nutanix CEO Rajiv Ramaswami commented, "Our third quarter results demonstrated a good balance of growth and profitability, resulting in year-to-date ACV Billings growth exceeding 20%, combined with strong year-to-date free cash flow generation. We continue to execute on our growing base of subscription renewals and remain focused on sustainable, profitable growth."
The company saw solid renewals and continues to see companies prioritizing digital transformation and data center modernization, focusing strongly on the cost of ownership. Companies are being more scrutinized for deals, which is attributed to the uncertain macroeconomic environment. This is driving slightly longer sale cycles. Supply chain constraints that the company suffered with its hardware providers have normalized with minimal impact on its operations.
Raising the Bar
Nutanix raised guidance for fiscal Q4 2023 revenues to come in between $470 million to $480 million versus $452.24 consensus analyst estimates, with ACV billings of $245 million to $250 million. Non-GAAP gross margins are around 84%, and non-GAAP operating margins are between 9% and 10%.
Fiscal full-year 2023 revenues are expected between $1.84 billion to $1.85 billion. Full-year 2023 ACV billings are expected between $915 million to $925 million, with non-GAAP gross margins of around 84%. Non-GAAP operating margin is expected between 6% and 7%, and free cash flow between $125 million and $135 million. Investor Day in New York City is scheduled for Sept. 26, 2023.
Nutanix analyst ratings and price targets can be found on MarketBeat.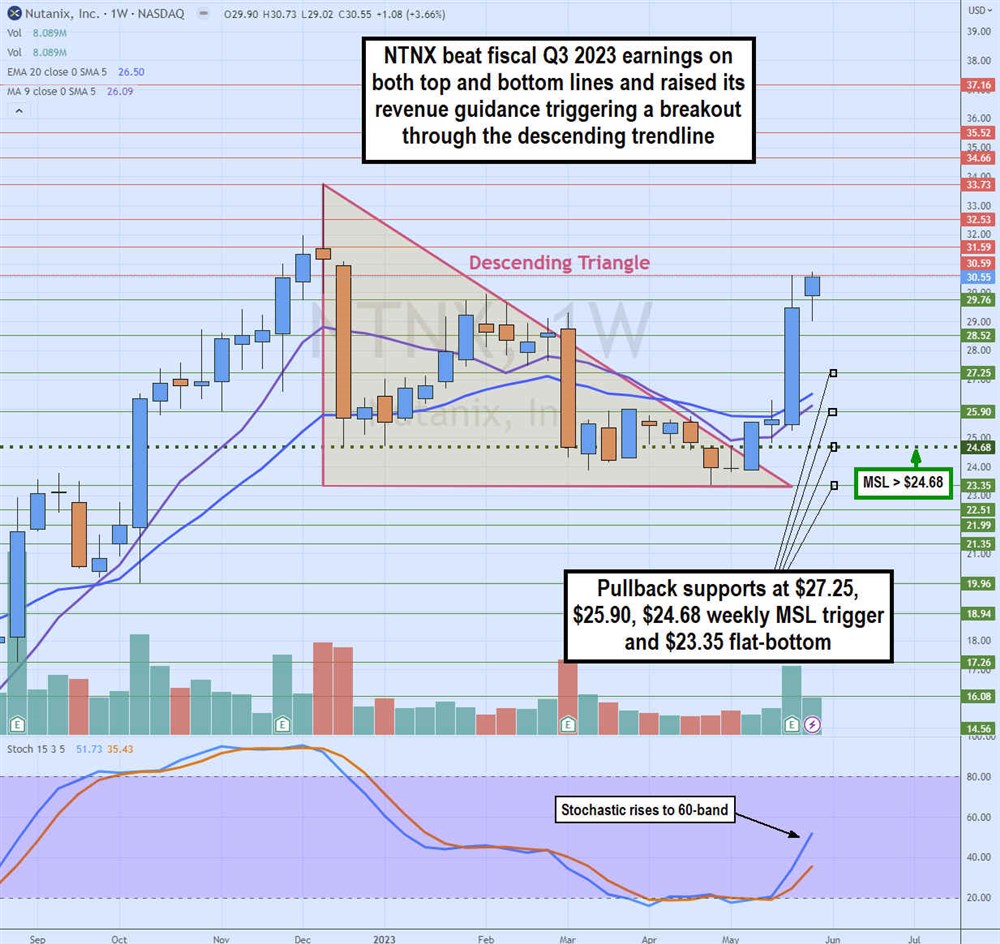 Weekly Descending Triangle Breakout
The weekly candlestick chart for NTNX illustrates a descending triangle that started to form after peaking at $33.73 in December 2022. Shares continued to fall to a low of $23.35 in April 2023. Each bounce attempt made lower highs, as indicated by the descending trendline. The weekly market structure low (MSL) breakout through the $24.68 trigger occurred at the beginning of May 2023, simultaneously breaking out through the descending trendline and triangle accelerating higher on its Q3 2023 earnings beat. The weekly stochastic finally bounced off the 20-band as it headed toward the 60-band. Pullback support levels are at $27.25, $25.90, $24.68 weekly MSL trigger and $23.35 flat bottom.