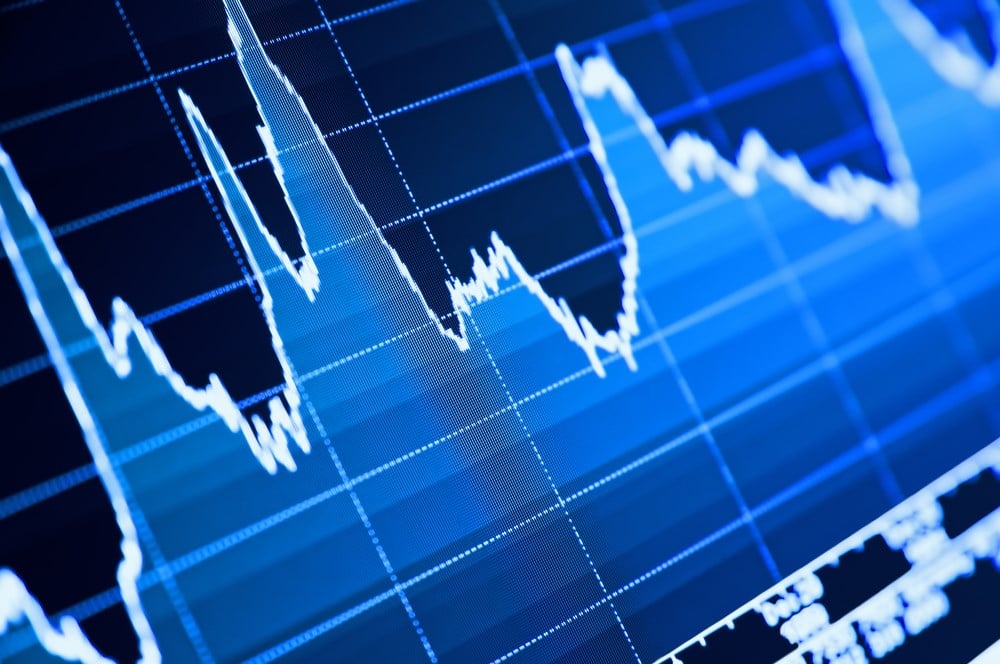 The second quarter of the 2023 earnings season has drawn to a close. There were many surprises in every sector. However, there were some standout surprises with upcoming catalysts to watch. These 2 stocks have been under the radar and surprised with exceptional earnings blowouts that exceeded EPS expectations.
Dealing with labor strikes or the resurgence of COVID-19 Omicron variant hospitalizations are some of the make-or-break catalysts on the horizon for our 2 stocks. They are up 11.65% and down 17.77% year-to-date (YTD), respectively.
Endeavor is a media, entertainment, talent and sports company representing the best-known artists, actors and entertainers worldwide. For lack of a better word, the company is diversified through many… endeavors. One of their most valuable properties is the leading organization in mixed martial arts (MMA), The Ultimate Fight Championships (UFC).
It also owns a stake in Formula One, Major League Soccer and Miss Universe. It announced the acquisition of World Wrestling Entertainment Inc. (NYSE: WWE) with plans to spinoff a new public company, combining it with the UFC under the ticker TKO, in which Endeavor will have a 51% stake and WWE shareholders with 49%. 
Through its William Morris Entertainment (WME) talent division, the company represents over 6,000 entertainers and athletes ranging from Beyonce and Taylor Swift to Brad Pitt, Ryan Reynolds and Dwayne "The Rock" Johnson to LeBron James, Tiger Woods and Cristiano Ronaldo. Endeavor has its hands in all things entertainment. The company had a blowout Q2 2023 on Aug 8, 2023.
Blowout Q2 2023 Results
Endeavor reported EPS of $1.29 to trounce the consensus analyst estimates for 28 cents by $1.01. Net income was $665.5 million, and adjusted EBITDA was $304.9 million. Revenues climbed 9.4% YoY to $1.44 billion, matching estimates. The company sold IMG Academy at an enterprise value of $1.25 billion, which enables the company to purchase up to $300 million in common stock in Q3 2023.
Endeavor also plans to start paying quarterly cash dividends at the end of Q3 2023. The company had $1.616 billion in cash and cash equivalents at the end of the quarter.
WGA/SAG-AFTRA Strikes
The looming issue is what effects the Writers Guild of America (WGA) and Screen Actors Guild (SAG-AFTRA) strikes will have on their forward earnings. Endeavor represents some of the most popular celebrities and content producers. Its Representation segment has $381.1 million in revenues, up 6.5% YoY in Q2 2023.
The growth was attributed to the delivery of projects in its non-scripted content production business, increases in its fashion business, and increased spending from its 160 over90 corporate clients, which helped to offset some of the impacts of the WGA strike. Adjusted EBITDA was $107.1 million, down $4.1 million or 3.7% YoY.
Representation is the second largest revenue segment in Endeavor, accounting for nearly 30% of its revenues.
Financial Impacts of the Strikes 
Endeavor CEO Ari Emanuel stated he had been through many strikes during his 35-year tenure representing actors, writers and creatives. The industry has navigated through change, and this time will be "no exception" and will continue to push through for their clients on a resolution.
Endeavor CFO stated that this is the first time in 63 years that WGA and SAG-AFTRA simultaneously had strikes. The strikes will adversely impact revenues by $25 million per month on average. However, the company will have to update its guidance based on the impacts of the strike in its Q3 2023 conference call.
Endeavor analyst ratings and price targets are at MarketBeat.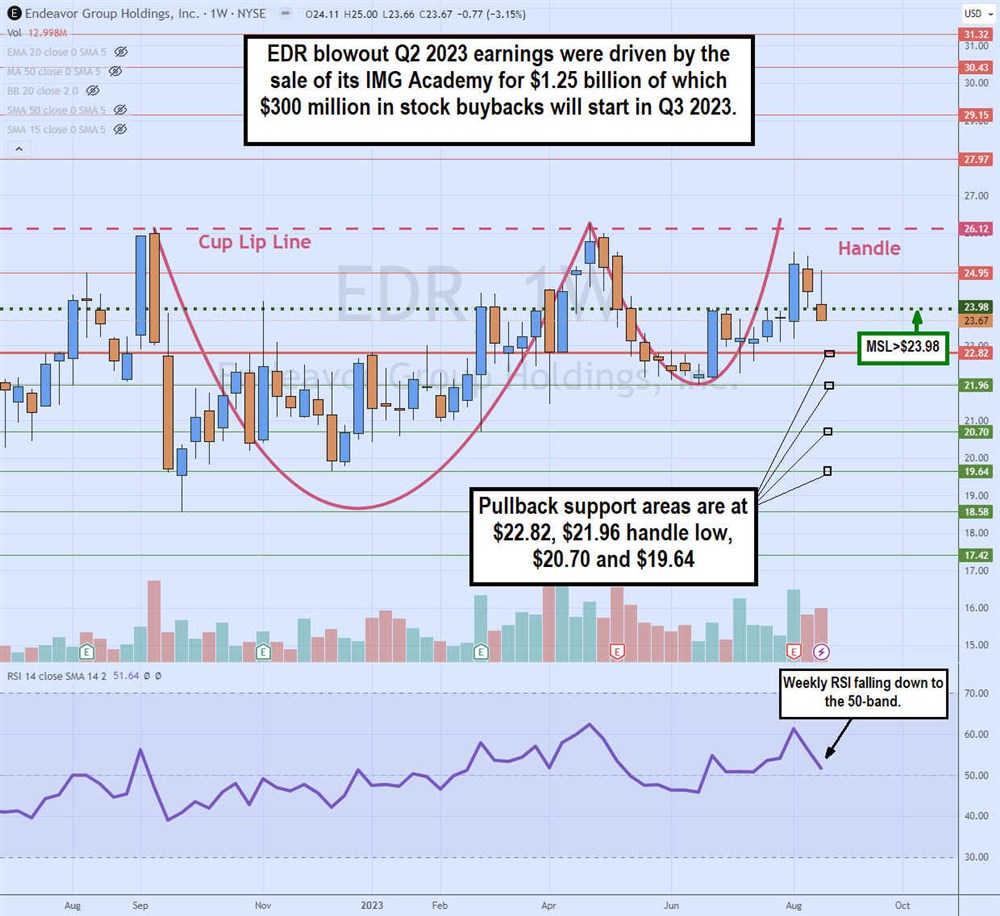 Weekly Cup and Handle Attempt
The weekly candlestick chart for EDR displays a cup and handle pattern that has been unable to break out. The cup lip line at $26.12 was formed in September 2022 as it was retested and completed in April 2023. Shares pulled back to form the handle low at $21.96 in June 2023, forming the weekly market structure low (MSL) trigger at $23.38.
The MSL breakout attempt started in August 2023 but lost steam as shares fell under the MSL trigger area, and the relative strength index (RSI) oscillator slipped back toward the 50-band. Pullback supports are at $22.82, $21.96, $20.70 and $19.64.
During the pandemic, little-known Novavax stock climbed from obscurity in the $4 range to a high of $331.68 in February 2021 on the promise of a COVID-19 vaccine. Unfortunately, Novavax was late to the party as Pfizer Inc. (NYSE: PFE) and Moderna Inc. (NASDAQ: MRNA) took the majority of the U.S. vaccination business, leaving Nuvaxovid as a distant treatment option in the U.S., Canada and foreign countries.
Shares have since plummeted, falling over $90 from its highs. Its recent earnings report was a blowout surprise that has caused sentiment to turn more positive as COVID cases resurge. Lions Gate Entertainment (NYSE: LGF.A) reinstated its mask requirements at its headquarters due to the resurgence of COVID-19 cases in  Los Angeles, California.
The variant EG.5 is the dominant strain that is resurfacing. This has caused the Centers for Disease Control (CDC) to meet on Sept 12, 2023, to determine the next rollout of new COVID-19 vaccines.
Surprise Q2 2023 Earnings Blowout
On Aug 8, 2023, Novavax reported an EPS of 58 cents versus consensus estimates for a loss of $1.33. Revenues climbed 128.3% YoY to $424.4 million versus $264.16 million, consensus analyst estimates. The company asserts that COVID has become a seasonal public health challenge and has been working to develop a combination of COVID and influenza vaccines.
The company also negotiated cash payments with Canada for up to $350 million for 2023, partly for forfeiture of committed doses. The company had $518 million in cash and $395 million in accounts receivables at the end of June 2023, which is $5.36 cash per share. The company guided in line for the rest of 2023 with full-year revenues between $1.3 billion and $1.5 billion, beating $1.44 billion analyst estimates.
Omicron Variant EG.5
Novavax announced its updated COVID-19 vaccine successfully neutralized the new EG.5.1 and XBB.1.16.5 variants of the Omnicron strain in its non-clinical studies in animals and non-human primates. These Omicron variants account for 21% and 11% of total COVID cases in the U.S..
The company has registered filings with the FDA and various regulatory agencies abroad for booster campaigns. The company sees a potential U.S. market demand of 80 million to 100 million doses.
Novavax analyst ratings and price targets are at MarketBeat.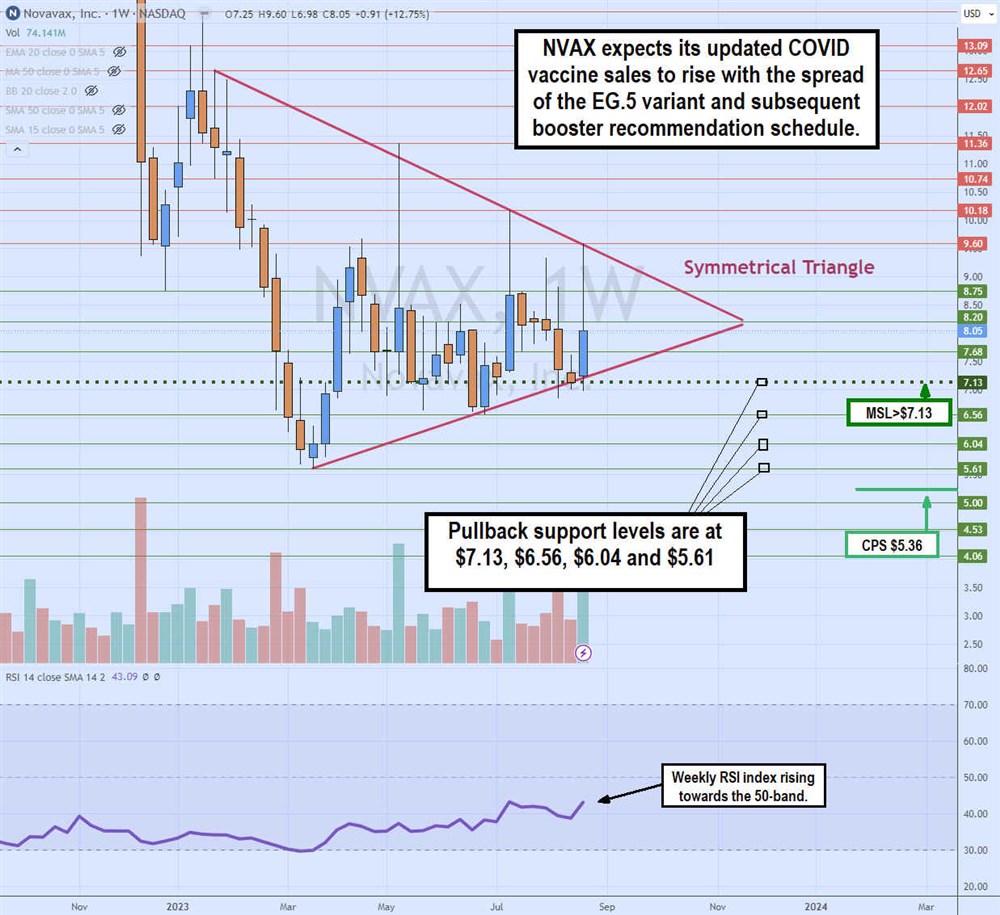 Weekly Symmetrical Triangle
The weekly NVAX chart shows a symmetrical triangle pattern, set to resolve to the upside or downside as it gets closer to the apex point. The triangle comprises lower highs on rallies and higher lows on sell-offs. The initial plots start with a peak of $12.65 in January 2023 and a low of $5.61 in March 2023.
NVAX triggered a weekly market structure low (MSL) breakout through the $7.13 trigger to a lower high and sold off to a higher low, shrinking the range from $9.60 to $6.98. The weekly relative strength index (RSI) slowly builds up, rising through the 40-band. Pullback support levels are $7.13 weekly MSL trigger, $6.56, $6.04 and $5.61. NVAX has $5.36 in cash per share, which should be a floor price support. NVAX has a 42% short interest, which could easily spark a short squeeze.