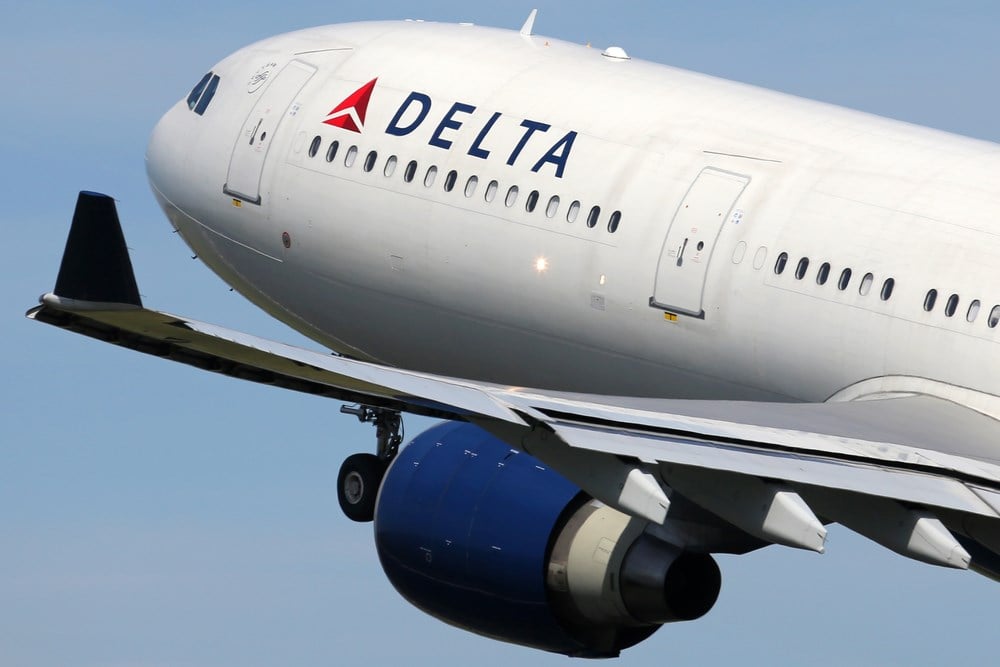 Delta Air Lines Inc. (NYSE: DAL) swooped lower, essentially in tandem with the broader market, making a soft landing at its 50-day moving average. Just before its most recent quarterly report, on July 13, the stock reached an altitude last seen in April 2021 before retreating.
However, the pullback has been orderly, although it's underperformed the S&P 500, as well as the S&P 500 industrials sector, of which Delta is a component. 
The stock's recent returns are: 
1 month: -4.16%
3 months: 34.18%
Year-to-date: 39.65%
MarketBeat's Delta Air Lines chart shows something you want to see in a pullback: Lower volume as the stock has been declining. That signals that investors are taking profits after those big recent rallies, rather than flying full speed toward the exit.  
Analysts Say "Buy"
Delta Air Lines' analyst ratings show a consensus view of "buy," with seven analysts boosting their price targets after the most recent earnings report. 
Delta has been in the news because of its investment in Wheels Up Experience Inc. (NYSE: UP), which postponed its quarterly earnings report and said it's exploring strategic options. 
Delta has been an investor in the company and "provided a short-term capital infusion" to Wheels Up, according to the release.  
Wheels Up, which went public via a SPAC merger in July 2021, is a premium aviation service offering private flights, personalized experiences, convenience, luxury, flexible scheduling, and other membership benefits.
In January 2020, it entered into a long-term Commercial Cooperation Agreement with Delta. Wheels Up offers Delta Medallion status and SkyMiles to its members, co-markets to top Delta customers, and collaboration with Delta's sales teams. 
At the time of that agreement, Delta merged its Delta Private Jets business unit into Wheels Up.
As a significant stockholder, Delta has the right to designate two members of the Wheels Up board of directors. 
Wheels Up's Downbeat News Doesn't Hurt Delta
While the future of Wheels Up may not look so lofty, the announcement didn't do much damage to Delta shares, which declined 1.67% in light trading volume. Delta stock ended the August 9 session at $45.02, 1.7% above its 50-day moving average. 
The pullback in Delta stock began after the second-quarter earnings announcement. Earnings of $2.68 a share represented a year-over-year increase of 86%, and revenue came in at $15.6 billion, up 13%. A glance at MarketBeat's Delta Air Lines earnings data shows that topped analysts' expectations. 
In the release, Delta president Glen Hauenstein said the company expects robust demand to continue into the current quarter, with the company eyeing a revenue increase in a range from 11% to 14% year-over-year.  It also expects capacity to be 16% higher. Capacity is measured as available seat miles. 
International Travel Driving Results
Delta cited international performance as a factor driving the quarterly results. 
"Record June quarter international passenger revenue was 61 percent higher year over year with record profitability. Transatlantic was driven by strong U.S. consumer demand, with southern European destinations leading results," the company said.
Delta also said transpacific and Latin American travel was strong, with domestic U.S. travel remaining healthy.
Higher labor costs partially offset higher passenger revenue. 
Industry Flying To Higher Levels
As a group, airlines have been flying higher in the past three months as earnings and revenue continue to post solid growth after bouncing back from pandemic-era declines.  Delta is among the price-performance leaders within the industry, behind SkyWest Inc. (NASDAQ: SKYW) and Brazil's Azul S.A. (NYSE: AZUL).
Delta's pullback to its 50-day moving average could offer a buying opportunity. Stocks that are on a longer-term upward trajectory frequently pull back to their 50-day average after a big run-up, finding support at that line. Right now, Delta is a poster child for that type of price action. 
That support indicates that institutional investors, for the most part, continue to have conviction in the stock. The current buy range would be anywhere between the 50-day line and the previous structure high, which in this case is $49.81.