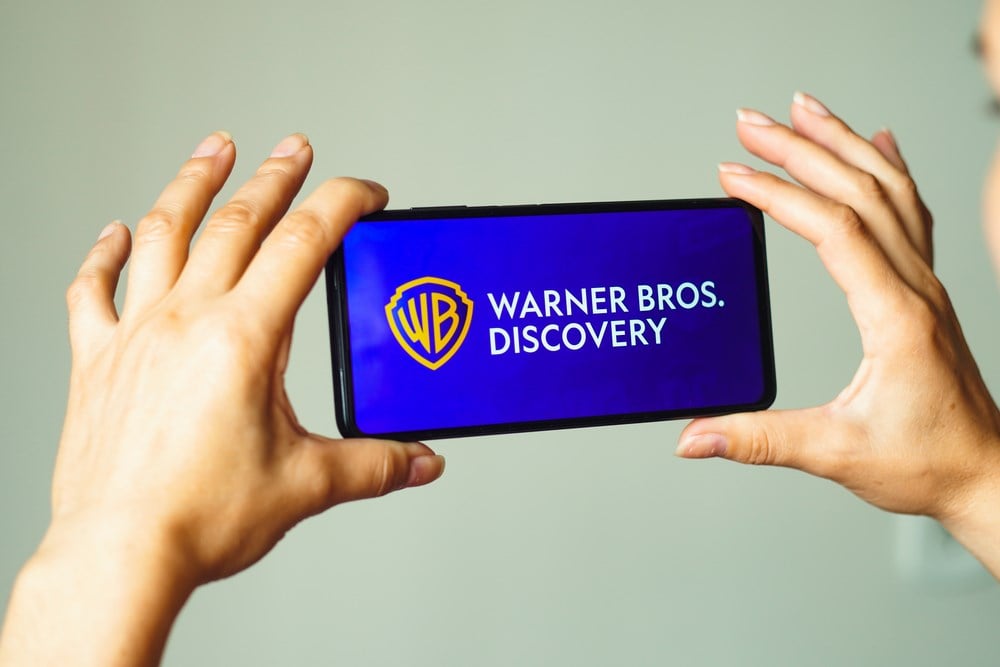 The Writers Guild of America (WGA) initiated a strike on May 2, 2023, after new contract negotiations with the Alliance of Motion Pictures and Television Pictures (AMPTP) fell flat on May 1, 2023. The ramifications of the strike have rippled across media and production networks and studios.
Media and entertainment giant Warner Bros. Discovery Inc. (NYSE: WBD) faces production shutdowns on many projects in addition to other entertainment providers, including Netflix Inc. (NASDAQ: NFLX), The Walt Disney Company  (NYSE: DIS), Comcast Co. (NASDAQ: CMCSA) and Paramount Global (NASDAQ: PARA).
The Key Issues Behind the Strike
The biggest issue stems from the advent of streaming services and their effect on residuals. When syndication was prominent, writers would receive residuals whenever the piece of media they created was re-aired, resold or repackaged. This results in receiving royalties for years since writing is often a freelance job.
However, the advent of streaming services has cut down residual payments to nearly zip. Streaming services tend to pay an upfront flat fee for creatives. Artificial intelligence (AI) is another emerging and potentially disruptive technology that can further squeeze out more writers.
Writers are also fighting the "mini-rooms" where fewer writers are contracted for shorter periods in writers' rooms like gig work which limit the finished product. The WGA wants to regulate the use of AI in writers' rooms, changing material already covered by the Minimum Basic Agreement (MBA). This prevents the source material from adaptions to prevent training AI programs from them. The studios are facing large debt loads and trying to cut down capex and expenses, often at the writers' expense.
The Impact of the WGA Strike
The worst hit is TV shows that require new creative content and scripts, like TV talk shows. Without new scripts, they run re-runs or improvise to a dwindling audience. This hurts networks when commercial advertisers pull their ads. Shows and movies that already have finished scripts can continue production. However, it's the on-site script changes can't be made. Streaming services that get their money from memberships may be okay initially, but as their fresh content thins out, it could affect memberships.
Ad-supported tiers may be impacted. Warnermedia's HBO has many series shows on hold, including The Last of Us, The Penguin (Batman spinoff), Duster, Andor, Knight of Seven Kingdoms (Game of Thrones spinoff) and Hacks. Disney has had to relay production for its TV shows like The Big Bang Theory and Modern Family. Netflix had to delay production for The Witcher, Stranger Things Season 5 and The Crown. Comcast has delayed The Voice, Saturday Night Live, and The Tonight Show production.
The Nuclear Event
The Directors Guild of America (DGA) reached a tentative agreement with the AMPTP on June 3, 2023. The agreement is out for a vote with its members. However, the DGA is widely known for supporting the WGA. The Screen Actors Guild – American Federation of Television and Radio Artists (SAG-AFTRA) is the big union representing 160,000 actors, dancers, broadcasters, journalists, singers, recording artists, stunt performers, voiceover artists and other media professionals.
Their contract expires on June 30, 2023, making them the subsequent union to strike if an agreement isn't reached before then. SAG-AFTRA members are aligned with the WGA and have authorized a strike (98% of members agreed) if the negotiations fail to produce satisfactory results. The last SAG strike lasted 100 days in 2000, causing numerous delays, disruptions and cancellations of shows and movies, and layoffs costing the industry billions in losses.
Greedy Studios?
In a CNN (owned by WBD) interview, WGA board member Adam Conover stated, "The thousands of writers on strike are asking for roughly the same amount that Warner Brothers Discovery CEO David Zaslav took home last year alone." He may have been referring to Zaslav's 2021 compensation of $246 million tied to the merger between Discovery and Warnermedia. However, that is primarily options that vest at higher stock price levels over time.
It likely hasn't since WBD shares are in the proverbial "toilet." Zaslav's total compensation in 2022 was $39.3 million, comprised of a $3 million salary, $12 million in stock, $1.4 million in options and $21.8 million in non-equity incentive plan compensation (cash). His bonuses moving forward are also tied to free cash flow, which may be one of the motivations behind the $3.5 billion in content write-downs.
Warner Bros. Discovery analyst ratings and price targets are on MarketBeat.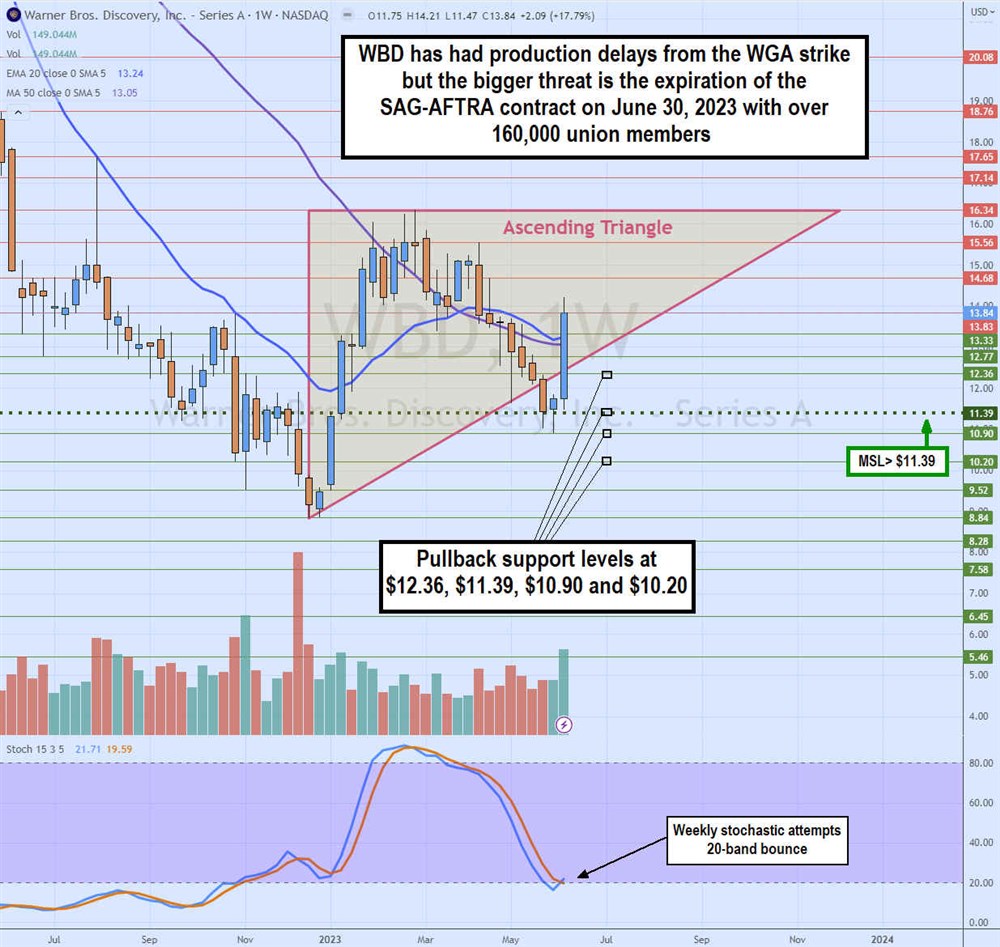 Weekly Ascending Triangle
The weekly candlestick chart on WBD illustrates an ascending triangle comprised of a flat-top upper trendline and ascending trendline. The ascending trendline commenced in December 2022 after bottoming at $8.84 and triggering a weekly market structure low (MSL breakout through the $11.39 trigger.
WBD staged a rally to the flat-top trendline of $16.34 in February 2023 before falling to the ascending triangle trendline at $11.63 in May 2023 on the WGA strike commencement. The ascending triangle almost broke when it fell to $10.90, but shares rebounded swiftly back into the triangle range when it bounced through $12.36 in June 2023.
The weekly stochastic is attempting to bounce up through the 20-band. Pullback support levels are $12.36, $11.39 weekly MSL trigger, $10.90 and $10.20.