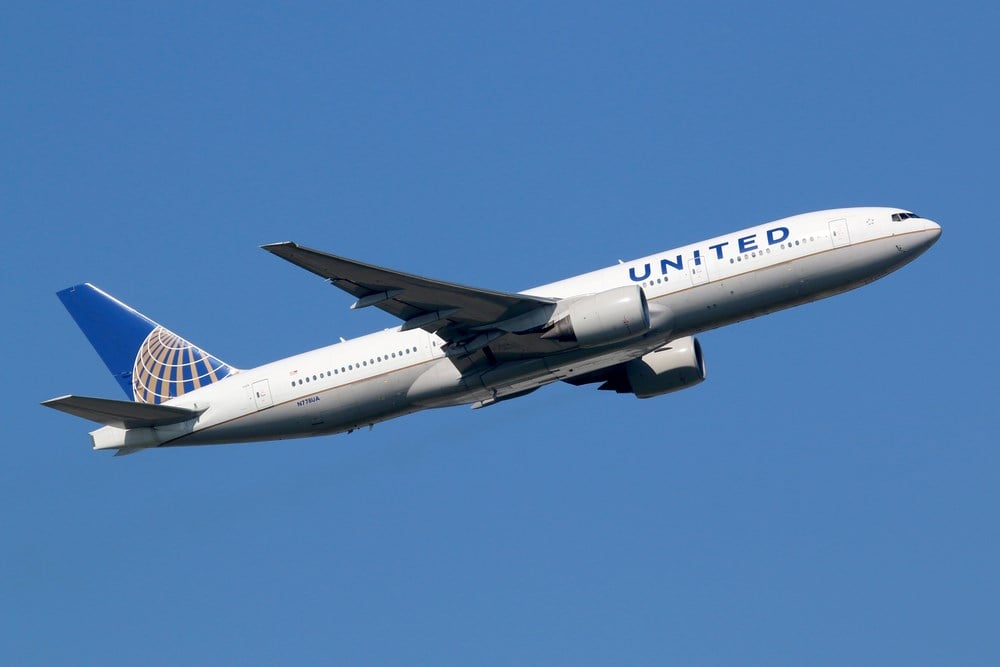 United Airlines Holdings Inc. (NYSE: UAL) had previously cut its Q1 2023 earnings guidance to expedite the charges from a revised contract with the Airline Pilots Union. This accounting adjustment was also done by other airline stocks Alaska Air Group Inc. (NYSE: ALK) and Delta Air Lines Inc. (NYSE: DAL). The company had assured investors that leisure travel was still robust with no signs of letting up. The company reported its Q1 2023 earnings which beat its lowered estimates as they re-raised Q2 2023 and reaffirmed full-year guidance. Has United been purposely lowballing its forward guidance like a game of limbo so they can easily beat again?
Beat and Raise
On April 18, 2023, United released its fiscal first-quarter 2023 results for the quarter ending March 2023. The company reported an earnings-per-share (EPS) loss of ($0.63), excluding non-recurring items, versus consensus analyst estimates of ($0.73), beating estimates by $0.10. Net losses were ($194 million). Revenues rose 51.1% year-over-year (YoY) to $11.43 billion, matching analyst estimates. Capacity rose 23.4% YoY.
TRASM CASM
Total revenue per available seat mile (TRASM) rose 22.5%  YoY. Cost per available seat mile (CASM) rose 4% YoY. The company generated a record-high quarterly operating cash flow north of $3 billion. The company reached a tentative agreement with the International Association of Machinists and Aerospace Workers (IAM) for its 30,000 workers. The company achieved its lowest Q1 seat cancellation rate of (1.09%) since 2012.
United Airlines CEO Scott Kirby commented, "We are watching the macroeconomic risks carefully, but demand remains strong, especially internationally, where we are growing at twice the domestic rate. We expect all of these factors will keep us on track to achieve our full-year adjusted diluted EPS1 target."
Guidance Raise
United Airlines issued Q2 2023 guidance for EPS to return to profitability from $3.50 to $4.00 versus $3.62 consensus analyst estimates. The company continued reaffirming its full-year 2023 EPS of $10.00 to $12.00 versus $8.68 consensus analyst estimates. Strong international travel demand is expected for Q2 2023 as it expands international routes. Cost trajectory is on track for a full-year flat CASM-ex target. United Airlines analyst ratings and price targets can be found on MarketBeat.
Boeing 737 MAX Aircraft Delays
United Airlines has ordered over 100 new Boeing Co. (NYSE: BA) 737 MAX planes. Its 10-Q filing noted that Boeing warned of delays due to supply chain and manufacturing process issues related to certain Boeing 737 MAX fuselages; six Boeing 737 MAX 8 aircraft were scheduled for delivery in Q2 2023 and will be delayed. Boeing 737 MAX 8 aircraft due for delivery in Q3 2023 may be delayed, and particular 737 MAX aircraft expected for 2023 delivery may be delayed into 2023. It's also been reported that supply chain issues may delay its plan to revamp cabins. The company doesn't expect the delays to impact its 2023 capacity plan much.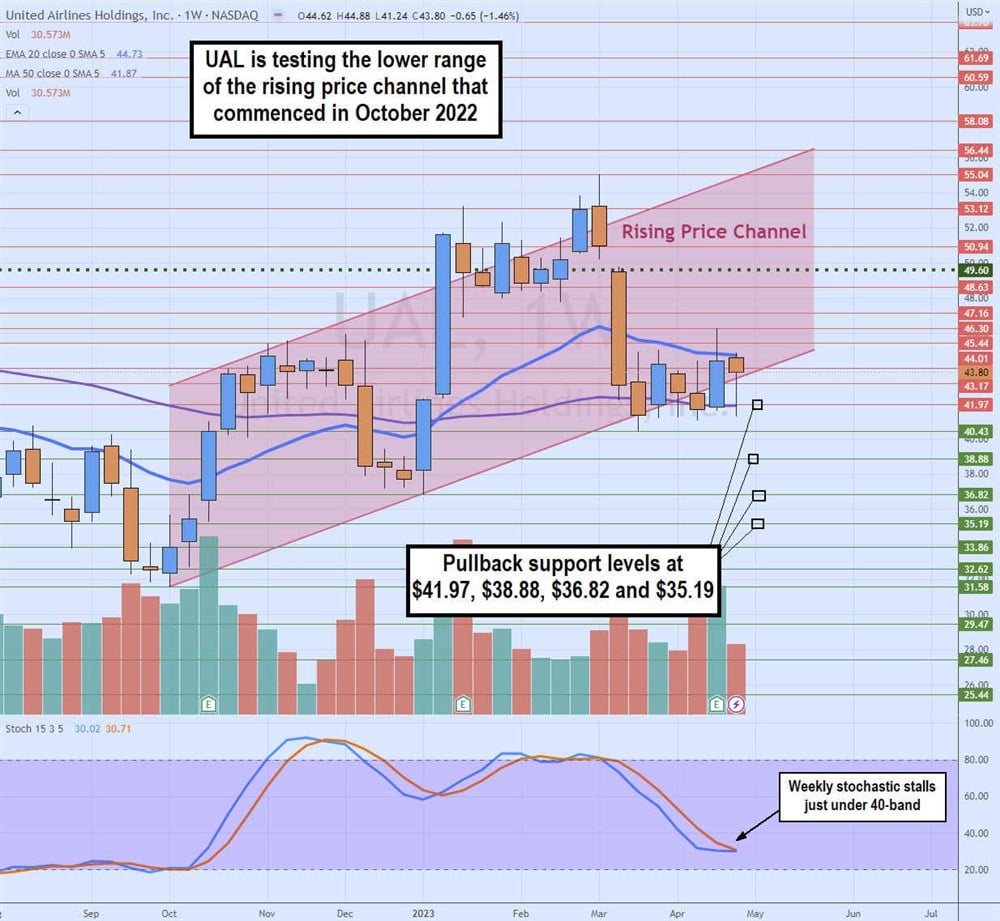 Weekly Rising Price Channel  
The weekly candlestick chart on UAL has been in a rising price channel since its swing low of $31.58 in October 2022. Shares have gradually been making higher highs and higher lows. It formed a weekly market structure low (MSL) trigger on the breakout of $49.60 until its Q1 2023 guidance cut sank shares to a low of $40.43 in March 2023. UAL has been attempting to stay within the weekly rising price channel as it attempts to break out through the weekly 20-period exponential moving average (EMA) at $44.73, supported by the weekly 50-period MA at $41.87.
The falling weekly stochastic has stalled just under the 40-band as it attempts to cross back up if it can breakout through the weekly 20-period EMA or for a mini inverse pup down if UAL falls below the weekly 50-period MA to breakdown out of the rising price channel. Pullback supports are at $41.97, $38.88, $36.82 and $35.19.