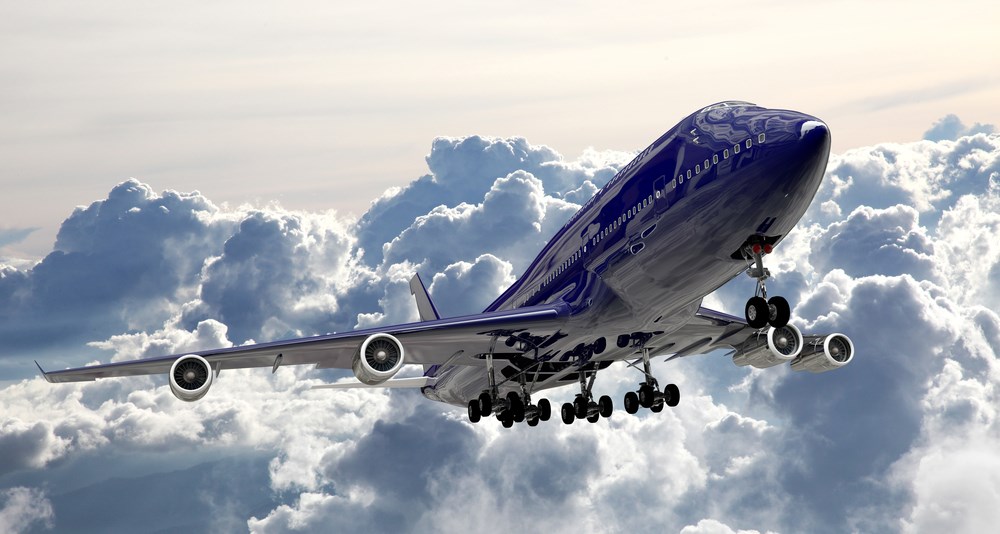 When the COVID-19 pandemic took off and affected industries and sectors across the economic spectrum by creating curfews and lockdown mandates, many critical global supply and value chain hubs saw disruptions and adverse "domino effects." Namely, the semiconductor and machinery sectors saw significant disruptions in production capacity and, thus the ability to fulfill ensuing demand and orders.
A typical error made by market participants is the "hot hand" fallacy; as described by Dr. Richard Thaler, father of behavioral economics, it can be boiled down to whatever has been happening in the past, letting markets believe that it will continue to occur in the future. Perhaps the CEOs of various manufacturing names suffered from this behavioral error as orders and production capacity took a backseat.
At the same time, most of the attention followed solving liquidity issues and staying open for business. As most natural cycles must return to the mean cyclical value, some companies are returning to their pre-pandemic production levels, and some even surpassing them to overtake competitors who may still be asleep behind the wheel.
Boeing Reclaims the Throne
When Boeing (NYSE: BA) released its quarterly aircraft delivery update to investors and markets. Some were taken aback when realizing that the American giant had overtaken its main competitor, Airbus (OTCMKTS: EADSY), on a net delivery basis, a spread not seen since 2018. 
In this report, Boeing pointed to a total commercial aircraft delivery of 130 airplanes, with most of the composition going to their 737 model line. Management had guided analysts and investors in their fourth quarter 2022 earnings presentation, where a target of delivering four hundred to four hundred and fifty 737 model airplanes was proposed. Delivering one hundred and thirteen 737 model aircraft places the company on track to meet its end-of-year target.
Successfully filling this delivery expectation for 2023 will accrue to delivering free cash flow expectations to shareholders, a 31-118% increase from 2022 free cash flow levels. The company is coming off of significant momentum when taking into consideration the 157 deliveries completed in 2020, followed by 340 in 2021 and 480 total for 2022; a 400-450 target in 2023 seems to be a very conservative range by management perhaps looking to surprise markets when the whole range approaches at the end of the year.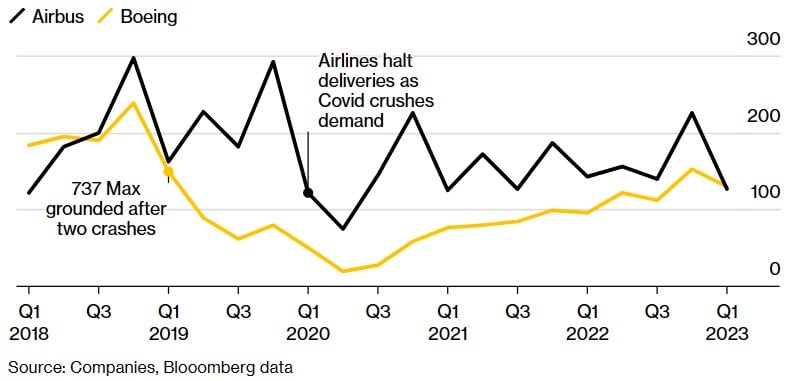 According to Bloomberg Intelligence, Boeing delivered three more jets into the market than Airbus. The image above will also show investors that this had not happened for a single quarter since 1Q'2018, right before the Boeing 737 Max was grounded following two crashes.
The two incidents affecting Boeing's 737 Max grounding had significant effects on the company's financials; revenue saw contractions for the years 2019-2020 of -24.3% and -24%, respectively; these contractions brought the company down to negative cash flow territory which was not able to recoup until the travel industry reopening and reintroduction of the 737 Max in 2022.
Sentiment Gaps, Order Momentum
As Warren Buffet says, the stock market is a short-term voting machine and a long-term weighing machine. Taking a short-term lookback period comparing the two aircraft manufacturing giants, it becomes obvious who gets the popular vote.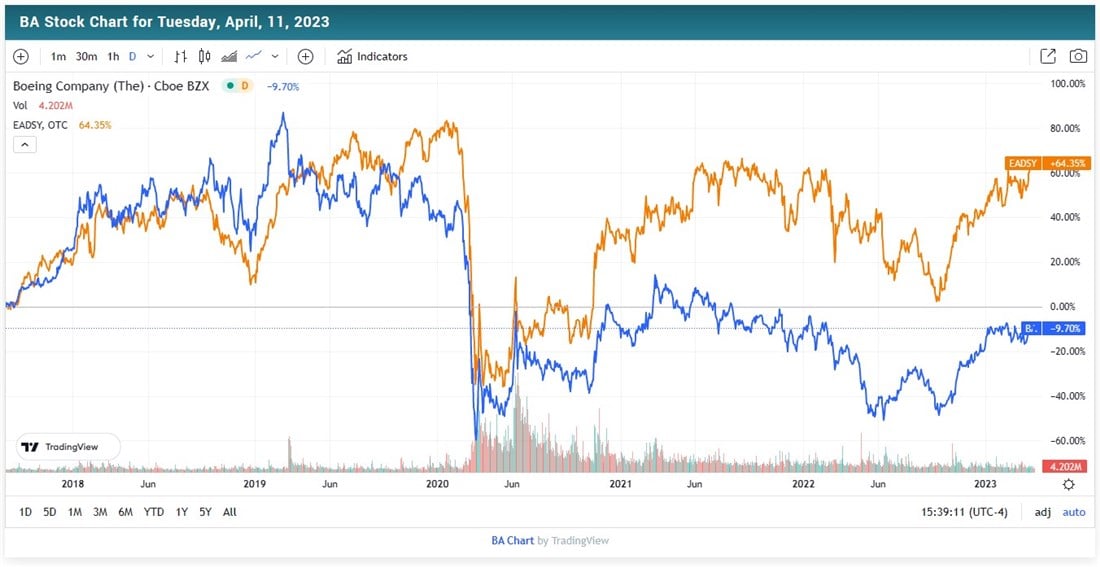 Investors favor Airbus' outlook over Boeing's based on the stock performance gaps. The main reason could be attributed to Airbus's product and customer diversification, which needs to be added to Boeing. Despite the revenue composition differences between the two rivals, Boeing's guidance and realistic outputs for 2023 and beyond are reason enough to expect a swift closing of this performance gap. 
China Southern Airlines (NYSE: ZNH) is reportedly set to receive 103 Boeing 737 Max airplanes by the end of 2024, signaling further upside and confidence for shareholders to believe the projections provided by management pointing to USD 10 billion in annual free cash flow by 2025/2026.
Additionally, Japan Airlines (OTCMKTS: JAPSY) has an outstanding order valued at USD 1 billion for twenty-one 737 Max jets from Boeing, among other orders; this adds fuel to the momentum shareholders had been waiting to see to justify management targets for the near future.
Follow the Money Entry
Looking at options activity for Boeing stock, many participants are opening contracts for the $180 strike level specifically for January 2024. Higher open interest for a particular option strike level and a specific date can imply expectations that the stock price will reach this strike by the speculated date. Given current oil market conditions following OPEC's production cuts, the travel and air transport industry may choose to take a breather before continuing the rising order volumes for aircraft, a catalyst that could bring Boeing stock down to this high-interest strike level of $180 and into a support range of $175-$180.