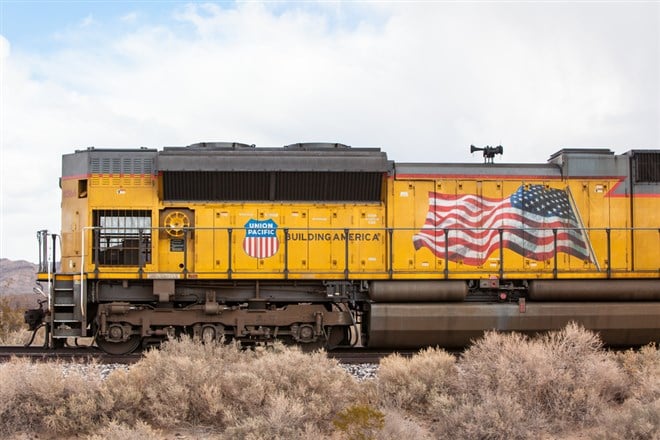 The stock price for Union Pacific (NASDAQ: UNP)fell slightly after posting its results for Q4'22 on Tuesday. Shares of the freight-hauling railroad company are down 3.56% for the past month and incurred a smaller loss over the past five days of 1.43%.
The company's share has been disconnected from movements by the broader market, with the S&P 500 gaining 0.40% over the past five days and 5.06% over the past month.
So following this brief correction, let's examine the company's results it posted this week and put together a thesis of where it may be headed in the future.
Union Pacfic Q4 '22 results
Union Pacific's 4Q 2022 profit slipped 4% to $1.6 billion, or $2.67 per share, compared to $1.7 billion, or $2.66 per share, a year ago. The decline was due to severe winter weather disrupting shipments and causing operational inefficiencies, as well as increased expenses from a higher inflationary environment.

However, revenue grew 8% to $6.2 billion, driven by price increases, fuel surcharges, and a 1% increase in freight deliveries. But ultimately, the results did not meet Wall Street expectations, with Union Pacific's share price down nearly 3% in afternoon trading on Tuesday. Despite service problems, the company's 2022 profit was up 7% to nearly $7 billion.

Some headwinds that battered the stock included struggling to hire enough employees in important locations, leading to key performance measures deteriorating during the quarter. Freight car velocity declined by 3%, and locomotive productivity was down 5% during the quarter, but performance improved in January.

Fuel costs and the uncertainty of the economy remain challenges heading into 2023, but UP expects shipping volume to grow faster than industrial production.
Inflation subsiding
As part of the results the company posted this week, it also issued guidance for what investors can expect for FY2023. This included an improvement in its operating ratio and pricing above inflation dollars.
The operating ratio is a measure of a company's efficiency and profitability. It is a ratio of operating expenses to net sales, typically expressed as a percentage. The lower the operating ratio, the more efficient and profitable a company is.
Adjusting the company's gross margins to account for inflationary pressure might also be required.
As good news for equity investors, inflation could begin to abate with the international monetary fund (IMF) raising its global growth outlook to 2.9%. The IMF said that global inflation is expected to decelerate from 8.8% in 2022 to 6.6% in 2023 and 4.3% in 2024.
US inflation, on the other hand, is also in the process of subsiding. Fitch Ratings' rated U.S. industrials and transportation issuers are expected to navigate cost inflation well. The United States Consumer Price Index (CPI) is expected to be in the mid-3.0% range in 2023 and the high-2.0% range in 2024.
With the economy cooling down, the Federal Reserve may be inclined to slow down or stop its progressive interest rate hikes and thus alleviate some of the pressure equities are feeling on their valuations. The next Fed meeting is due to be held this afternoon.
But US Railroads could have a rough year
Morgan Stanley analyst Ravi Shanker fears 2023 will bring disappointment for the rail industry. According to Barrons, this could be partly due to companies like Union Pacific not using "precision scheduled railroading," but also noted that railroads are historically profitable businesses and have only had a few years of losses over the last two decades.

Furthermore, North American rail traffic was down 1.9% in 2022, according to the Association of American Railroads.  Intermodal, carload, and coal traffic train freight are expected to struggle to show growth in 2023. International and domestic intermodal is unlikely to grow this year due to lower imports, ongoing crew shortages, and rates not competitive with trucks.
Other problems include Railroads not yet reaching pre-pandemic employment levels and average train speeds below the five-year average throughout 2022.
The outlook is therefore mixed for stocks like Union Pacific, but we could also see a lift at if the Fed reduces its aggressive interest rate hike as expected.