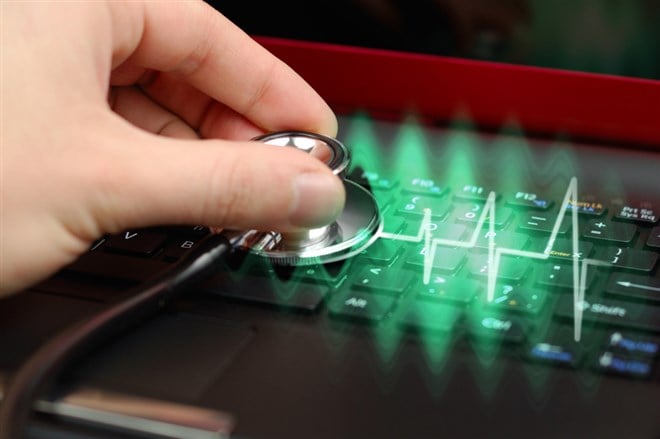 Online health insurance marketplace eHealth Inc. (NASDAQ: EHTH) stock has been on a rollercoaster ride since hitting its high of $152.19 in February 2020, collapsing to a low of $2.67 in November 2022. Shares have staged a rally back up to the $6.50-$7.25 range, up almost 50% in 2023.
It competes with other online insurance brokers, including GoHealth Inc. (NASDAQ: GOCO) and SelectQuote Inc. (NASDAQ: SLQT). Its omnichannel platform enables individuals and employers to select and enroll in health and Medicare Advantage plans for seniors. The Company has been in business for 25 years since 1997.
The business has been going through normalization after the colossal spike in enrollees and revenues during the COVID-19 pandemic as the U.S. government extended its health insurance open enrollment period. The Company continues to lose money, but just less of it. The Company expected to deliver $90 million in cost savings for the full-year 2022 as per its Q3 conference call.
eHealth prioritized reducing its cost structure in 2022 as it expects a return to revenue growth in 2023 under a much-improved cost and operational foundation. This goal is materializing as per its preliminary Q4 2022 update on Jan. 24, 2023.
The Medicare Advantage Tailwind
The federal government has enabled private insurers to contract out Medicare plans under Medicare Advantage. Seniors who qualify for Medicare can select a Medicare Advantage plan over traditional Medicare Part B. Payments are taken directly out of their social security payments. The end user normally sees no difference in payments, but the benefits are vastly improved.
Benefits of Medicare Advantage Plans
The Medicare Advantage business is vital because it provides more options than traditional Medicare Part B coverage. These plans include prescription drugs, which are not included in Medicare Part B. They have fewer out-of-pocket expenses where the individual is only required to pay a co-pay rather than 20% of the medical bill as traditional Medicare requires.
Options for dental, vision, and hearing and wellness programs like health club memberships are provided. These plans are offered by some of the largest insurance carriers like UnitedHealth Group Inc. (NYSE: UNH), Humana Inc. (NYSE: HUM), CVS Health Corporation (NYSE: CVS) owned Aetna, and Cigna Co. (NYSE: CI).
Transformational Q3 2022
On November 7, 2022, eHealth reported its fiscal Q3 2022 results for September 2022. The Company reported an earnings-per-share (EPS) loss of ($1.17) versus consensus analyst estimates for a loss of ($1.45), a $0.28 beat. Adjusted EBITDA losses improved from (-$55.2 million) in Q3 2021 to (-$33.1 million) in Q3 2022.
Revenues fell (16.5%) year-over-year (YoY) to $53.38 million, beating analyst estimates of $48.47 million. Online business continues to see enrollment growth while market expenses have been reduced. The Company also sees 30% more online unassisted major Medicare submissions in the quarter than in the year-ago period.
Confirmed Full-Year 2022 Guidance
The Company expects full-year 2022 EPS revenues of $375 million to $395 million versus $393.12 million consensus analyst estimates. It expects Adjusted EBITDA in the range of ($73 million) to ($45 million).
eHealth CEO Frank Soistman commented during its conference call, "Operationally, one of the most important third quarter achievements has been a year-over-year increase in conversion rate from Medicare sales and enrollment calls. This is a critical metric that determines the effectiveness of our Medicare telesales organization and impacts not only the enrollment volumes but also the per enrollment acquisition cost, one of the key drivers of member profitability."
Raising the Bar
On Jan. 24, 2023, eHealth surprisingly announced an upbeat preliminary Q4 2022 revenue guide raise. It now expected Q4 2022 revenues of $190 million to $200 million, beating analyst estimates for $175.3 million. The Company also exceeded its 2022 cost savings goal delivering $110 million in operating costs versus its earlier projection of $80 million.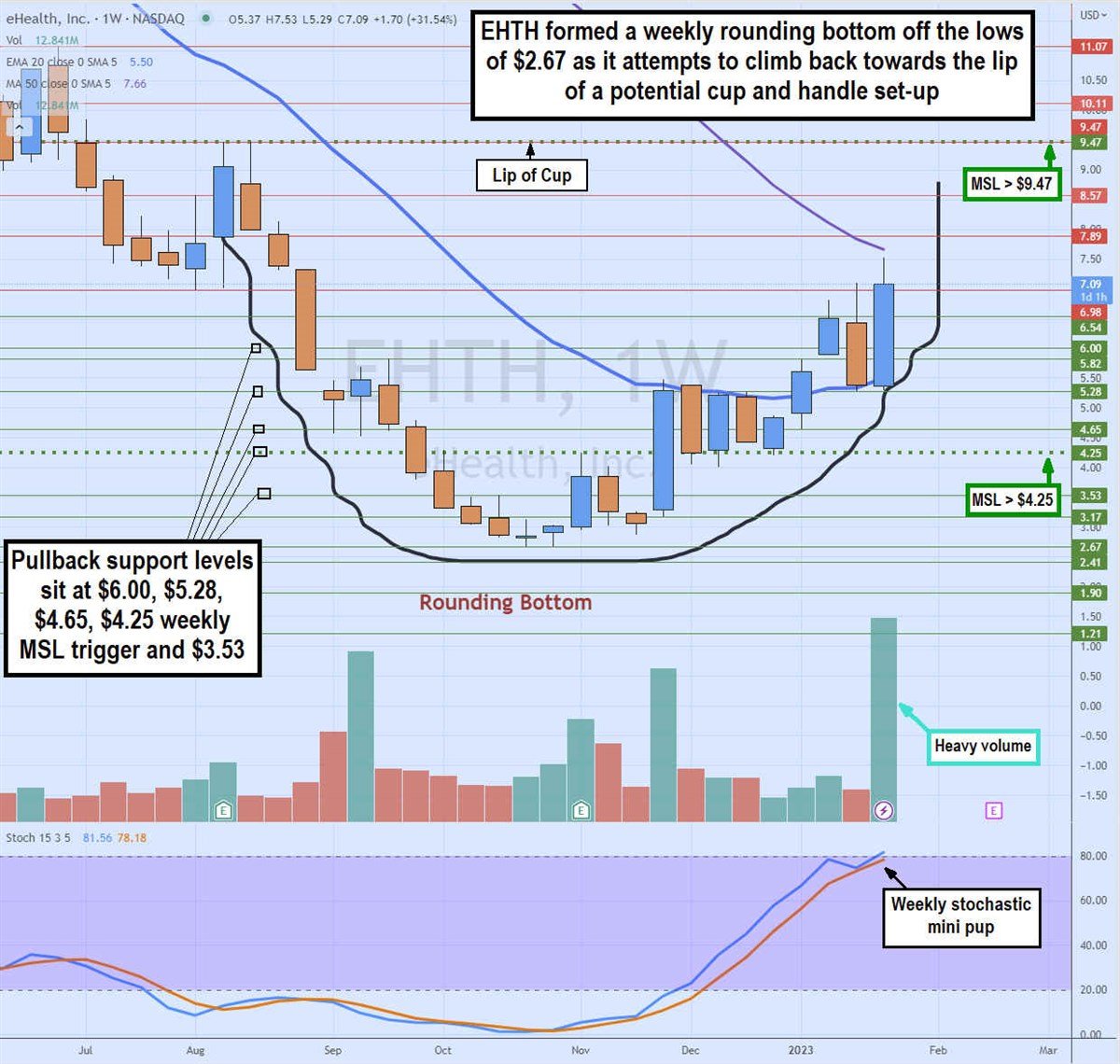 Weekly Rounding Bottom
EHTH shares have been forming a rounding bottom toward the cup lip line at $9.47. Shares collapsed in August 2022 to hit $2.67 in October 2022 before triggering the weekly market structure low (MSL) breakout above $4.25.
Shares made a rounding bottom as the weekly stochastic formed a mini pup oscillation through the 20-band toward the 80-band and broke through the weekly 20-period exponential moving average (EMA) at $5.50 with the weekly 50-period MA at $7.66.
The weekly stochastic initially peaked at the 80-band but is thrusting again on a mini pup attempt to rise through. Pullback support levels are $6.00, $5.28, $4.65, $4.25 weekly MSL trigger, and $3.53.