Miami, FL , Aug. 03, 2023 (GLOBE NEWSWIRE) -- Innovative Eyewear, Inc. ("Innovative Eyewear" or the "Company") (NASDAQ: LUCY; LUCYW), the developer of smart eyewear under the Lucyd®, Nautica®, Eddie Bauer® and Reebok® brands, is pleased to share an interim company update regarding the Company's remarkable progress in 2023.

Secondary Offering & Branded Product Launches
In June 2023, the Company conducted a successful secondary offering to raise the capital needed to launch smart eyewear collections under its new Nautica, Eddie Bauer and Reebok partnerships, and its forthcoming Bluetooth safety eyewear. Both the Nautica Powered by Lucyd line and the Company's unique Lucyd Safety smart eyewear line are expected to be launched in Q4 2023. The Eddie Bauer and Reebok Powered by Lucyd lines are expected to launch in early Q1 2024. We believe the recent fundraise capitalized the Company sufficiently to manufacture and market all four of these exciting new product lines, as well as make further enhancements to the Lucyd app, which powers seamless connection to ChatGPT on all of our eyewear. These lines represent a significant diversification of the Company's offering that we believe will enable it to reach new segments of the optical and sunglass markets, and will empower the Company with the largest number of styles of any smart eyewear provider.
Core Product Improvements
The Company introduced an end-to-end upgrade to its core Lucyd Lyte product offering in February 2023, improving the sound and call quality by adding additional speakers and microphones, increasing the battery life by 50%, and introducing 15 new styles capturing the latest trends in traditional eyewear. The Company has also engineered significant product improvements which are expected to first debut with an upcoming Lyte XL collection in early Q4, and be introduced on all future models including the Nautica line. These product improvements include the development of a proprietary flexible hinge enabling the glasses to fit a wider range of users comfortably, a thinner and more ergonomic temple form factor for enhanced comfort, and further improvements to sound and call quality. The Lyte XL collection is currently expected to launch with six new styles in early Q4. The Company is continuing to develop new innovations to improve its smart glasses and help establish its products as the global standard in smart eyewear.
New Proprietary Retail Display
The Company recently launched a new modular retail display system which has so far been deployed in about 20 partner locations, providing an immersive Lucyd brand experience with a 10" video screen, and an optional audio testing station. The display system includes four modular components that can expand to fill any amount of counter space available, and the display can be easily updated with new videos and insert imagery on a seasonal basis. Seven of these display systems are being launched in US duty free stores through the Company's partnership with Privato Duty Free.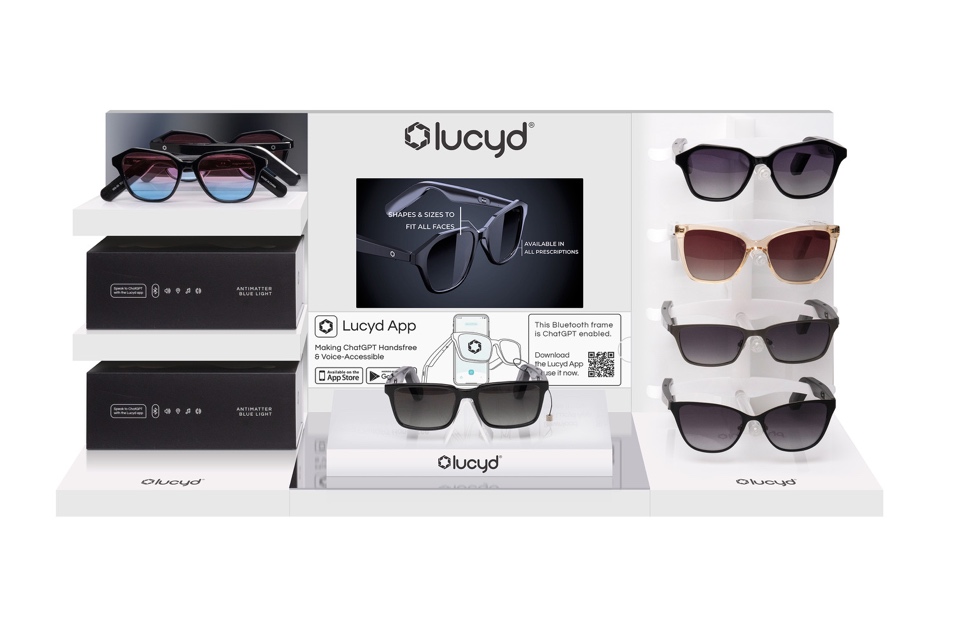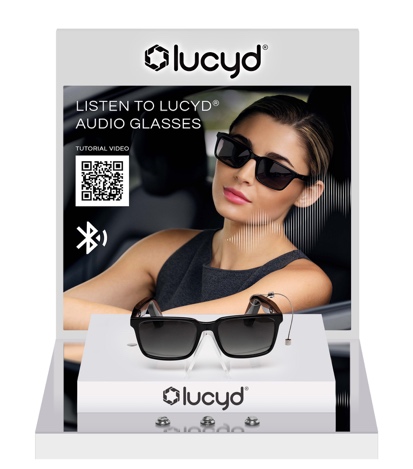 Courtesy of Innovative Eyewear, Inc. These images show the company's new core video display system for retail (left), and the new audio testing station (right).
New Partners
The Company recently entered into an engagement with a leading key account consultancy with significant experience in retail placement of eyewear. Additionally, the Company recently signed an agreement with a bespoke influencer marketing agency, to promote the Company's products. Finally, the Company continues to grow its retail store footprint and added approximately 25 new optical partner locations in Q2, in addition to the seven duty free locations previously mentioned.
Enhancements to the Lucyd App
In April 2023, we introduced the world's first smart eyewear powered by ChatGPT through our Lucyd App. In August 2023, the Company expects to launch a significant update to the Lucyd App, its patent-pending, voice-controlled onramp to ChatGPT for smart eyewear. This includes the development of an improved user experience, new tools and prompts to help the user get the most out of ChatGPT, a streamlined onboarding experience, and a premium subscription with unlimited access to ChatGPT and additional premium features.
In sum, the Company is thrilled about its recent and upcoming product developments. Combining these improvements with our recently licensed global fashion brands and the proceeds we received from our secondary offering, we believe the Company is well positioned for future growth and to potentially become a leading player in the smart eyewear revolution.
About Innovative Eyewear, Inc.
Innovative Eyewear is a developer of cutting-edge ChatGPT enabled smart eyewear, under the Lucyd®, Nautica®, Eddie Bauer® and Reebok® brands. True to our mission to Upgrade Your Eyewear®, our Bluetooth audio glasses allow users to stay safely and ergonomically connected to their digital lives and are offered in hundreds of frame and lens combinations to meet the needs of the optical market. To learn more and explore our continuously evolving collection of smart eyewear, please visit www.lucyd.co.
Forward Looking Statements
This press release contains certain forward-looking statements, including those relating to the anticipated use of proceeds from the offering, introduction of new product lines and timing of improvements and enhancements to our current products. Forward-looking statements are based on the Company's current expectations and assumptions. The Private Securities Litigation Reform Act of 1995 provides a safe-harbor for forward-looking statements. These statements may be identified by the use of forward-looking expressions, including, but not limited to, "anticipate," "believe," "continue," "estimate," "expect," "future," "intend," "may," "outlook," "plan," "potential," "predict," "project," "should," "will," "would" and similar expressions that predict or indicate future events or trends or that are not statements of historical matters, but the absence of these words does not mean that a statement is not forward-looking. These forward-looking statements include, but are not limited to, statements regarding the expected launch date for the new Nautica smart eyewear connection. The Company undertakes no obligation to publicly update any forward-looking statement, whether as a result of new information, future events or otherwise. Important factors that could cause actual results to differ materially from those in the forward-looking statements are set forth in the Company's filings with the Securities and Exchange Commission, including its annual report on Form 10-K under the caption "Risk Factors."
Investor Relations Contacts:
Scott Powell
Skyline Corporate Communications Group, LLC
Office: +1 (646) 893-5835
Email: scott@skylineccg.com
Attachments