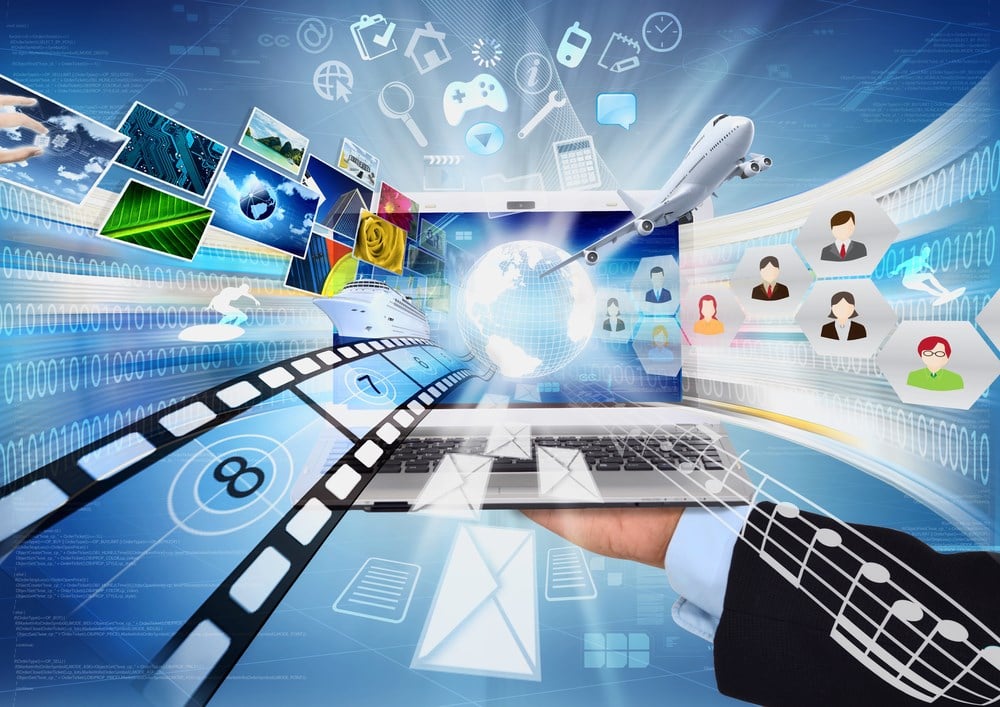 The slowdown in digital advertising triggered many technology stocks to sell off, notably social media platforms like Snap Inc. (NASDAQ: SNAP). However, a light at the end of the tunnel was lit when behemoths like Alphabet Inc. (NASDAQ: GOOGL) reported an uptick in ad sales, with YouTube seeing growth again.
Meta Platforms Inc. (NASDAQ: META) also reported an uptick in digital ad sales throughout its multiple platforms, indicating a recovery in digital advertising may be underway. Many of these stocks may have priced in a recovery which can backfire, forming a sell-the-news event on an earnings beat. Here are three stocks that directly benefit from the recovery in digital advertising to keep on your watchlist.
This social commerce platform is an advertiser's dream as there's no controversy, and people go to the site for ideas to create, identify, talk about and buy stuff. Most people go to Pinterest intending to spend money on ideas and recommendations. From cooking, fashion, travel and home décor, all roads lead to consumers eventually spending money.
The company has over 465 million users worldwide in over 30 languages and operates in over 200 countries. Its CEO, Bill Ready came on board a year ago with experience as the President of Commerce at Google.
The company collects over 90% of its revenues from digital advertising, marketing partnerships with major brands like Target Co. (NYSE: TGT) and e-commerce. Pinterest incorporated the propensity to share into its artificial intelligence (AI) recommender models to improve the retention of its core users and entice dormant users to revisit the site.
Focus on Gen-Z Users
The company has been broadening its reach with Gen-Z users. The effort paid off, as Gen-Z is now the largest contributor to overall engagement growth and the fastest-growing cohort. Gen-Z users grew by double-digits in Q2 2023. U.S. and Canada mobile app monthly active users (MAUs) rose 9% YoY. As its largest user base, the U.S. and Canada region grew MAUs at 3% YoY.
Europe saw a 6% increase, while the rest of the world (ROW) saw a 10% YoY increase.
Earnings Beat
On Aug. 1, 2023, Pinterest reported its Q2 2023 EPS of 21 cents, beating consensus analyst estimates of 12 cents by 9 cents. Revenues climbed 6.3% YoY to $708 million, beating analyst estimates of $696.35 million.
Global monthly active users (MAUs) rose 8% to 465 million. Global average revenue per user (ARPU) fell 1% to $1.53. It's worth noting that its largest markets, the U.S. and Canada, grew ARPU by 2% to $5.92. Strong growth engagements with emerging verticals include men's fashion, health and travel and autos.
The company announced a partnership with Amazon.com Inc. (NASDAQ: AMZN), allowing advertisers to link their products hosted on Amazon through the Pinterest platform.
Pinterest launched travel catalogs in Q2 2023, which helps advertisers reach Pinterest users making travel plans. The company is gaining revenues from large advertisers integrating its conversion API solution. Large advertiser brands are also starting to adopt its Premier Spotlight ad format. Shoppable content is growing engagements with 50% YoY click-thru and saves of shoppable pin rates. 
AI Integration
CEO Ready highlighted how AI integration has helped Pinterest grow its MAUs by 30 million in the past year. He commented, "…we've utilized next-generation AI technologies to service more relevant and personalized content and improve ad relevance, driven more intent to action and focused our content strategy to bring actionable content… Our users are also coming back more frequently and are engaging more deeply. Engagement metrics such as sessions, impressions and saves grew substantially faster than our users across all our regions over the same period."
In-Line Guidance
Pinterest provided in-line guidance. It expects Q3 revenues to grow at the high single-digit range in line with analyst estimates for 7.6% YoY growth. Non-GAAP Q3 2023 operating expenses are expected to grow in the low single-digits YoY.
Pinterest analyst ratings and price targets are at MarketBeat.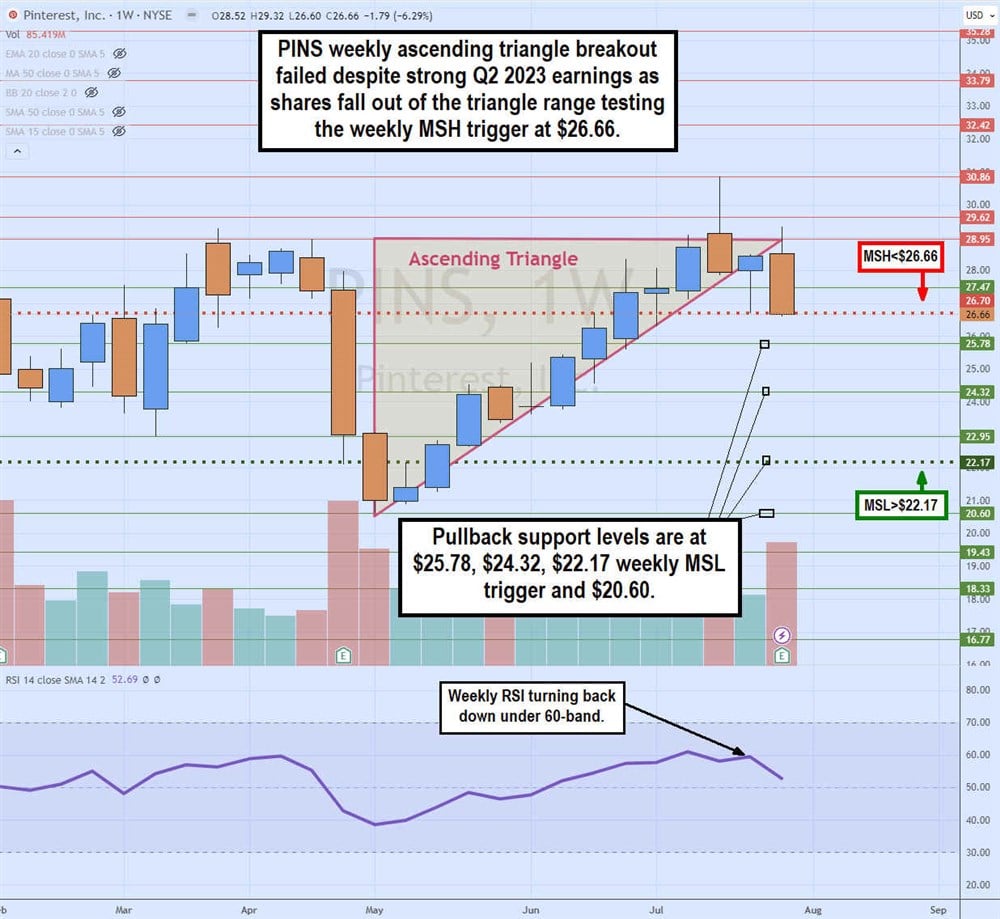 Weekly Ascending Triangle Failure
The weekly candlestick chart on PINS had been steadily climbing with higher highs and lows for 11 weeks heading into its Q2 2023 earnings report. The higher lows formed, triggering a weekly market structuring low (MSL) on the $22.17 break from the low of $20.60. The diagonal ascending trendline formed as PINS made higher lows on each pullback, rising towards the horizontal flat-top trendline resistance at $28.95.
The ascending triangle attempted a breakout as it spiked to $30.86 but sold off heading into the earnings release forming the weekly market structure high (MSH) sell trigger under $26.66. Despite beating the EPS, PINS shares sold off to the $26.66 weekly MSH trigger level to close out the weekly candle.
The daily relative strength index (RSI) oscillator has turned down under the 60-band. Pullback support levels are at
The Trade Desk is one of the leading advertising technology (Adtech) platforms that enable companies to develop, manage and track their digital advertising campaigns. They are arguably the leader in the programmatic advertising space, where its demand-side platform (DSP) dominates the industry.
A DSP enables advertisers to buy digital advertising inventory efficiently. Benefits of using a DSP  include more transparency, automation, better targeting and reaching a wider audience giving advertisers access to a large variety of publishers.
Some of the world's largest brands are clients, including The Coca-Cola Co. (NYSE: KO), Walmart Inc. (NYSE: WMT) and NIKE Inc. (NYSE: NKE). Shares rose high during the reopening period, with shares reaching a high of $114.09 in November 2021 as shares took a downturn selling off to a low of $39.00 in July 2022.
Analyst Upgrades Ahead of Q2 2023 Earnings
Analysts took the initiative to upgrade PINS shares ahead of its Q2 earnings release due aftermarket on Aug. 9, 2023. On July 25, 2023, Needham raised its price target for shares of TTD from $80 to $100. The analyst felt that generative AI would help the Trade Desk, which has enormous global data and focus on technology.
The Trade Desks EBITDA margins have expanded by 1,000 bps. Its history of launching a new platform every two years shows that the company can innovate and adapt to market trends.
On July 28, 2023, BTIG upgraded TTD shares to a Buy with a $103 price target. Analyst Clark Lampen commented that The Trade Desk is the most dominant DSP in the Adtech ecosystem, with a "significant" share of the growing connected TV (CTV) market. The Trade Desk analyst ratings and price targets are at MarketBeat.
Magnite is another Adtech company with a unified platform for buyers and sellers of digital advertising. Its platform includes features including programmatic advertising, which is the automated buying and selling of advertising without contacting publishers manually. It has real-time bigging, which allows ad buyers to bid on digital ad space as soon as it becomes available.
Its reporting and analytics functions let buyers track the performance of their digital ad campaigns, which can help shape future campaigns. While Magnite competed with The Trade Desk, Magnite is focused on the open interest versus CTV.
Some of its notable clients include Amazon.com, Johnson & Johnson (NYSE: JNJ), and Verizon Communications Inc (NYSE: VZ). Its Q2 2023 earnings are due at the same time as The Trade Desk, after hours on August 9, 2023. Analysts are expecting EPS of 7 cents on revenues of $137.27 million. Magnite analyst ratings and price targets are at MarketBeat.