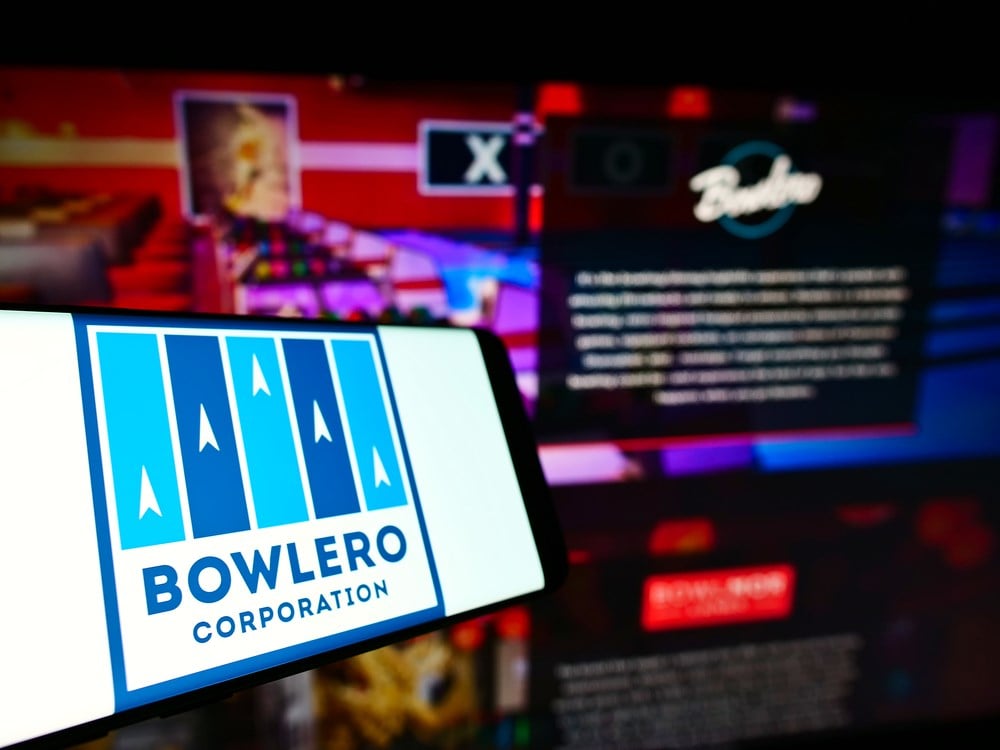 Bowlero Co. (NASDAQ: BOWL) is the largest ten-pin bowling operator in the world, with more than 340 locations. It has been growing through an acquisition strategy as it continues to attempt to corner the market in the U.S. It operates under the AMF, Bowlmor Lanes and Bowlero brand locations.
Bowlero was formerly Brunswick. It has also agreed to acquire competitor Lucky Strike for $90 million. Lucky Strike has 14 locations throughout nine states. This grows the total number of locations to 343 centers upon closing the deal in the first half of 2024. Bowlero is quietly consolidating a fragmented industry riding the robust demand for experiential entertainment and dining.
Elastic Experiential Entertainment Dining Strength
Like Dave & Buster's Entertainment Inc. (NASDAQ: PLAY), Bowlero is an upscale experiential entertainment and dining provider. While still consumer discretionary stocks, these establishments tend to benefit from pent-up demand and the need for consumers to let off some steam. Its high-tech bowling centers have numerous screens, flashy neon lights, and lanes to excite the senses. The lanes even have automatic walls that prevent gutter balls and keep the balls in the lane. They serve food and drinks and have arcade games providing a family fun carnival-like atmosphere.
Consumer Discretionary Spending Shift to Services
Consumers have shifted their discretionary spending to services from goods like apparel. This has been echoed by the travel and leisure segment with airline stocks like United Airlines Holdings Inc. (NYSE: UAL) and Delta Airlines Inc. (NYSE: DAL) and vacation booking platforms like Expedia Group Inc. (NASDAQ: EXPE) and Airbnb Inc. (NASDAQ: ABNB) all echoing the same sentiment.
Professional Bowlers Association and Fox Sports Deal
Bowlero also owns the Professional Bowling Association (PBA), which is the governing body of bowling and helps to promote bowling worldwide. The Fox deal for coverage right to PBA competitions has been in effect since 2018. PBA announced its PBA 2023 Tour schedule, including the World Series of Bowling XIV and the PBA World Championship; go Bowling! PBA Celebrity Event, PBA Collegiate Championships, PBA Jr. National Championships, and PBA League Bowler Certification National Championships.
Growth Trajectory Still Rising
On May 17, 2023, Bowlero released its fiscal third-quarter 2023 results for the quarter ending March 2023. The company reported a GAAP earnings-per-share (EPS) loss of ($0.22). Net loss was ($32 million) up 78. Adjusted EBITDA was $128 million, 18% YoY. Revenues rose 22.5% year-over-year (YoY) to $316 million, beating consensus analyst estimates for $300.5 million. Trailing twelve-month, revenues were $1.1 billion, 35% YoY.
MoneyBowl, the proprietary skill-based gamification app, has over 60K downloads and is active in 64 locations. Its free-to-play beta launch is planned for fiscal Q4 2023. The company added one new center in the quarter and acquired two more for a total of 329.
CEO Insights
Bowlero Founder and CEO Thomas Shannon commented, "Adjusted EBITDA increased its quarterly record by $19 million vs. the previous record set in Q3 FY22. We remain very excited for MoneyBowl™," He continued, "Our proprietary gamification app has now been rolled out to 64 centers. MoneyBowl™ can potentially revolutionize bowling today, similar to how experiential bowling transformed the bowling industry in the 2000s."
CEO Shannon noted the robust demand across various business lines in the conference call, including walk-ins, leagues and events. Its growth strategy is based on acquisitions, new builds, conversions and generating consistent same-store sales (SSS) growth.
B.Riley Securities Coverage  
On June 2, 2023, the shares of Bowlero received a Buy rating from B.Riley Securities with a price target of $18. The firm believes Bowlero will continue to grow its market share in the fragmented "old school" bowling center industry. Analyst Eric Wold says the post-earnings sell-off was an overreaction, and its stock is pricing in mid-teens SSS decline through fiscal 2024.
Bowlero's analyst ratings and stock price targets are at MarketBeat.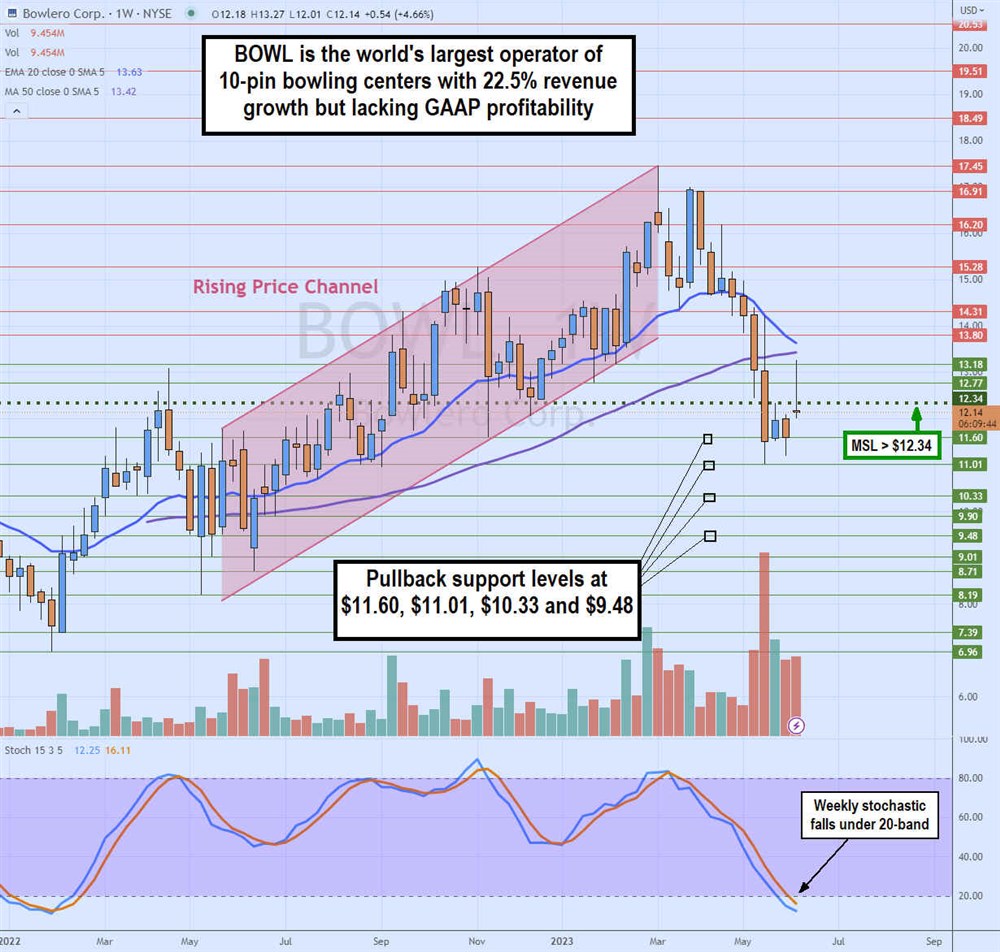 Rising Price Channel Breakdown
The weekly candlestick chart on BOWL has fallen under its rising price channel, which commenced after making a low of $8.19 in May 2022. Shares continued to make higher highs on bounces and higher lows on pullbacks. The rally continued until peaking at $17.45 in March 2023. The weekly stochastic peaked and fell under the 80-band in stairstep mini pup formation, causing shares to cascade lower when it broke down through the weekly 20-period exponential moving average (EMA) and lower trendline overlapping at $14.73.
Shares continued to fall towards $11.01 by May 2023. BOWL triggered a weekly market structure low (MSL) breakout through $12.19 but fell under the MSL trigger area. The weekly stochastic continues to slide under the 20-band. The weekly 20-period EMA is falling at $13.63, potentially crossing through the weekly 50-period MA at $13.42. Pullback support levels are $11.60, $11.01, $10.33 and $9.48.