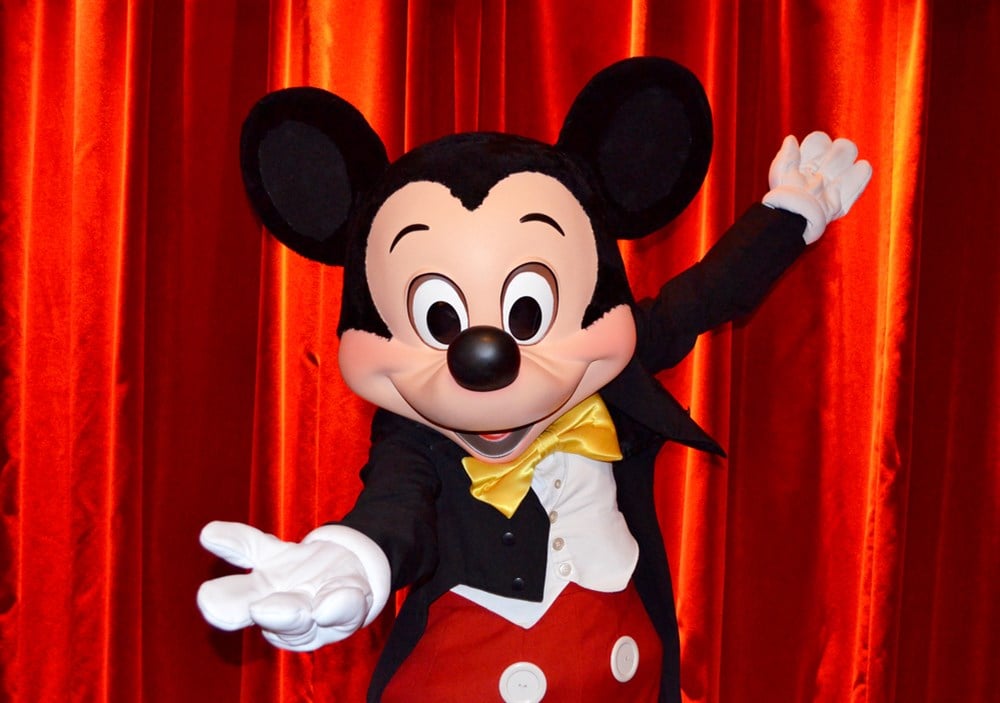 Media and entertainment giant The Walt Disney Company (NYSE: DIS) had its annual shareholders meeting on April 3, 2023. Returning CEO Bob Iger went over strategic plans for the company, which aligned with his fiscal Q1 2023 earnings conference call. Streaming is a priority and needs to be transformed into a growth business. While he gives content producers more control, they must also take performance accountability.
The Marvel Cinematic Universe (MCU) box office has deteriorated, and measures are being taken to cut content expenses and volume. CEO Iger expects the streaming business to become profitable by the end of fiscal 2024. Its Parks business isn't suffering from weakness in consumer discretionary spending.
Deteriorating MCU Box Office
The MCU theatrical releases peaked at the box office, with Avengers: Endgame released in 2019. There has been much criticism regarding the falling quality of recent MCU movies, as evidenced by their falling box office numbers and lower critic scores. Avengers: Endgame had a box office gross of $858.37 million. Doctor Strange in the Multiverse of Madness fell to $411 million, and Thor: Love and Thunder box office were $343.3 million.
Its latest release Ant-Man and the Wasp: Quantumania, was $212.9 million. Phase 3 was the peak of box office success for the MCU. Disney noticed this, and during its April 3, 2023, annual meeting, they announced a change in hopes of reversing the falling trajectory.
Less is More
After 31 movies and 9 TV shows, Disney has decided to cut back on the number of MCU film and tv releases to ensure quality over quantity in Phase 5 and Phase 6. In an interview, Kevin Feige confirmed that they would be putting out fewer releases and spacing them out further to let each movie and show sink in and "shine".
It also aligns with CEO Iger's plans to reduce content expense and volume to bolster profitability. The company faces competition on both the box office and streaming fronts from Comcast Corp. (NASDAQ: CMCSA) with its NBCUniversal video and movie content and Peacock streaming service and offerings from Paramount Global (NASDAQ: PARA). Competitors like Warner Bros. Discovery Inc. (NYSE: WBD) is doing a reboot of its DC Entertainment Universe (DCEU) with new actors and a slate of titles centered around its superhero franchises.
Franchise Fatigue?
A survey of 5,000 fans by Fandom revealed that 36% of fans aren't happy with the MCU, indicating that "franchise fatigue" may be a factor. They decided to adopt a less is more strategy, which puzzled fans. MCU fans are not pleased with the announcement since it means less MCU content on Disney+. If you're a Disney+ subscriber, you wouldn't feel good about paying the same price for less content. There's no guarantee that the quality of the movies will get any better, just that there will be fewer of them and spread out more expansive with the shows as well.
Disney+
While Disney+ membership growth is slowing down, its new MCU offerings have been spread thin, leaving fans to reconsider their membership. This is why Disney announced at the annual meeting that it will invest $17 billion in its Walt Disney World theme parks over the next 10 years. This is despite Disney+ still losing a ton of money as operating losses doubled in its direct-to-consumer (DTC) segment to ($1.5 billion) in Q4 2022, offset by the $1.5 billion in profit from its Parks business.
The Bob Iger Show
Bob Iger hit the ground running on his return as Disney CEO. In his first quarter as CEO, Iger announced several changes. He has implemented cost-cutting measures of around $5.5 billion, which include laying off 7,000 workers. The Disney Media & Entertainment Distribution division, which decides how content is monetized, will be replaced with a new Disney Entertainment division, including all its media content and entertainment business, including streaming. Iger has confirmed intentions to bring its streaming business back to profitability by the end of fiscal 2024.
Disney+ subscribers fell by (1%) quarter-over-quarter for a price increase. Iger stated that he wants to remove the emphasis on metrics like its subscriber guidance of 215 million to 245 million Disney+ subscribers by the end of fiscal 2024.
They will no longer provide long-term subscriber estimates. Iger left the door open for more price hikes in the future. Iger also expects to reinstate the dividend by the calendar year's end and doesn't intend to stay beyond his two-year contract.
Weekly Ascending Triangle Breakdown
The weekly candlestick chart appeared to form a bullish ascending triangle with a flat top trendline at $118.18 after making a low of $84.07 in late December 2022. The weekly market structure low (MSL) triggered the breakout through $94.69 as shares spiked to hit a high of $118.88 in February 2023.
DIS formed and triggered the weekly market structure high (MSH) on the breakdown back under $103.88. The rising diagonal trendline couldn't support $97.70 as shares fell to $90.46 in March 2023.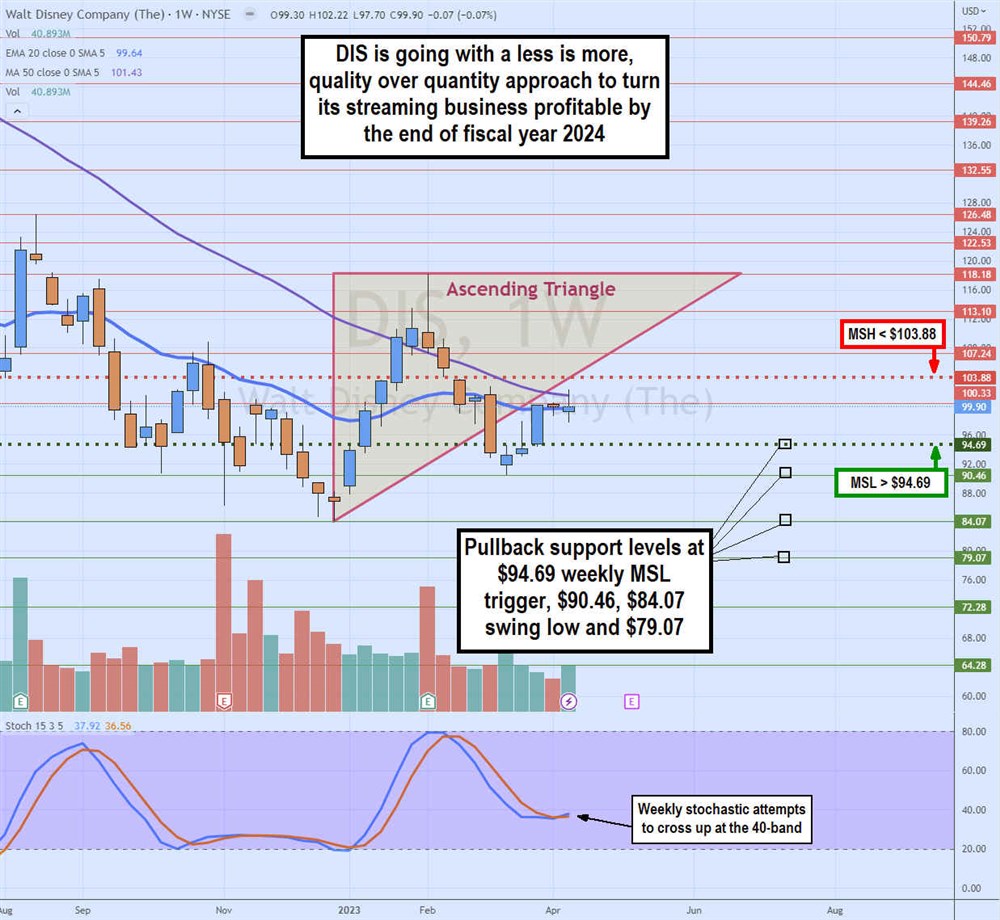 Shares have since been able to stage a recovery to rest the weekly 50-period exponential moving average (EMA) at $99.64 and 50-period MA at $101.43. The weekly stochastic is attempting to cross back up through the 40-band. Shares would need to breakout through the $103.88 weekly MSH trigger to reenter the ascending triangle range. Pullback support levels are at $94.69 weekly MSL trigger, $90.46, $84.07 swing low and $79.07.