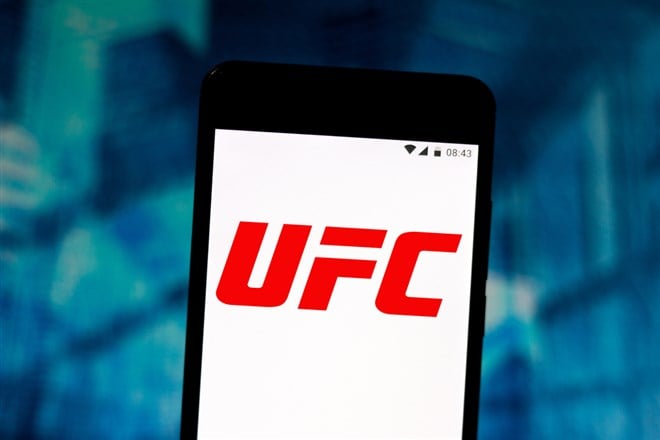 Entertainment and sports operator Endeavor Group Holdings Inc. (NYSE: EDR) stock has been stable, forming a solid base above $20. The company benefits from the strong rebound in live events, which is also being felt by Live Nation Entertainment Inc. (NYSE: LYV) and WWE Entertainment Inc. (NYSE: WWE). Endeavor owns and operates many sports leagues, including the Ultimate Fighting Championships (UFC), Euroleague, and Professional Bull Riders (PBR).
The company created Diamond Baseball Holdings (DBH) to acquire nine Major League Baseball (MLB) Professional Development League Clubs (PDL). Most of them are single-A to triple-A affiliates. Four are affiliates of the 2021 World Champion Atlanta Braves.
If its entertainment content in some form, Endeavor is linked to it. Its musical artists dominate the Grammys representing top talent from Silk Sonic and Rodrigo to Dua Lipa, Adele, and Alanis Morissette. They've cornered the market on talent in the entertainment industry, representing well-known A-list actors Christian Bale, Ben Affleck, Hugh Jackman, and Dwayne "The Rock" Johnson.
Endeavor Content Subsidiary Divestiture
Endeavor Content is the scripted production unit responsible for packaging, financing, producing, and or selling over 100 films and series and plans to produce 40 more in 2023. Endeavor company sold an 80% stake in its Endeavor Content division to CJ ENM of South Korea for $775 million in 2022. Part of the reason driving the sale was to appease the Writers Guild of America's (WGA) policy limiting agencies can only own up to 20% of a production entity.
The WGA views an agency producing a movie or TV project and representing the project's talent as a conflict of interest and anti-competitive. The divestiture helped Endeavor become profitable for a quarter and chipped away at a chunk of its debt load. Endeavor will still own its non-scripted division.  
Losses are Back but Raised Guidance
On Feb. 28, 2023, Endeavor released its fiscal fourth-quarter 2022 results for December 2022. The company reported an earnings-per-share (EPS) loss of ($0.72) excluding non-recurring items versus consensus analyst estimates for a profit of $0.19, Missing estimates by ($0.91).
Revenues fell (16.3%) to $1.26 billion versus $1.27 billion. The drop in revenues comes from selling its Endeavor Content business. The company made $500 million of discretionary debt payments to improve net leverage. Endeavor ended the year with $767.8 million in cash and cash equivalents and a total debt of $5.169 billion.
Breaking Down the Segments
A closer look at the headline numbers paints a complete picture. Its Own Sports Properties segment saw revenues clip 9% to $301.4 million. Its Event, Experiences & Rights segment saw 8% growth to $557.7 million. Its Representation segment revenues fell (43%) to $408.5 million. This was from the $332.8 million in its Q4 2021 quarter and the $737.4 million revenues for 2021. The segment was sold in January 2022. Adjusted EBITDA grew 5% to $123.9 million.
High Points of Q4 2022
The UFC has 21 consecutive sellout events bringing the total to 29 sellout events since COVID restrictions were lifted. It drove double-digit revenue growth for its Events, Experiences & Rights division. It renewed media rights deals with ten international companies. The company paid $500 million in discretionary debt to improve net leverage.
Endeavor CEO Ari Emanuel commented, "Our business has proven resilient despite ongoing macroeconomic headwinds. As 2023 comes into focus, we remain confident in Endeavor's ability to deliver long-term value given our position on the supply side of premium content and live events and experiences."
Raising Full-Year 2023 Guidance
Endeavor raised its full-year 2023 revenue guidance between $5.825 billion and $5.975 billion versus $5.81 billion consensus analyst estimates. The company is also raising its UFC pay-per-view (PPV) prices up to $79.99, up $5.00 in 2023, in a deal struck with Walt Disney (NYSE: DIS) ESPN+ network. Adjusted EBITDA is expected to grow by 10% between $1.250 billion to $1.305 billion.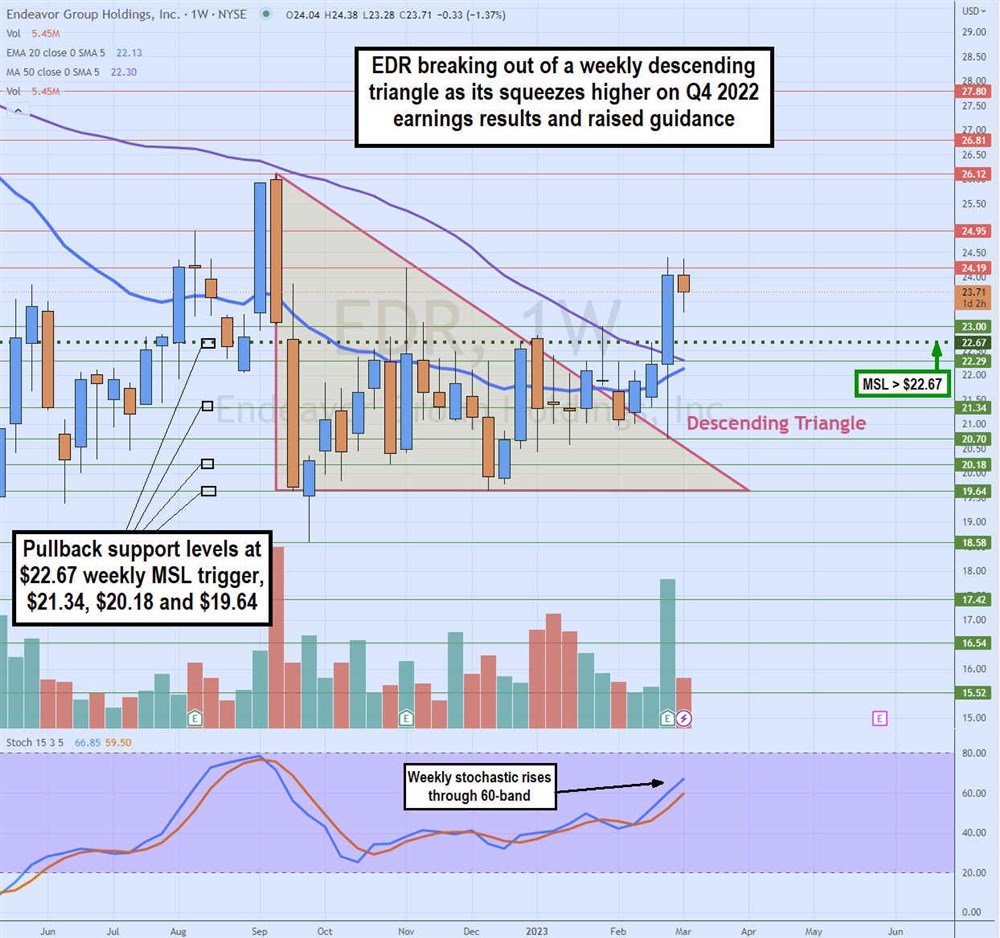 Weekly Descending Triangle Breakout
The weekly candlestick chart on EDR shows a descending triangle of lower highs against a flat bottom. The triangle started forming after peaking at $26.12 in September 2022. It hit a low of $18.58 before snapping back. Each bounce off the lower trendline bounced to a lower high until the weekly market structure low (MSL) triggered a breakout through $22.67 on its Q4 2022 earnings release. Shares put in a double top attempt at $24.40 as they tried to hold above the MSL trigger.
The weekly stochastic is rising through the 60-band at $24.40. The weekly 20-period exponential moving average (EMA) is rising at $22.10, and the 50-period MA is falling at $22.30. Pullback support levels are $22.67 weekly MSL trigger, $21.34, $20.18, and $19.64.