NEWPORT NEWS, Va., July 14, 2023 (GLOBE NEWSWIRE) -- HII (NYSE: HII) hosted the Australian Ambassador to the United States of America at its Newport News Shipbuilding division today.

Ambassador Dr. Kevin Rudd was accompanied by U.S. Sen. Tim Kaine (D-Va.), who serves as Chair of the Senate Armed Services Subcommittee on Seapower; Under Secretary of the Navy Erik Raven; and Adm. Daryl Caudle, commander, U.S. Fleet Forces Command. The group met with NNS leadership and toured shipyard facilities that support construction of Virginia-class nuclear-powered attack submarines.
The visit comes as HII continues its commitment to supporting the trilateral Australia, United Kingdom and United States (AUKUS) partnership announcement on nuclear powered submarines made in March. That announcement includes the optimal pathway to provide Australia with conventionally armed, nuclear-powered submarines.
"We're honored that Ambassador Rudd invested his time together with Sen. Kaine to see our best-in-class workforce and how we successfully manage the complex process of nuclear submarine construction and shipbuilding here at Newport News Shipbuilding," NNS President Jennifer Boykin said. "We look forward to working with our U.S. Navy, United Kingdom, Australian leadership, and industry partners, to increase our collective undersea capacity and mission capability."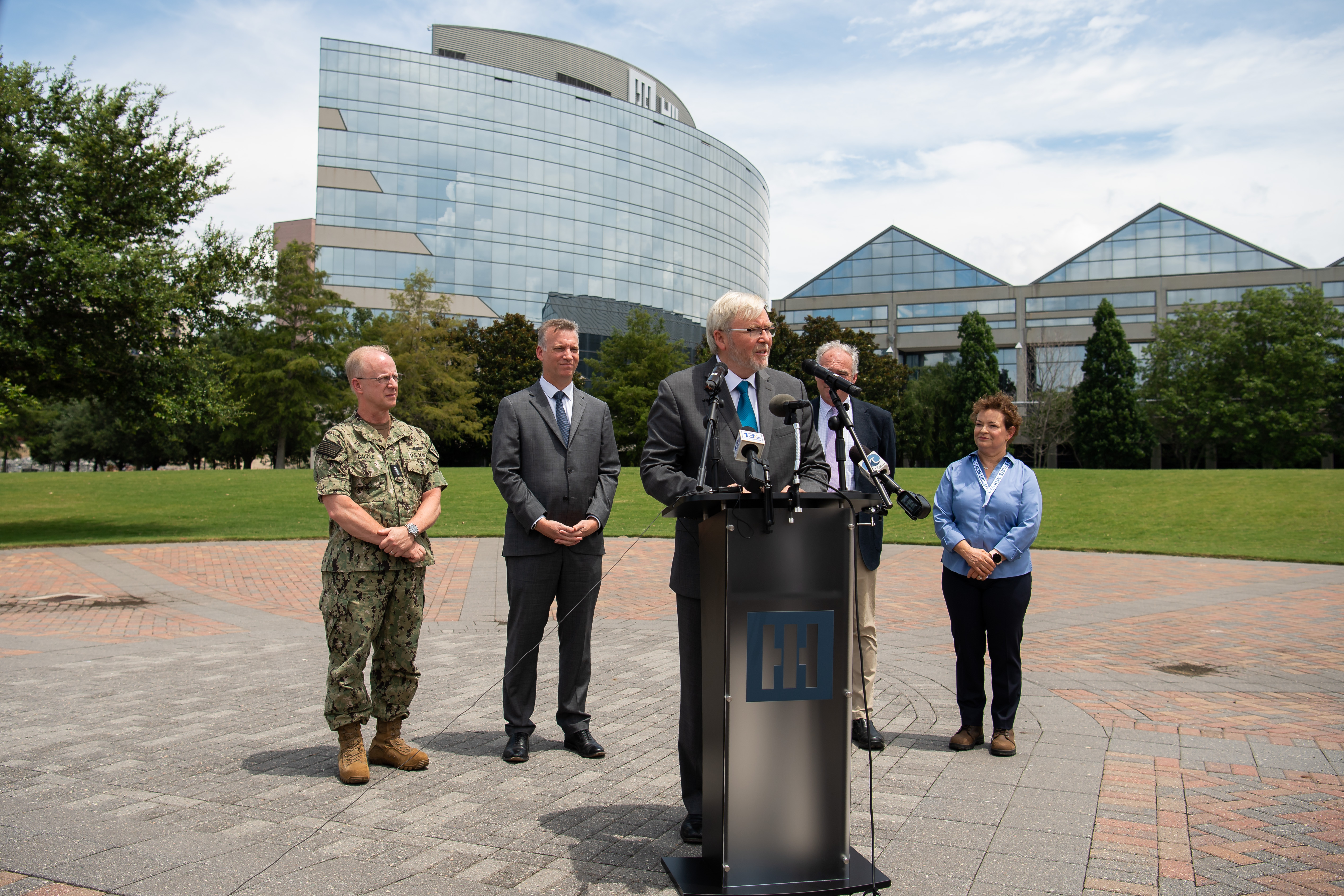 Photos accompanying this release are available at: https://hii.com/news/hii-hosts-australian-ambassador-kevin-rudd-senator-tim-kaine-newport-news-shipbuilding-2023/.
"I'm so proud that Virginia has played a leading role in building Virginia-class submarines," Kaine said. "The hard work of our shipbuilders strengthens our national security and boosts our economy. The AUKUS agreement will help further Virginia's critical shipbuilding leadership, strengthen our alliances, and bolster security cooperation in the Indo-Pacific. I'm grateful to Ambassador Rudd and Under Secretary of the Navy Raven for coming to see Virginia's work on these submarines and reaffirming the importance of the AUKUS partnership."
"It was great to join Senator Kaine to see firsthand how the world's most complex ships are designed, built and maintained," Rudd said. "The expertise of the United States Navy and American shipbuilders will be invaluable to Australia as we develop our own sovereign submarine industrial base, while boosting the resilience of our allied submarine supply chain and furthering security objectives for all three AUKUS partners."
NNS is one of only two shipyards capable of designing and building nuclear-powered submarines for the U.S. Navy. HII stands ready to leverage its longstanding expertise in nuclear shipbuilding and defense technologies, maintenance and sustainment, workforce and supply chain development, and presence in Canberra, Australia, in support of the AUKUS lines of effort.
For more information on the trilateral delivery of a submarine capability and a broader partnership on advanced capabilities with Australia, visit: FACT SHEET: Implementation of the Australia – United Kingdom – United States Partnership (AUKUS) | The White House
About HII
HII is a global, all-domain defense provider. HII's mission is to deliver the world's most powerful ships and all-domain solutions in service of the nation, creating the advantage for our customers to protect peace and freedom around the world.
As the nation's largest military shipbuilder, and with a more than 135-year history of advancing U.S. national security, HII delivers critical capabilities extending from ships to unmanned systems, cyber, ISR, AI/ML and synthetic training. Headquartered in Virginia, HII's workforce is 43,000 strong. For more information, visit:
Contact:
Todd Corillo 
Todd.T.Corillo@hii-co.com 
(757) 688-3220
A photo accompanying this announcement is available at: https://www.globenewswire.com/NewsRoom/AttachmentNg/8846cb51-07df-4412-a59e-0bcf5a58a791