San Diego, California - August 9, 2023 - Heliogold Solar, a San Diego-based solar installer, has received the National Rising Star Award from SunPower, a leading solar technology and energy services provider. This award recognizes achievements in areas such as sales, leadership, innovation, and community involvement.
"It's a pleasure to honor dealers that go the extra mile in their commitment to excellence and customer satisfaction," said Pat Bigatel, Sr. Vice President, Sales, SunPower. "This Rising Star Award recognizes Heliogold's commitment to bringing the many benefits of solar to their communities and the meaningful work they are doing to change the way our world is powered."
Here is an excerpt from Jason Castelhano, Owner of Heliogold:
"We very much appreciate SunPower recognizing us with this prestigious award! Heliogold is a general contracting company first, and we always want what is best for our clients. We believe that providing excellent customer service will continue to be the best way to differentiate ourselves from the competition. We take a holistic approach to home energy solutions, and we are always looking for ways to maximize savings for our customers. We believe that by taking care of our customers, we can build trust and create long-term relationships. If it makes more sense to replace an HVAC system and get less solar, we want to do that. If we see a pool pump replacement is cheaper than a few additional solar panels, we will recommend that. Like SunPower, we believe old roofs should be replaced before going solar.
Most importantly, our team aims to become trusted advisors, and to make sure we do not overlook small details that can become issues down the road. We are never interested in making a quick buck now, at the expense of the homeowner later. I think that is why we have done so well working with Sunpower, because they offer the best products, and help us deliver on what we say we will. I want to thank SunPower again, we look forward to a very bright future!"
For more information on Heliogold, call (858) 357-5659 or visit heliogold.com
About Heliogold Solar
As one of the leading solar system supplier companies in California, Heliogold prides themselves on providing exceptional client services from start to finish in finding the perfect solar solutions for every client, no matter their situation or preference.
Heliogold Solar is based in San Diego and leverages their expert knowledge of neighborhoods to inform solutions for solar systems that work throughout the entire state of California. Additionally, as a small enterprise, they offer their clients competitive pricing that big brand solar companies often cannot guarantee.
Heliogold is the optimal choice for Solar in Southern California.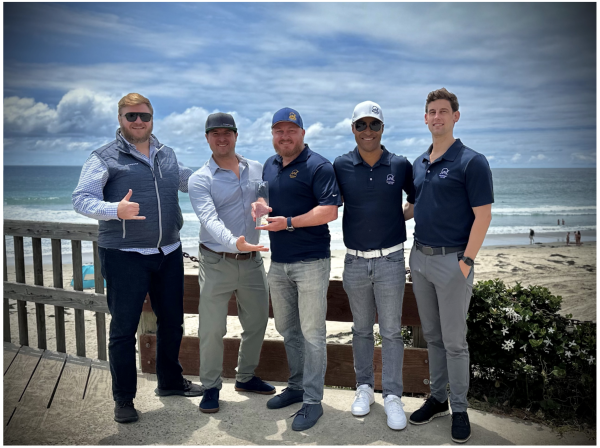 Left to Right: Andrew Hoesly - SoCal Sales Manager, Stuart Miller - SD Sales Manager, Jason Castelhano - CEO ofHeliogold, Quinnten Brown - VP of Operations, Joe Dale - VP of Sales and Production)
Media Contact
Company Name: Heliogold Solar
Contact Person: Jason Castelhano
Email: Send Email
Address:401 W A St Suite 200
City: San Diego
State: CA 92101
Country: United States
Website: https://heliogold.com/