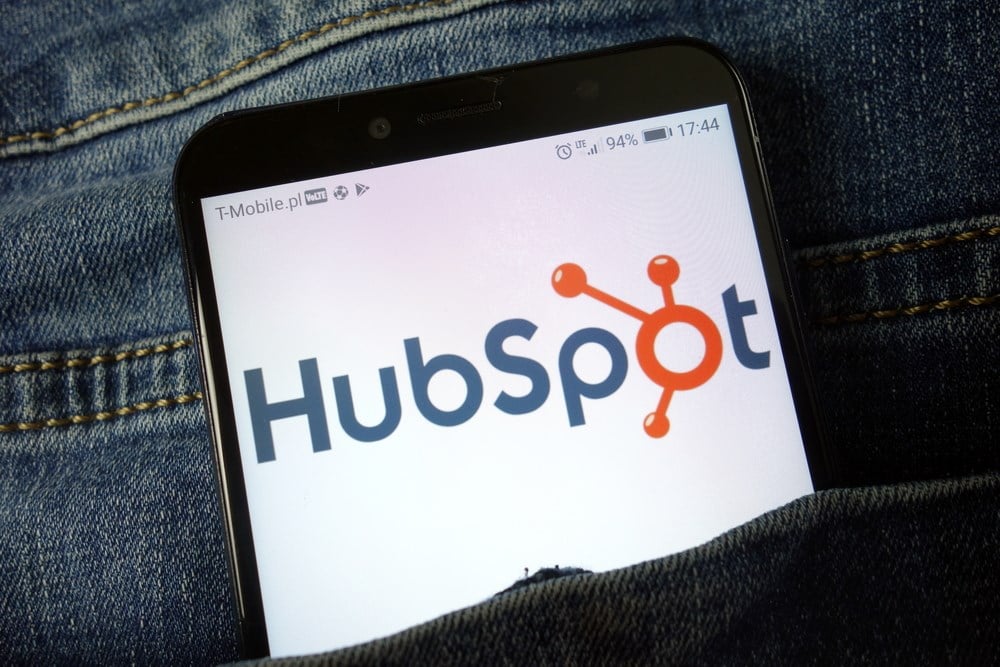 HubSpot Inc. (NYSE: HUBS) cleared an area of four weeks of tight trade on July 11 and as of the close on July 21, was potentially back in buy range. Shares ended the session at $544.31, up $4.21, or 0.78%. 
That type of price action can be tricky to navigate. The stock rallied to a high of $571.60 on July 19 before pulling back 5.02% in heavy volume in the following session. There was no particular news, so the selling suggests that a large shareholder was taking profits after a big run-up.
HubSpot is an all-in-one inbound marketing and sales platform designed to help businesses to attract, engage, and retain customers. 
Its software and tools cover various aspects of digital marketing, including content creation, social media management, email marketing, search engine optimization, customer relationship management, and analytics. 
You can see the stock's recent rally on the HubSpot chart. It has posted the following gains: 
1 month: 7.21%
3 months: 28.42%
Year-to-date: 88.26%
So what is it that makes this stock's chart action a little difficult to figure out? 
Avoid Chasing A Stock Either Higher Or Lower
While it's currently in a buy zone, hovering just 1.7% above its previous high, you don't want to chase it either too low or too high. There's a Goldilocks situation here, where the stock's price has to be in a "just right" zone for an entry with a likely chance of rising more. 
Watch for the stock to continue getting support above its 21-day line, where it's been trading since July 10. 
An alternate scenario may be a pullback with support at the 50-day moving average, which could offer an attractive entry point at a lower valuation. 
The company is set to report second-quarter results on August 2, after the closing bell. Wall Street is eyeing a loss of 90 cents a share on a generally accepted accounting principles (GAAP) basis, on revenue of $505.30 million. 
On a non-GAAP basis, the company has been profitable since 2017, with earnings growth accelerating in the past three quarters, from 2% to 122% most recently. 
Non-GAAP results exclude certain items to provide a clearer view of a company's underlying financial performance.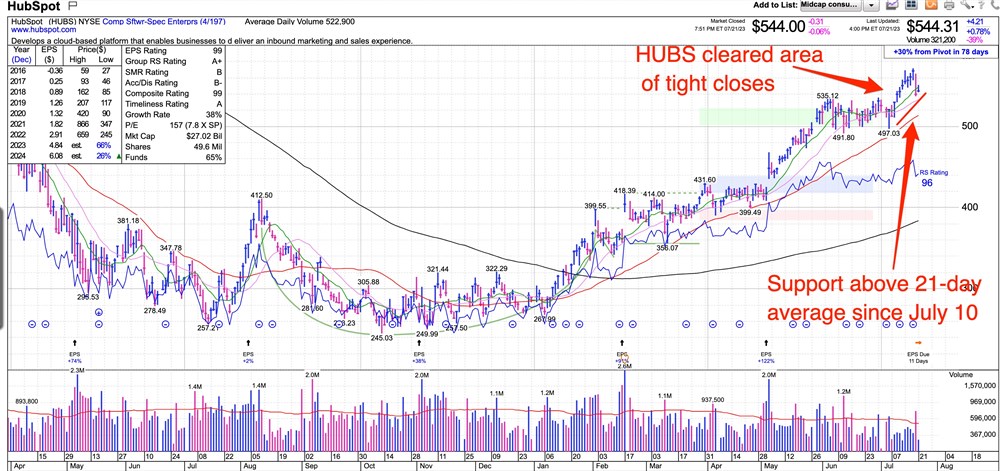 Double-Digit Revenue Growth
Revenue has grown at strong double-digit rates in each of the past eight quarters. If the company meets sales views in the second quarter, that would mark a year-over-year increase of 20%. 
For the full year, Wall Street expects non-GAAP earnings of $4.84 per share, up 66%. Next year, that's expected to increase by 26% to $6.08 a share. That was recently revised higher.
Analysts have a consensus view of "moderate buy" on the stock, as you can see using MarketBeat's HubSpot analyst ratings. On July 20, Goldman Sachs boosted its price target to $596 from $536 and maintained its "buy" rating. 
How AI Could Boost HubSpot's Business
As with most techs these days, analysts see potential in HubSpot's use of generative AI technologies. It's not too difficult to see how generative AI could be used in customer chats and for other text generation, video, images and programming code. 
In the company's first-quarter earnings release, HubSpot CEO Yamani Rangan said, "We are in the early stages of a transformative shift brought on by Generative AI."
In the earnings conference call, he went into more detail, saying AI is rapidly changing the business landscape by helping companies generate content, generate insights and generate code, all using natural language.
"This will be a massive opportunity for SMBs and scaling companies," he said. "Activities that once took them time, money and deep expertise no longer do with Gen AI. And this shift will enable SMBs to reach more customers, serve them at record speed with unprecedented relevance. 
Opportunity In Small-To-Medium Businesses
When he says SMBs, Rangan is referring to small-to-medium businesses, a market that the company is targeting with more resources. Scaling companies are those that generate revenue at a faster rate than costs.
Morningstar analyst Dan Romanoff wrote that he sees a long runway for growth as HubSpot gathers new customers and continues to move its existing clients up a tiered pricing structure, and sells more products and services to larger customers.
"We also see the SMB and mid-market as being underserved by enterprise software providers, as the smaller deal sizes make it harder to serve efficiently. Therefore, we believe that HubSpot's robust and expanding suite has helped carve out a meaningful niche," he wrote.