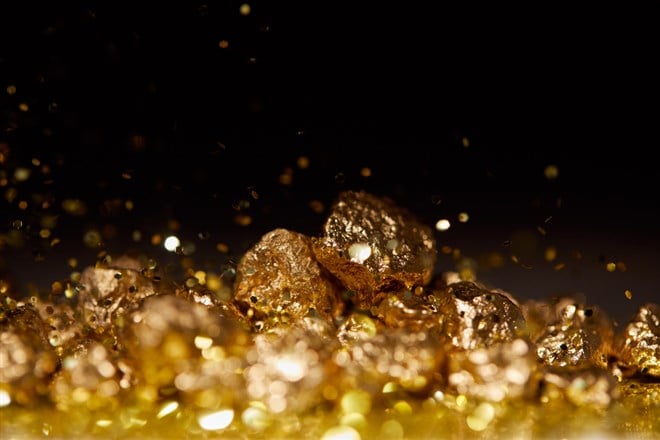 The fallout from the Silicon Valley Bank implosion and the subsequent contagion fears spread throughout the banking sector. Nearly all bank stocks were affected, with regional banks taking the worst of the selling. For a few days, severe concerns about another 2008 financial meltdown were waiting in the wings as paranoia for another systemic collapse spread like wildfire.
Like Cyprus repeating all over again, investors frantically moved money into bitcoin, surging it more than 30% in a week. Investors also piled into gold and gold stocks in a flight to safety. Gold stocks may be a more viable option for investors seeking a hedge against further fallout in bank stocks.
Unlike bitcoin or other cryptos, gold stocks have intrinsic value. Investors may be considering sheltering or hedging their portfolios in gold while the drama with the banking sector plays itself out. Regulatory risk is a genuine possibility as legislators consider changes to tighten regulations for regional banks as they slipped past the Dodd-Frank reforms that big banks had to conform to.
Another risk looms for the regional banks after Silicon Valley Bank's implosion, Signature Bank's collapse, the First Republic Bank (NYSE: FRC) credit downgrade, and fears of a Credit Suisse Group AG (NASDAQ: CS) collapse.
Gold Safe Haven
Gold is widely considered a haven investment that can hedge against the economic, systemic, currency, and geopolitical risks. It has intrinsic value. More investors are using it as a hedge, driving up prices. Here are two gold stocks to watch for investors who are still considering hedging their bank stocks.
Investors that want exposure to gold prices without actually buying the asset can consider moving money into an exchange-traded fund (ETF) like OUNZ. It has over $600 million assets under management (AUM) and suitable liquidity, trading over four million shares daily. It holds gold bullion in the form of London Bars.
London bars don't refer to drinking establishments. They are the large rectangular blocks of gold you often see in movies, also called Good Delivery bars. They adhere to the stringent standards of the London bullion Market Association (LMBA), which require each bar to contain between 350 to 430 troy ounces of gold, which weighs between 11 to 13 kg), and be 99.5% pure.
These are the world's most oversized standardized gold bars and are highly liquid assets. OUNZ is for investors who want exposure to the price action of gold. Investors can take delivery of physical gold bullion in exchange for the shares. Shares are priced low enough for small investors to afford instead of paying over $1,800 per ounce in the actual precious metal. OUNZ is trading up 7.5% for 2023.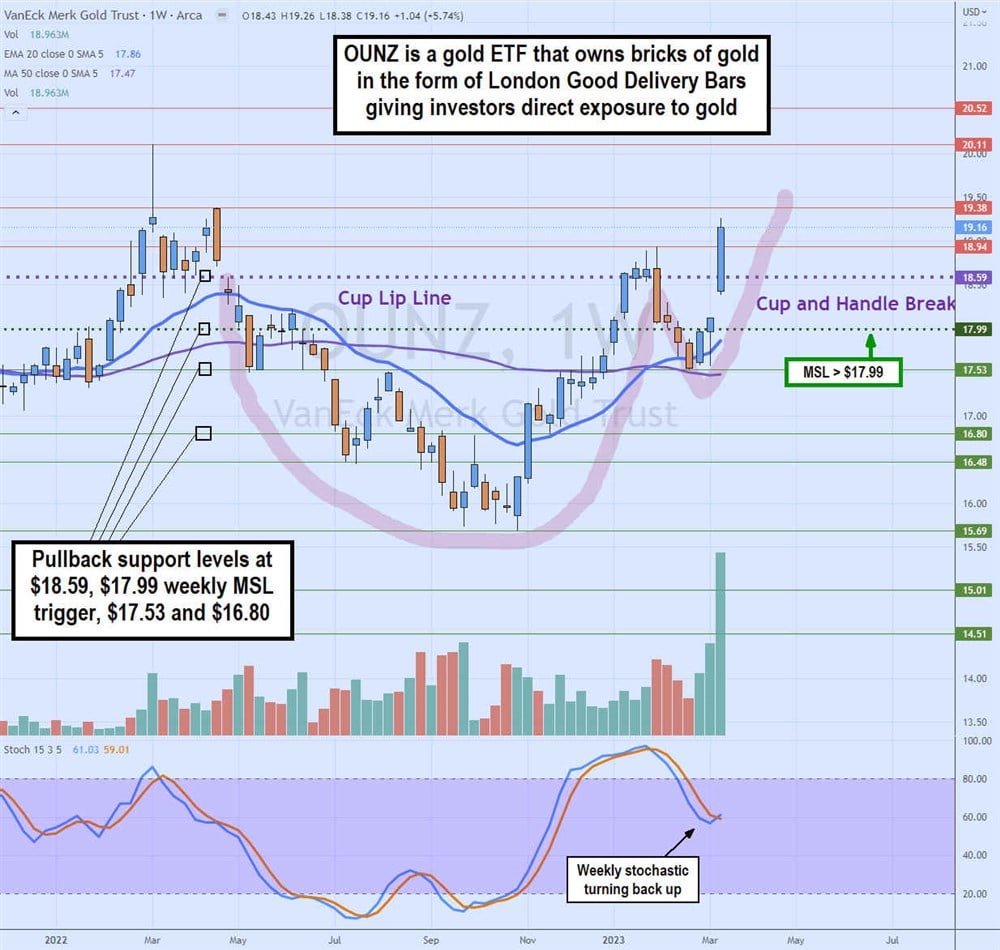 OUNZ Weekly Cup and Handle Breakout
The candlestick chart on OUNZ illustrates the cup's formation and the lip line's rejection at $18.59 in January 2023. The pullback to $17.53 formed the handle as shares bounced through the market structure low (MSL) trigger at $17.99. OUNZ ripped through the cup lip line at $18.59 to trigger the cup and handle breakout. Pullback support levels are $18.59, $17.99 weekly MSL trigger, $17.53, and $16.80.
Investors who don't want direct exposure to gold's whiplash volatility but desire positive correlation may consider investing in one of the world's largest gold miners. Freeport also mines other metals, including copper and molybdenum. It's a vertically integrated organization that mines, smelts, and refines its gold. Its shares correlate with gold prices but are also impacted by other factors, including geopolitical tensions, monetary policy, metals prices, and material events like earnings.
FCX shares have recently underperformed gold prices as falling copper prices and iron ore prices damaged the strength of gold. The company reported Q4 2022 EPS of $0.48, beating $0.44 analyst estimates by $0.04. Revenues fell (6.7%) YoY to $5.75 billion versus $5.42 consensus analyst estimates. The company sold 1.04 billion pounds of copper, 458,000 ounces of gold, and 19 million pounds of molybdenum in the quarter ending Dec. 31, 2022.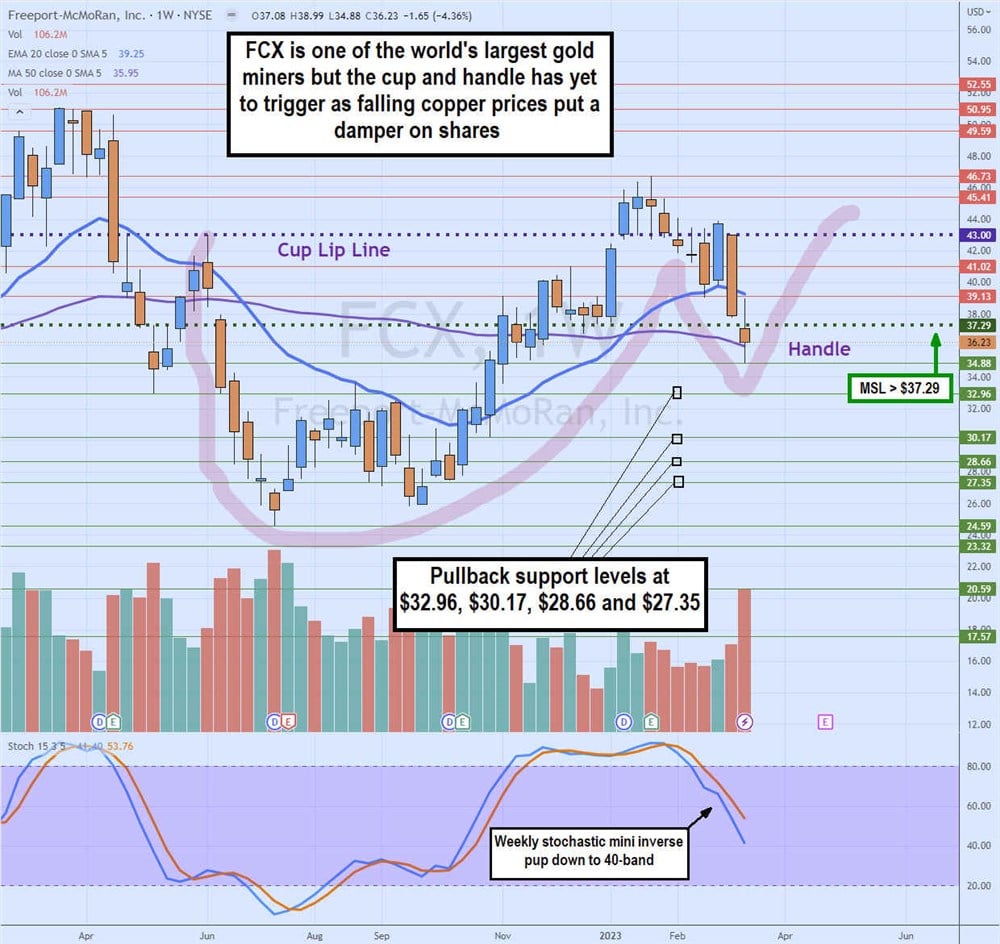 FCX Weekly Cup and Handle  
Like the OUNZ weekly chart, FCX formed a cup lip line and completed the cup formation as shares peaked at $46.73 in January 2023. Shares have since fallen back under the lip line at $43.00. It attempted to breakout through the lip line when gold prices initially spiked during the regional banking crisis, but shares rejected back under the cup lip lines through the weekly market structure low (MSL) buy trigger at $37.29.
Unlike the handle breakout in OUNZ, the handle still attempts to form on GDX as shares try to put a bottom on this seven-week decline. The quick drop in copper prices keeps shares down despite OUNZ breaking out in a cup and handle breakout. Pullback support levels are at $32.96, $30.17, $38.66, and $27.35.