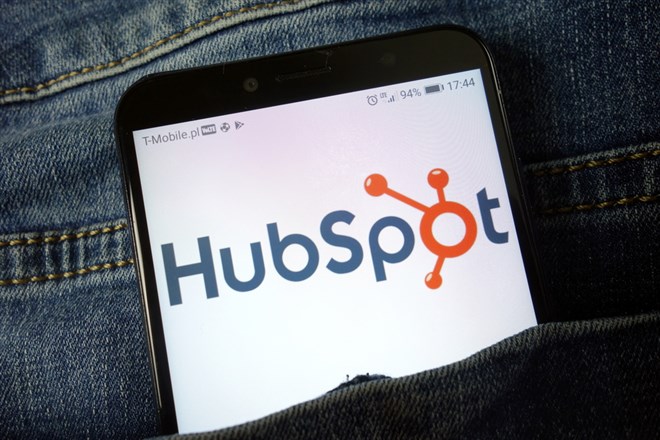 There aren't many tech stocks that can say they're trading close to 52-week highs, but HubSpot Inc (NYSE: HUBS) certainly can. Having consolidated through much of Q4, though setting an interesting series of higher lows, their shares took off in January and haven't really stopped since.
They were up 60% by the start of February, and though they cooled a little from there, they opened at fresh highs last Friday. 
The catalyst for the initial move higher has primarily been a simple old-fashioned correlation with the broader market, as the tech heavy NASDAQ index also had a strong start to the year. As the market's risk-on sentiment increased during those weeks, long-beleaguered tech stocks became the month's pick.
And HubSpot, with their 70% fall from grace last year, was certainly one of them. We've written many articles in the past few weeks on this trend, and investors keen to get on board a recovery rally in tech for the coming year are not stuck for choices. 
Strong Numbers
So what about Friday's pop? That was a little more stock specific, as HubSpot released their Q4 earnings the previous evening. They were good as you might expect, from a 15% gap up at the following open. Non-GAAP EPS came in at $1.11, a full 35% higher than analysts had expected. Top-line revenue was also looking sharp and with year-on-year growth of 27% was well above the consensus. 
Compared to the same quarter in 2021, the company's subscription revenue was up 28%, while professional services and other revenue was up 8%. Solid growth numbers from a software company that'd had to watch their shares trade at 2020's levels for much of last year. 
In addition to beating the market's expectations for last quarter's performance, HubSpot also caught them out with their forward guidance for the current quarter and full year. For example, analysts had been looking for $467 million in revenue this quarter, but HubSpot guided for $473-475 million. It was a very positive and optimistic update from the $20 billion marketing software company. 
Getting Involved
Unfortunately for investors, their shares have been unable to hold onto the highs they tagged in the aftermath of the release, as the broader equity market sank more than 2% yesterday. This dragged HubSpot shares down more than 4%, though they're still trading close to the highs of this current rally. Funnily enough, there's a strong argument to be made by those of us on the sidelines that some further selling or profit-taking from here would be no bad thing.
If you missed getting involved in HubSpot shares last quarter when they were trading sideways and giving hints of what they might do, and if you missed getting involved as they took off in January, then some volatility right now might open the perfect entry point. 
Last week's numbers and update have confirmed that though HubSpot shares might be down, they are certainly not out. They just landed their biggest quarter ever in terms of revenue generated, and their operating income is trending sharply towards a black print in the next report or two.
For context, last June's report saw that number come in at a loss of - $52.3 million, last September saw it come in at a loss of $32.2 million and last week saw it come in at a loss of -$13.5 million. If yesterday's weakness can run out of steam this week, and if the broader market can turn up again, we could be looking at another peach of stock ready to continue its recovery rally.
HubSpot shares have a long way to go until they're back at the highs of 2021, but an all-time high in quarterly revenue and higher-than-expected forward guidance is a great way to start.