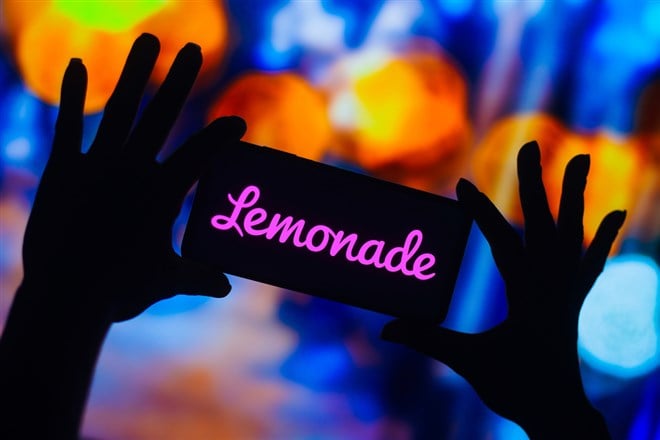 Online Insurance platform Lemonade Inc. (NYSE: LMND) stock surged to $18.88 from $16.44 after releasing its Q4 2022 earnings. However, shares cratered back down to $15.69 after gapping. Shares continued to chop around $16 and then fell to the $14.61 weekly market structure low (MSL) trigger support. Lemonade's artificial intelligence (AI) powered platform automates its insurance products' onboarding, underwriting, analytics, and claims processing.
It sells property, car, home, rental, life, and pet insurance. It also acts as an agent matching other companies' insurance products to customers' needs. The company integrated its Metromile pay-per-mile insurance acquisition figures which helped boost top-line growth. Lemonade is attempting to disrupt the insurance industry by trying to compete with the likes of players likes of The Allstate Co. (NYSE: ALL), Progressive Co. (PGR), Cigna Co. (NYSE: CI), and Berkshire Hathaway Inc. (NYSE: BRK.A).
Inflation Impact
Inflation affects insurance companies in multiple ways. It raises the costs to repair or replace property. As costs rise, insurers have to make higher payouts and thus need to adjust policy rate increases accordingly to cover their losses without losing customers. Inflation can erode investment of its premiums and reduce the income it earns from investments. Inflation put pressure on Lemonade's loss ratio upwards but was offset by upping its rate of filings 8X.
Lemonade Co-Founder and Co-CEO Shai Wininger stated that inflation was tentatively in retreat during its conference call. As inflation continues to ease, Lemonade could see margin improvements. The U.S. Fed raising interest rates has helped interest income rise for the company.
Cheaper and More Efficient Insurance (theoretically)
Automating its services is supposed to make the company more efficient and ultimately profitable and provide customers with a seamless and frictionless experience. The company claims its prices are lower than competing insurers. Onboarding takes minutes to get coverage.
However, the company continues to lose money but is starting to slow growth to grow loss ratios. The theory sounds great; however, the execution on the business side is still trying to prove itself. The company is still burning through cash despite having nearly $1 billion. Lemonade is nowhere near GAAP profitability. AI has yet to prove it's more efficient than humans as operating expenses and stock-based compensation continue to climb.
Rise of the Machines
Lemonade utilizes AI to design and issue data-driven insurance policies rather than use expensive human actuaries. Its machine learning algorithms promise to refine and improve itself with more usage as it collects, compiles, and analyzes oceans of data. The results are measured on its loss ratios, designed to begin broadly and shrink with optimization.
Weeding Out the Bad Apples
The company has also stated that its machine learning models seek to terminate mispriced customers it can't adequately price to keep its loss ratio down. Rising inflation has caused an increase in both size and prevalence of these customers. The company is consciously slowing down growth with non-renewal policies for these customers.
This will impact its growth for alternative dispute resolution (ADR), loss ratios, and growth. ADR rose 4% to 86% in the recent quarter. The higher the figure is, the more efficient the company is. It represents disputes with policyholders or third-party claimants over insurance claims that have often been resolved through a third-party mediator.
Signs of Improvement
On Feb. 22, 2023, Lemonade released its fourth-quarter fiscal 2022 earnings report results for December 2022. The company reported an earnings-per-share (EPS) loss of ($0.93) beating consensus analyst estimates for a loss of ($1.20) by $0.27. Revenues grew 115.6% year-over-year (YoY) to $88.4 million, beating consensus analyst estimates of $78.23 million.
In-force (active paying premiums) rose 64% YoY to $625.1 million. Customer count rose 27% YoY to $1.81 million. The gross loss ratio was 89%, down from (94%) in Q3 2022 and (96%) in Q4 2021. Premiums per customer rose 30% YoY by $346.
Mixed Guidance
Lemonade raised its Q1 2023 revenues guidance to $87 million to $89 million versus $81.58 million consensus analyst estimates. It issued downside guidance for the full-year 2023 of revenues between $375 million to $379 million versus $386.07 million.
Lemonade Co-Founder and Co-CEO Dan Schreiber commented, "…we believe that peak losses are now behind us and that we're progressing our plan along our path to profitability. In parallel, depending on threats from without, we've made progress within launching new products, new markets, acquiring and integrating Metromile, and growing the business by 2/3 year-on-year."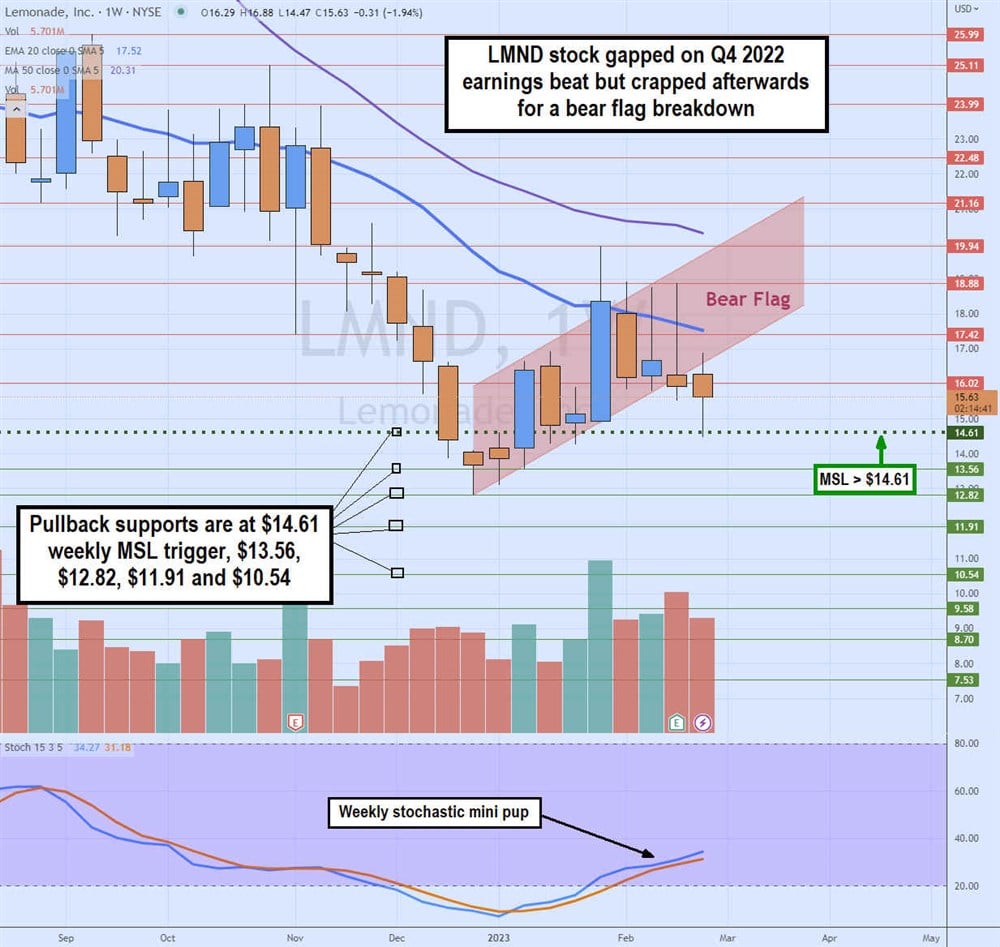 Weekly Bear Flag Breakdown
LMND's weekly candlestick chart depicts a bear flag breakdown. After peaking at $23.99 in November 2022, LMND shares fell for six weeks to an all-time low of $13.56 in late December 2022. Shares finally bounced on the weekly stochastic mini pup as it bounced up through the 20-band. LMND triggered the weekly MSL breakout through $14.61. Each pullback bounced off a higher low as each pullback fell from a higher high, forming a flag pattern of parallel rising highs and lows.
Shares continued to spike to a high of $19.94 by January 2023. Shares started to fall below the lower rising trendline until Q4 2022 earnings spiked the shares to $18.88 before falling back under the $16.02 lower rising trendline of the flag. The weekly 20-period exponential moving average (EMA) continues to be a formidable resistance at $17.52, followed by the falling 50-period MA at $20.31.
The weekly stochastic continues to try to flex a mini pup rising at the 40-band. Pullback support levels are $14.61 weekly MSL trigger, $13.56, $12.82, $11.91, and $10.54.