SANTA BARBARA, Calif., June 07, 2023 (GLOBE NEWSWIRE) -- AppFolio, Inc. (NASDAQ:APPF), a cloud-based technology platform built for the real estate industry, today introduced a host of new capabilities to better serve property management customers and their residents. Innovations include AppFolio Realm, uniting all of AppFolio's established AI-powered capabilities and a number of transformational new additions in a common suite, and an affordable housing solution enabling property managers to more efficiently manage affordable housing units. AppFolio also announced new additions to its rapidly growing AppFolio Stack™ Marketplace, which allows users to seamlessly integrate specialized point solutions with AppFolio's centralized property management software platform.

AppFolio Realm is how the company is delivering on its product vision to create a world where managing communities feels magical and effortless, helping property managers streamline workflows, unlock insights, and boost productivity. With the launch of AppFolio Realm, AppFolio is adding new AI capabilities powered by large language models (LLMs):
Customers can now enable a simple way to automatically generate compelling marketing descriptions for their units and properties with AI, while retaining the ability to review, edit, and customize as needed.
AppFolio is piloting a new conversational interface with a select group of trusted users. Customers can ask the software to complete tasks, draft and send communication, and initiate actions or processes on their behalf without having to navigate a traditional graphical interface.
AppFolio is in its fifth year of making meaningful, responsible investments in AI through products like Smart Maintenance, and its AI Leasing Assistant, Lisa, along with Bank Feed, Smart Bill Entry, and FolioGuard Smart Ensure. More than 40% of AppFolio's more than 18,000 customers already utilize AppFolio's AI tools to augment their workflows and deliver superior resident experiences.
"We know that AI is having transformative outcomes for the real estate industry. Our early adoption of AI and ongoing product innovation have allowed us to create a more holistic, modern, and market-leading experience for our customers, and we've made significant investments to ensure that our solutions are built safely and responsibly," said Shane Trigg, President and CEO of AppFolio. "The launch of AppFolio Realm and our expansion into affordable housing demonstrates our commitment to helping our customers create exceptional experiences for their residents and communities."
AppFolio's new affordable housing solution is tailored to the unique needs of customers managing affordable housing properties or units within their portfolio. According to an upcoming AppFolio report, operational efficiency is the top challenge for affordable housing property managers. Through AppFolio, customers can efficiently operate affordable housing and market rate units on a single platform, seamlessly manage compliance, streamline processes, and consolidate accounting operations for conventional and affordable housing units. AppFolio's affordable housing product supports U.S. Department of Housing and Urban Development (HUD) Project Based Section 8 rental assistance (PBS8), and Low Income Housing Tax Credit (LIHTC).
"Adding AppFolio's affordable housing solution to our workflow has not only saved us time but has helped to unify our team under a single platform that has increased transparency and streamlined operations across multiple regions," said Jessica Berzac, Co-owner and Principal at UPholdings, an AppFolio customer since 2020. "With AppFolio's leading technology and access to relevant data, we've been able to better manage expectations, improve communications, track outcomes and create more high functioning properties – ultimately creating a better experience for our team and our residents."
With the addition of 13 new partners so far this year, AppFolio continues to rapidly scale its AppFolio Stack Marketplace. Launched in 2022, the marketplace now features nearly 30 partners to help AppFolio customers navigate the complex proptech landscape, while driving growth and efficiency. The latest additions feature a variety of modern, innovative solutions to streamline everything from marketing to leasing, maintenance, and collections, and include Breezeway, Engrain, Hunter Warfield, Latch, Lula, Mezo, NetVendor, PointCentral, RemoteLock, Rent Dynamics, Respage, Showdigs, and SmartProperty.
"We continue to see strong interest from proptech industry innovators in working with AppFolio," said Will Moxley, Senior Vice President of Product at AppFolio. "AppFolio Stack helps customers seamlessly and reliably extend AppFolio through point solutions – and gives them a competitive edge."
To learn more about AppFolio Realm, AppFolio Stack, and AppFolio's new affordable housing solution, visit booth #1813 at NAA Apartmentalize in Atlanta, GA from June 7-9, 2023. Companies interested in joining the AppFolio Stack Marketplace can apply at appfolio.com/stack/become-a-partner.
About AppFolio, Inc.
AppFolio, Inc. is a cloud-based technology platform built for the real estate industry. Our solutions enable our customers to digitally transform their businesses, address critical business operations and deliver a better customer experience. For more information about AppFolio, visit appfolio.com.
AI Leasing Assistant, Lisa and Smart Bill Entry are part of a suite of AI-powered features within AppFolio Realm, delivering on its product vision to create a world where managing communities feels magical and effortless.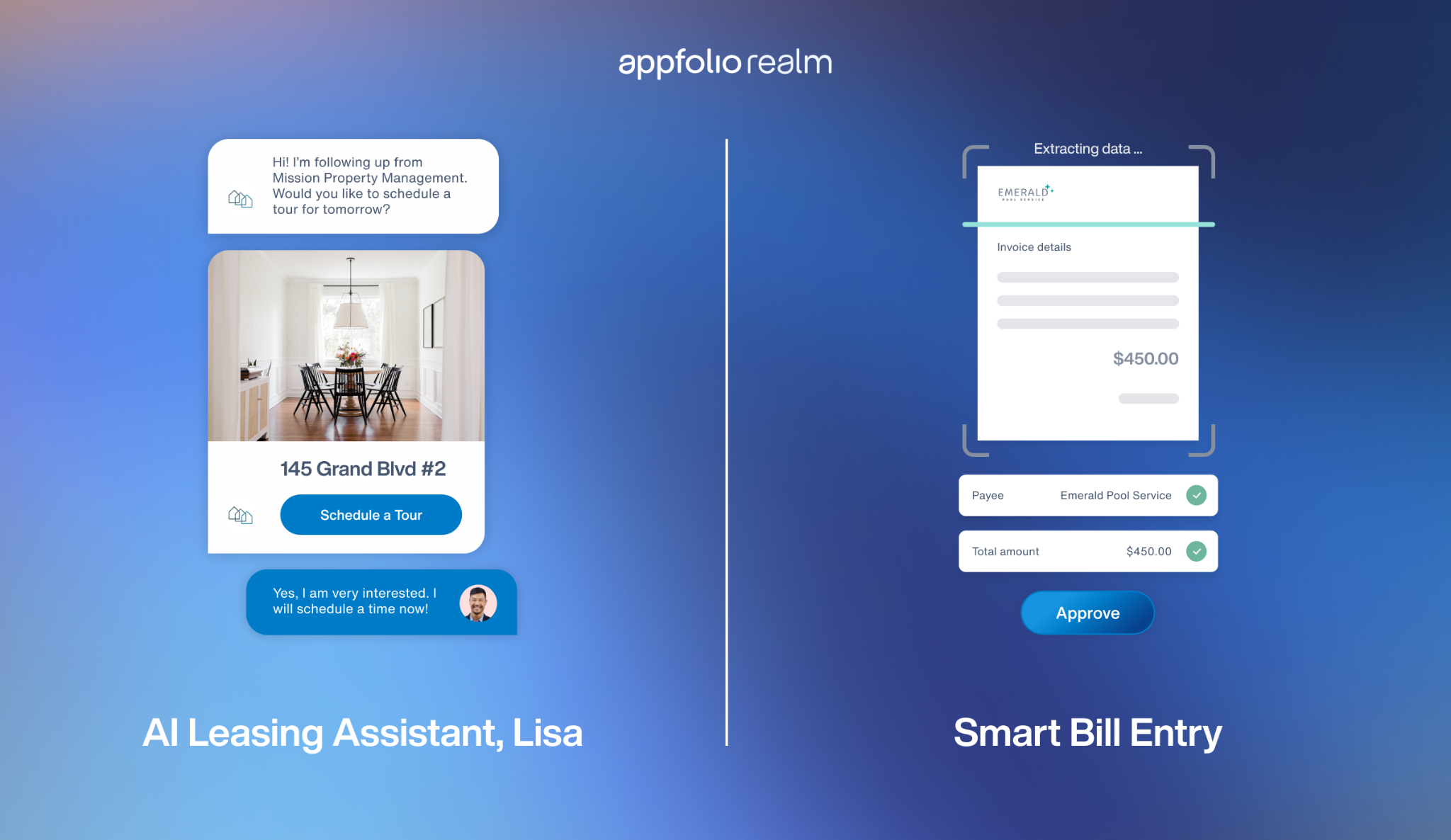 New innovations like a conversational interface, currently being piloted with a select group of trusted users, leverage the power of large language models (LLMs).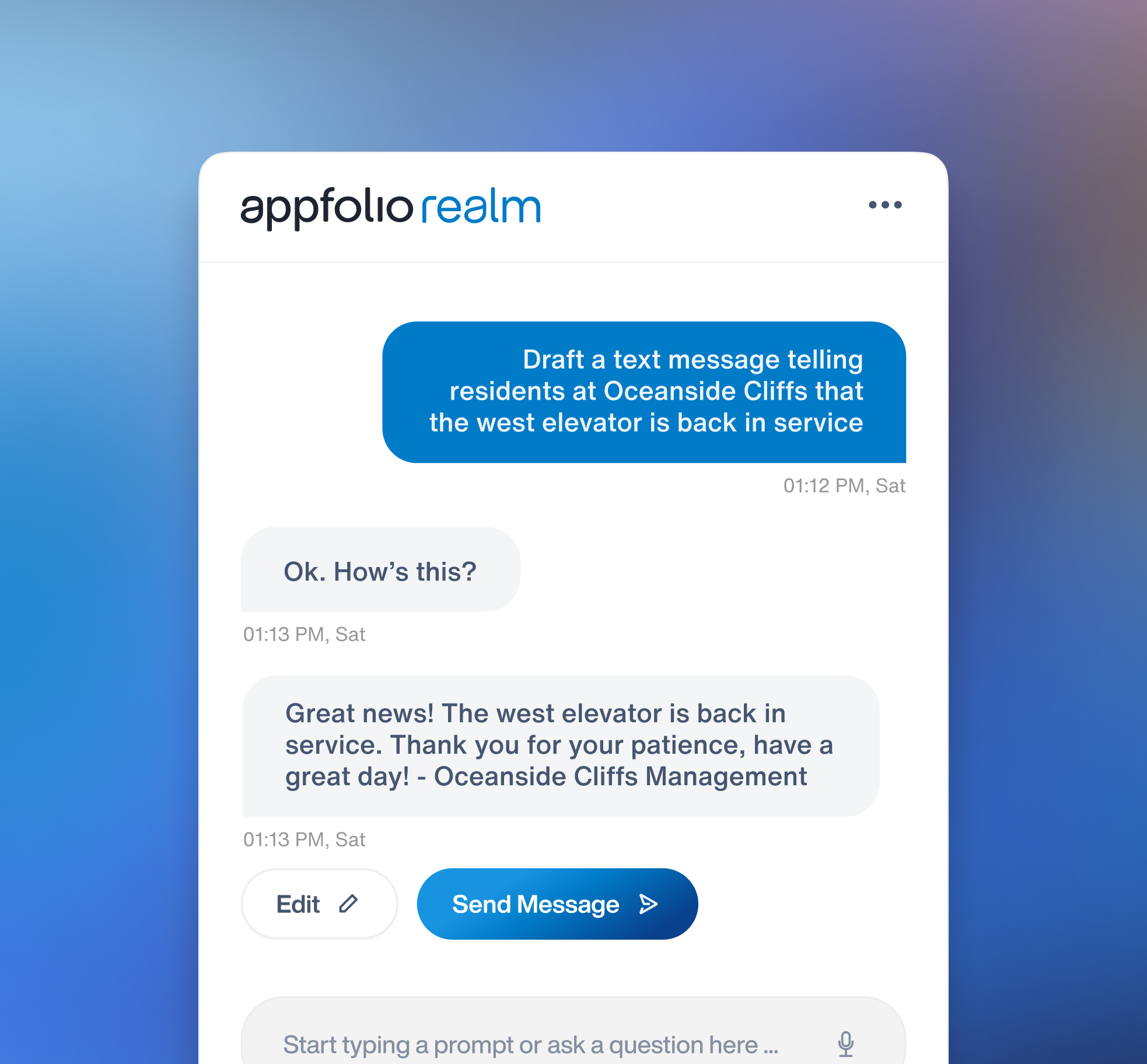 Photos accompanying this announcement are available at:
https://www.globenewswire.com/NewsRoom/AttachmentNg/0f760e4d-6227-4275-9669-d07f1069a4bd
https://www.globenewswire.com/NewsRoom/AttachmentNg/d016edab-ddc2-42ce-9d22-d220e8da8f27

For more information, please contact:
pr@appfolio.com