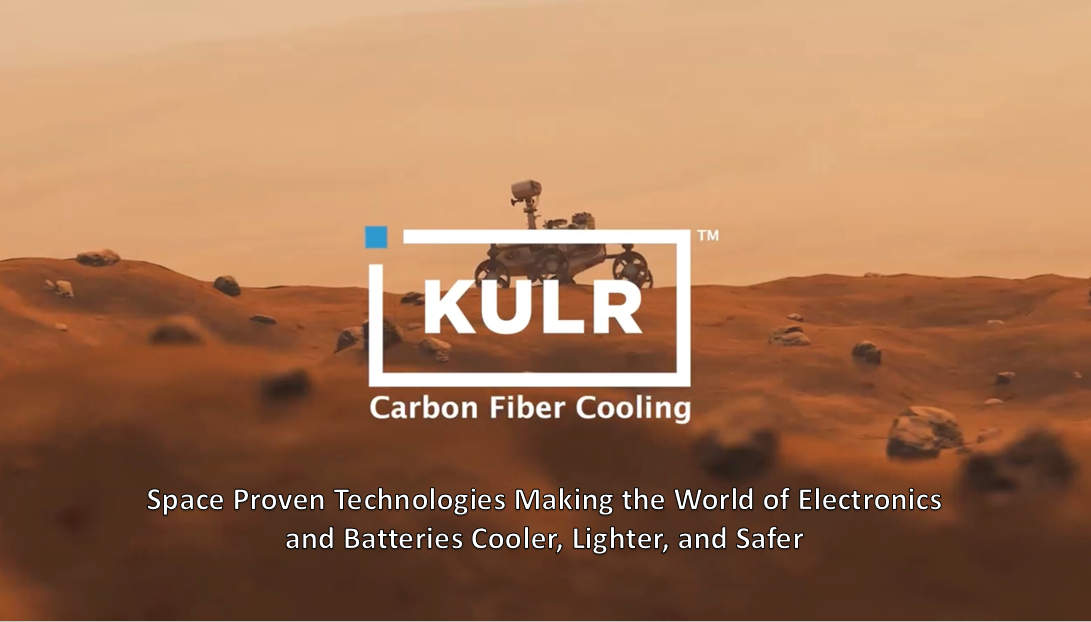 KULR Technology Group Inc. (NYSE: KULR) stock is catching a bid, and Wall Street analysts are modeling for the move to continue after several updates continue to show KULR's potentially dominant position in the thermal management and energy storage markets. Their interest is warranted, noting that the global market for energy storage will generate as much as $554 billion in annual revenues by 2035. And that's just one part of the value equation.
Contributions from the Thermal Management Systems markets will put another $24 billion into play by 2025, and KULR's best-in-class technologies and existing partnerships position them to seize a sizable share of those revenue-generating opportunities. Suppose KULR executes its strategy of earning that business. In that case, analysts at Litchfield Hills research expect KULR stock can more than triple from current levels, with their models suggesting a more appropriate 12-month revenue-supported price of $7.00.
And that's not an overzealous target, especially as more deals and acquisitions accrue.
Acquisition Adds More Accretive Value
Such value was added last week after KULR announced its acquisition of VibeTech and the formal launch of KULR VIBE ("VIBE"), an AI-driven vibration reduction solution addressing one of the most challenging issues with advanced machinery today; excessive energy-robbing vibrations that are destructive to both the machinery and in many cases the operator.
By design, the KULR VIBE suite of technologies utilizes proprietary sensor processes with advanced learning algorithms to achieve precision balancing solutions and successfully predict component failure based on its comprehensive database of vibration signatures. Its enhanced AI learning algorithms pinpoint areas where excess vibrations cause energy loss, leading to system malfunctions, weakened performance, and maintenance issues.
The innovative technology can be utilized as a standalone solution or be paired with existing track and balance technology to facilitate vibration reduction, achieve increased energy production, and reduce mechanical failures, thereby extending platform life. It's another example of KULR reimagining how industries operate and seizing opportunities to replace technology that has seen little advancement in nearly four decades. Those opportunities are significant.
According to Fact.MR, an insights-driven global market intelligence company, the global vibration motor market is estimated at $6.5 billion this year and forecasted to reach $24.1 billion by 2032 based on an expected CAGR of 14.1% over the next ten years.
But that's not all driving near and long-term value.
New Contracts And Innovative Technology Driving Growth
Still, it's just one part of the value proposition. Last week, KULR announced receiving a $500,000 initial deployment order from a major Department of Defense contractor, with future considerations up to the multi-million-dollar amount over the next year. In that deal, KULR's technology will be utilized by the American manufacturer of spacecraft components and instruments for national defense, civil space, and commercial space applications to support its Air-to-Air Missile shipping program. The initial deployment order is for immediate delivery, with the potential for a multi-million-dollar deployment order to run through 2023.
The multi-industry deals make sense. Keep in mind that KULR technology promotes safety, sustainability, and product strength no matter where it's applied. That inherent capability has led to KULR becoming a leading developer of advanced thermal management and safety systems for lithium-ion ("Li-ion") batteries, providing the next-generation solutions demanded by the energy storage industry. Moreover, its highly configurable thermal interface materials and lightweight heat exchangers may be the only ones on the market to ensure that increasingly powerful batteries can operate safely without the risk of overheating or explosions.
Examples include its Internal Short Circuit, a device that can intentionally short-circuit a Lithium-ion cell when it reaches a dangerous temperature threshold, preventing a potential explosion while leaving the cell's performance unaffected. Another KULR solution is a real-time platform that can monitor battery conditions to identify safety hazards or performance degradation. Technologies such as its proprietary carbon fiber used in its Thermal Runaway Shield (TRS) have already earned the attention of industry leaders and government entities, evidenced by inking more than 30 contracts with NASA, the Department of Transportation, the U.S. Air Force, and other government agencies that involve national security interests.
That's not all. Some of the world's biggest producers of electric vehicles, energy storage, 5G infrastructure, and aerospace technologies also trust KULR to provide safe and sustainable battery safety solutions. Companies like Lockheed Martin (NYSE: LMT), Andretti Systems, and Microsoft (NASDAQ: MSFT) are already utilizing KULR technology. So is NASA.
NASA-Approved Technologies
KULR's Thermal Runaway Shield technology continues to earn interest from NASA, which intends to test KULR's lithium-ion cells for battery packs used in the Artemis Program. NASA has also incorporated KULR's cutting-edge carbon fiber thermal management technologies into the Mars Perseverance Rover and is part of NASA's NICER mission to prevent components used on that venture from freezing.
KULR's existing contracts with agencies such as NASA and the U.S. DoD validate the strength of its offerings. Still, they are far from the only space-age companies interested in KULR's innovative technology. Interest from private-sector companies, especially those working closely with global government agencies, is also growing.
Big Deals From Big Companies
For example, Lockheed Martin (NYSE: LMT) recently placed a follow-on order for KULR's Phase Change Materials (PCM) heat sink technology. It's a carbon fiber-infused technology that reduces system temperature by utilizing PCM to absorb or provide heat, effectively increasing the lifespan of critical product components used by Lockheed Martin. Once LMT has concluded its evaluations, many believe this order could potentially lead to a lucrative long-term contract.
Another large contract that analysts value highly in pricing models is with Volta Energy Products, a subsidiary of Viridi Parente Inc. That three-year, multi-million-dollar deployment order utilizes KULR's Passive Propagation Resistant ("PPR") solution suite of products. It's expected to be strengthened after Volta raised $95 million to support the development of "fail-safe" lithium-ion battery technology. KULR thinks so.
According to a KULR statement, Volta intends to market 750 to 1,000 battery storage units in 2022 using KULR's technology. In 2023, that number could rise to over 50,000 units. Should these estimates be reached, and pricing power remains constant, KULR could be looking at $80 million in revenues by 2023 from this deal alone. Even if the price per unit depreciates over time or fewer than the maximum number of units are shipped, the deal could still net KULR considerable revenues next year.
Another value-creating deal has KULR expanding its strategic relationship with E-One Moli Energy Corporation, a battery-cell supply agreement bolstering its ability to offer comprehensive solutions to High-Value Customer Applications. That deal puts a potential revenue opportunity of more than $350 Million in the crosshairs.
From Space-stations To SupercarsHere's more excellent news. With an integrated design approach, KULR can configure its technologies to fit a variety of applications and manufacturer needs. Their adaptable solutions in thermal interface materials, lightweight heat exchangers, and protection against lithium-ion battery thermal runaway propagation make them attractive to major players in the EV sector.
KULR is working with Andretti Technologies (ATEC) to target EV sector opportunities, providing electric SUV extreme racing team Andretti United Extreme E with thermal management and battery safety solutions. KULR is also supplying its carbon fiber thermal interface (FTI) material to Drako Motors for use in the Drako GTE, one of the fastest all-electric supercars in the world.
With its thermal architecture already proven effective in space, KULR's FTI boasts superior thermal conductivity and lightweight, flexible mechanical properties. That led to a working partnership with Leidos (NYSE: LDOS) and business expansion with its recycling partner, Heritage Battery Recycling, enhancing the current value proposition by giving immediate and unrestricted access to their business partners and clients, including United Parcel Service (NYSE: UPS), leveraging recent shipping certification.
Leveraging the value of the shipping certification can be lucrative for many reasons. First, it enables KULR to utilize UPS' well-established shipping network to ship its batteries. This is made possible through its U.S. Department of Transportation compliant "Safe Case," which mitigates Thermal Runaway providing for safe and sustainable transportation of Lithium-Ion Cells and Battery Packs up to 2.5KWh per Case. Thus, KULR's major recycling partner has a reliable method to transport their materials – and with billions of lithium-Ion batteries awaiting regulatory-compliant disposal, a substantial and consistent revenue channel for KULR becomes evident.
Why The Pricing Disconnect?
Given that KULR has enjoyed consistent growth and expanding contracts with leading manufacturers and government agencies, investors might wonder why KULR isn't soaring past its 52-week high and beyond. Some believe that KULR's inclusion in the Russell Microcap index could be obscuring the company's true potential. While this may lead many investors to overlook the opportunity at hand, what's clear is that KULR has not been overlooked by a global Who's Who client list.
This fact leads analysts to remain optimistic about KULR's potential. The solutions offered by the company are critical components that help power some of the fastest-growing technology sectors, including aerospace, energy storage, 5G infrastructure, and electric vehicles. Remember: KULR is almost exclusively targeting multi-billion sector opportunities, and they are ideally positioned to capitalize on them.
Best of all, as global green-energy initiatives continue to place a stronger regulatory emphasis on sustainability, demand for the technologies offered by companies like KULR will only continue to rise. Thus, its growth pace, already at hyper-speed, could accelerate.
A Window of Opportunity
Hence, with existing contracts, new ones expected, and a strong portfolio relevant to industry trends, KULR may present a value proposition too good to ignore. Trading ahead of expected revenue growth from at least four major commercial accounts for their Safe Case products adds to that consideration. And should their deployment trials conclude successfully, KULR could be looking at near-term, recurring contracts valued in the multi-millions. That includes one in progress with an unnamed but said to be leading Metaverse client.
If all the above wasn't enough to inspire, consider this. KULR is also leveraging its technology strength to penetrate the lucrative drone market, maritime safety applications, enterprise energy storage, and even crypto-mining applications. It's an extension of its top-of-the-line performance and technological adaptability, allowing KULR to target business opportunities in new sectors and immediately compete with established players. KULR has made it clear; they intend to capitalize on its position of strength.
If so, expect KULR to cure the disconnect between its share price and operating performance. Rightly and deservedly so.
Disclaimers: Shore Thing Media, LLC. (STM, Llc.) is responsible for the production and distribution of this content. STM, Llc. is not operated by a licensed broker, a dealer, or a registered investment adviser. It should be expressly understood that under no circumstances does any information published herein represent a recommendation to buy or sell a security. Our reports/releases are a commercial advertisement and are for general information purposes ONLY. We are engaged in the business of marketing and advertising companies for monetary compensation. Never invest in any stock featured on our site or emails unless you can afford to lose your entire investment. The information made available by STM, Llc. is not intended to be, nor does it constitute, investment advice or recommendations. The contributors may buy and sell securities before and after any particular article, report and publication. In no event shall STM, Llc. be liable to any member, guest or third party for any damages of any kind arising out of the use of any content or other material published or made available by STM, Llc., including, without limitation, any investment losses, lost profits, lost opportunity, special, incidental, indirect, consequential or punitive damages. Past performance is a poor indicator of future performance. The information in this video, article, and in its related newsletters, is not intended to be, nor does it constitute, investment advice or recommendations. STM, Llc. strongly urges you conduct a complete and independent investigation of the respective companies and consideration of all pertinent risks. Readers are advised to review SEC periodic reports: Forms 10-Q, 10K, Form 8-K, insider reports, Forms 3, 4, 5 Schedule 13D. For some content, STM, Llc., its authors, contributors, or its agents, may be compensated for preparing research, video graphics, and editorial content. STM, LLC has been compensated up to twenty-thousand-dollars cash via wire transfer by a third party to produce and syndicate content for KULR Technology Group, Inc.. for a period of one month. As part of that content, readers, subscribers, and website viewers, are expected to read the full disclaimers and financial disclosures statement that can be found on our website. The Private Securities Litigation Reform Act of 1995 provides investors a safe harbor in regard to forward-looking statements. Any statements that express or involve discussions with respect to predictions, expectations, beliefs, plans, projections, objectives, goals, assumptions or future events or performance are not statements of historical fact may be forward looking statements. Forward looking statements are based on expectations, estimates, and projections at the time the statements are made that involve a number of risks and uncertainties which could cause actual results or events to differ materially from those presently anticipated. Forward looking statements in this action may be identified through use of words such as projects, foresee, expects, will, anticipates, estimates, believes, understands, or that by statements indicating certain actions & quote; may, could, or might occur. Understand there is no guarantee past performance will be indicative of future results. Investing in micro-cap and growth securities is highly speculative and carries an extremely high degree of risk. It is possible that an investors investment may be lost or impaired due to the speculative nature of the companies profiled. 
Media Contact
Company Name: STM, LLC.
Contact Person: Michael Thomas
Email: contact@primetimeprofiles.com
Phone: 973-820-3748
Country: United States
Website: https://primetimeprofiles.com/