Could Copper's Dip Present a Buying Opportunity?
June 16, 2021 at 10:17 AM EDT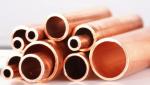 Copper prices may have fallen from their recent highs, but it could be an opportune time for investors to buy on the dip with the Global X Copper Miners ETF (COPX). "While the trend is clearly downward since hitting record highs a month ago, copper is still trading within earshot of five...