What Does It Mean To "Roll" Bitcoin Futures?
September 24, 2021 at 11:07 AM EDT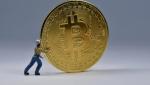 Ever since SEC Chair Gary Gensler indicated that the regulator might look more favorably on crypto products linked to Bitcoin futures, issuers have proposed a number of futures-based ETFs. Such products hold Bitcoin futures contracts rather than actual bitcoin or Bitcoin-adjacent stocks. In order...