IN THE LOOP Program of Success is proud to partner with the KIDS FIRST! Film Festival to celebrate its 30th anniversary with an incredible hybrid film festival.
(PRUnderground) September 7th, 2021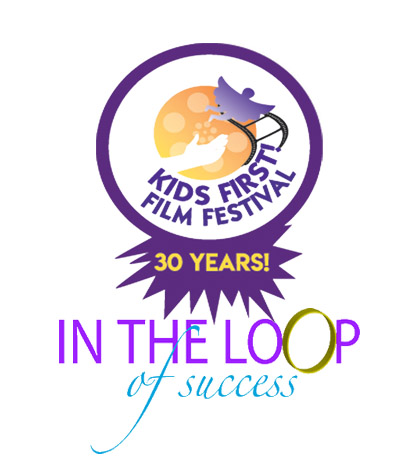 IN THE LOOP Program of Success (ITL) is proud to partner with KIDS FIRST! Film Festival in celebrating its 30th anniversary with an incredible hybrid event celebrating films made by and for young people.
KIDS FIRST! is co-hosting film festivals with 10 partners in 10 cities nationwide – a hybrid of live and online events. IN THE LOOP kicks off with a 10 day festival September 16 through 26, followed by festivals in Nashville, New York City, Honolulu, San Diego and more.
Opening night, Thursday, September 16, features a virtual premiere of Amazon Studios' My Name Is Pauli Murray, which takes a look at the life and ideas of Pauli Murray, a non-binary Black lawyer, activist and poet who influenced both Ruth Bader Ginsburg and Thurgood Marshall. This documentary is a missing piece of history that amplifies the life of an African American female whose struggles pushed her to create everlasting change in our modern society and who stood up to segregation a decade before Rosa Parks.
The following nine days offer a stunning collection of shorts and features from indie and student filmmakers worldwide and are grouped by topics such as: Race Relations in a Diversifying Nation, The Outsiders, The Arts and the Artists Among us, Life Happens, Foreign Exchange and Insights, Celebrating Young Creative and Animation Celebration. Additionally, two features have standalone screenings followed with Q&A discussions with the filmmakers – 75 Degrees West by 11th grader Zachery Parrish on Sunday, September 19 and Quaranteened: The Musical from The Theater Bug from Seattle on Tuesday, September 21, 2021.
Two live private events include: Take Three, an opportunity for 30 aspiring and up-and-coming female filmmakers to engage with DC media professionals and learn more about KIDS FIRST! opportunities and Let's Party: 30th Anniversary Celebration, a party to celebrate all that KIDS FIRST! is and continues to do to promote positive and educational media.
Festival sponsors and supporters include: Amazon Studios, DC Office of Cable, Television, Film, Music and Entertainment, CN Kinder, Inc.: Social Impact Consultancy, IKAM Productions, Royal Neighbors Chapter 20163, ST Culture Advocacy, Merek Security Solutions, LLC., Chili Rose Beadz, Pamela Schuyler, Peggy T. Hall and Marilyn Steckler.
For a complete list of films and events, go to https://intheloopkfff.eventive.org.
IN THE LOOP Program of Success (ITL) is a program that provides middle and high school students with academic and professional support, empowerment workshops and production opportunities. For more information on the IN THE LOOP Program of Success, please visit www.intheloopprogram.com
About KIDS FIRST! / Coalition for Quality Children's Media
BACKGROUND: KIDS FIRST! Film Festival is a project of the nonprofit Coalition for Quality Children's Media, founded in 1991, to help teach kids to make positive choices in selecting media for themselves and making them aware of what great media is available for them. KIDS FIRST! Film Festival is a showcase for new and classic children's films from independent and student filmmakers worldwide in addition to select studio films. For more information, please visit: www.kidsfirst.org.
Our KIDS FIRST! Film Critics is a team of 65 youth reporters, ages 9 to 21, that review the latest films, Digital media, TV shows, and interview the creative talent behind them – actors, directors, animators, composers, cinematographers and more.
KIDS FIRST! Film Critics' reviews are seen by more than 5 million people every week on the KIDS FIRST! website, social media, YouTube Channel, weekly podcast; plus the are republished by our publishing partners including Kidzworld.com, Kidsville News, GRAND Magazine, SoCal City Kids, Press4Kids and more.
The post IN THE LOOP Program Of Success Partners With KIDS FIRST! Film Festival first appeared on PRUnderground.
Press Contact
Name: Julie Smart

Phone: 5059898076

Email: Contact Us

Website: http://www.kidsfirst.org/
Original Press Release.