What's the Prognosis for the Red-Hot Housing Market?
June 10, 2021 at 12:45 PM EDT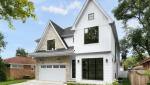 The coronavirus pandemic has shifted how people conduct business and where they choose to live, resulting in massive disparities in both income and lifestyle. But while the period has been a challenge for many Americans, some homeowners are actually growing more affluent simply by owning a home, as...