Big Banks Are Sitting on a Massive Pile of Cash. What Will Become of It?
December 04, 2020 at 11:13 AM EST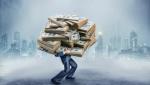 The Invesco KBW Bank ETF (NASDAQ: KBWB) is higher by 16.26% over the past month, awakening from a lengthy slumber. That rally could be the start of something more substantial if analysts' increasingly bullish views on bank stocks prove accurate. KBWB tracks the widely followed KBW Nasdaq Bank...