Will Bank Stocks Keep Rallying After Trump Calls Bank CEOs?
August 18, 2019 at 12:13 PM EDT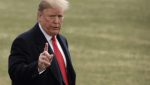 President Donald Trump consulted banking experts on Wednesday after all three indices plummeted about 3%, with the Dow's posting an 800-point loss on amid the recession signal from the bond market. The stock market took a huge hit in the previous session with the Dow plunging in its fourth-largest...